NPP, leave Kufuor alone and defeat the blame game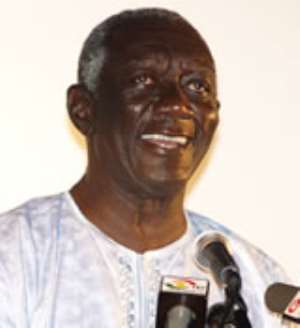 'Just take a deep breath and exhale slowly,' said a veteran politician in the wake of a presidential defeat. 'Forget about the finger-pointing, and start figuring out the way to a future that makes us relevant not just to our traditional constituency but to independents and independent-thinking NPP and NDC sympathisers.'
This was the opening remarks of an article I wrote on January 10, 2009 with the title 'NPP MUST DEFEAT THE BLAME GAME'.
But, in the last week alone, there are reports of a New Patriotic Party constituency chairman blaming former President Kufuor for the 2008 electoral defeat and a Regional Organiser redirecting blame towards the 2008 flagbearer. The regional officer effectively blamed Nana Akufo-Addo for 'engineering' the prosecution of Kwadwo Mpiani and co over GIA!
This is not healthy for Ghana's democracy and certainly not for the opposition party. Ghanaians are eager to see the NPP directing its attention on the ruling party and offering alternatives to what the government has to offer.
I have a personal experience on how damaging the blame game can be to a family. Four years ago today, April 6, my cousin and best friend, Ferdinand Ayim died in a road accident. It was a most painful loss! The family was almost torn apart as the blame game started. Witches were blamed; family members were blamed; politicians were blamed; some of us were blamed for discouraging him, through a political calculation, from running for the NPP General Secretary position in 2005.
Being the General Secretary, it was simplistically argued, would not have occasioned him travelling on an official government duty about paragliding! This blame game almost marred the funeral of a commonly loved one.
Blamers and accusers
But, blamers and accusers alike could understand the pain that was driving the blame game. We were all pained and looking for an escape. However, we chose to manufacture answers in the blame game and risked tearing the family apart. The family of course recovered, but it cost us dearly. Rest in peace my brother!
For the next three months the NPP risks being consumed by the blame game and in a manner that could eat away the unifying anatomy of the Elephant Family. But, there are a lot of positive things happening in the party.
There is a revived commitment to work harder and better at the grassroots level. The party's challenge now is how to get through the next 3 months unscathed.
On Sunday, I witnessed an NPP constituency chairman addressing some party supporters, specifically, in Jerusalem, Kpong Kantamanso. He said, as Vice Chairman in 2008, not once did he come to that area to campaign and that this was not an isolated incident. But, that they are determined to correct the shortcomings of the past and work harder for 2012. The polling station chairman of the area also spelt out plans to create a welfare system and build a closed and caring family of NPP sympathisers in his area.
There are others who are determined to focus on the past to make a case for the future, however. This is not unusual. But, it should be checked. Focusing on whether Alan Kyerematen resigned or not in 2008 is unhelpful and divisive. Let him sell his message and leave it to the over 114,000 delegates to decide. Also, aspirants and their supporters should leave former President Kufuor out of this flagbearership contest. This contest is not about Kufuor. Kufuor played the biggest role in the party's success and would play a significant role for the party's future.
Just leave him out of anything that seeks to divide the party. Even if he is not neutral the party should resist temptations to drag him into the centre of this campaign. Let those campaigning cry their own proverbial cry.
There are those who use their personal grievances against the former President to throw their weight behind a particular candidate and use that vehicle to settle personal scores. There are others, who believe they can only advance their intra-political cause by seeking factional refuge under Kufuor.
They would, with uncontrolled passion, jump into the defence of the former President but in a manner that is divisive only to score a political goal by portraying an internal competitor as anti-Kufuor.
There should be greater discipline from all sides. There is always a legitimate reason in any competition to show why you are better than your competitor, which may invariably call for some comparisons. Yet, the dynamics of internal politics call for some sensitivity in using this tactic, and the reasons are too obvious to articulate but can be summed up as the need to protect and promote post-intra-contest cohesion, trust and unity.
For example, I have heard it said that the NPP did not sell its 8 years achievements well. Well, who can forget what compelled John Mahama to say comparing records was mediocre! Indeed, any scientific analysis of NPP campaign adverts and other message formats will confirm that the ruling party in 2008 spent more campaign time and money telling Ghanaians about Kufuor's achievements (NHIS, Capitation Grants, School Feeding Programme, Roads, etc) than telling Ghanaians what to expert in the future.
Nana Akufo-Addo's IEA debate also showed how the party had the unique three-prong task of incumbency of promoting achievements, defending government decisions and projecting hope and promise for the future.
As I write, communication strategists are, for example, busily passing on 'information' to newspaper editors about their points-scoring interpretation of how the 2008 campaign was badly ran. They are of course free to do so. Some are bent on making this flagbearership campaign a retrospective one of apportioning blame, rather than what the party should do to win back power.
I believe the article I wrote in January 2009 is still relevant today. I reproduce it below with some portions deleted for space or emphasised for effect: 'Just take a deep breath and exhale slowly,' said a veteran politician in the wake of a presidential defeat. 'Forget about the finger-pointing, and start figuring out the way to a future that makes us relevant not just to our traditional constituency but to independents and independent-thinking NPP and NDC sympathisers.'
Nonetheless, the blame game is in full swing. In the wake of the declaration of Prof John Evans Atta Mills as the President of the Republic, Kukrudites are engaging in the 'losing' party's ritualistic exercise of recrimination, re-examination and very little rebuilding. Bang in the middle of this licking and healing of wounds process is The Blame Game. The President, the Presidential Candidate, Campaign Director, National Officers, Regional and Constituency Officers, former presidential aspirants and close aides to Akufo-Addo are all being fingered in what was arguably the most innovative campaign in our political history.
While it may help deal with a 'defeat' that was shocking and was more than avoidable, it risks creating new cracks for a party that can certainly look forward to a Happier 2012 than this New Year.
My bottom-line message for hyperventilating Kukrudites sorting through the wreckage of their d clared defeat at the polls is this: the New Patriotic Party should quickly move away from group or individual blame game and focus its attention on re-examining, and causing to reform, systems and structures that paved the way for the sword of office to be snatched away from the Elephant's jaws of victory and fumbled over to the National Democratic Congress.
Presidential primaries
Regardless of what might have gone on in the past, especially during the presidential primaries, no leading member of the NPP, from President Kufuor through ambitious ones like Alan Kyerematen and Dan Botwe, to constituency chairmen like Nhyiaeso's Jokad, would have wished defeat on the party they love. After all, there is even better protection and comfort in being perceived 'opposition' within a ruling party than being in opposition with your party.
However, when full direct, effective communications are compromised, rumours and presumptions have their own peculiar way of manufacturing their own realities from facts conjured from the fertile but destructive imaginations from characters afflicted with the classic Pull Him Down syndrome of the Ghanaian cultural environment. This is the danger that the NPP faces as it continues to lick its wounds by using scapegoats as a soothing balm.
Within some very serious circles of the party, John Agyekum Kufuor has been accused of doing Nana Addo in. An abominable thought about a man, who sacrificed over 30 years of his political life to the Danquah-Dombo-Busia tradition before being duly elected President of the Republic. Mr Kufuor is a very pained man. Pained by the fact that he could not hand over power to a deserving successor from his own party, Akufo-Addo. Pained by the fact that his personal decision to exercise his choice to back Mr Kyerematen in the 2007 primaries, has allowed his contribution to the 2008 campaign to be reviewed (after the facts) with some suspicion.
On the other hand, some are saying that the campaign team was made up of 'JAK's enemies' and thus no one wanted him to be involved. They have conveniently ignored the intimate and strategic roles played by some notable Kufuor loyalists.
Instead, names such as Yaw Osafo-Maafo, Jake Obetsebi-Lamptey, Kofi Apraku and Dan Botwe are cited, men who were deemed good enough to be in Kufuor's cabinet. First of all, the four men were part of the campaign because they had shown their value in previous campaigns and they were among the 17 aspirants, in a campaign that operated on the philosophy of inclusiveness and unity. JAK, like Nana, you and I, may have people who don't like him but are they to be seen as his enemies?
For those who say the President was left out of the campaign, they should cross-check the regular weekly meetings Dr Apraku and, almost daily meetings others in the campaign had with Kwadwo Mpiani, President Kufuor's Chief of Staff.
After 8 years in office, facing the electorate in a year that global food and oil prices reached unprecedented heights, this was a year certainly for opposition politics: just refer to high cost of living. Especially, facing an opposition that was ruthlessly sharp in connecting with the vulnerabilities of the poor masses and was not afraid to climb on the ladder of tribalism to occupy a new presidential palace the investment on which it convinced Ghanaians it would rather have seen gone into a poultry farm, the incumbent NPP had its work cut out.
It is always easier after a defeat to say the NPP was not attacking hard enough, not responding to attacks, nuanced responses to difficult questions, etc. Now, people are wondering why the NPP did not make Prof Mills' health an issue or whip up Akan sentiments. Some are even angry that the President did not use the coercive powers of the state to call a state of emergency in the Volta Region or Tain.
I believe posterity would judge the NPP, Akufo-Addo and Kufuor favourably for not allowing the threat of defeat to compromise long-held principles. It was rather the NDC (then an opposition party) which issued threats of 'victory or violence'. The NPP has every reason to be proud of its record of performance both in office and in the polls. And, Kufuor must be praised for handling over power, peacefully.
In rounding-up terms, Nana Akufo-Addo won the endorsement of fifty percent of Ghanaian voters. The NPP is very strong in the legislature, with an exciting leadership that include the experience of Kyei-Mensah and the energy of Ambrose Derry.
For those stuck in the low gear of the blame game, the cheers from them thousands of party rank and file that greeted the arrivals and speeches of Chairman Peter Mac Manu, Nana Akufo-Addo and J A Kufuor, at Saturday's Thanksgiving Service at the Trade Fair Centre, said it all: the grassroots want the blame game to stop and campaign 2012 to begin now.
The party effectively had less than six months to campaign in 2008. The party took a decision to keep the flagbearer out of NPP-held constituencies until parliamentary candidates were chosen in April, May, and June. Nana was campaigning against a man who had been on every NDC presidential ticket since 1996. The first Akufo-Addo billboard came up in June 2008.
Indeed, it was Kwabena Agyepong who came out with the slogan 'The Best Man for Ghana', a direct counter to NDC's 'Better Man for Ghana.' The billboard blitz was a claculated strategy to short circuit Nana's popularity against the much marketed Mills.
The NPP 2008 campaign actually started in earnest in July, after the Kasoa rally. Before that, Akufo-Addo had to form a team that could combine the twin requisites of reconciliation and campaign efficacy.
The campaign had a committee in charge of Security. Its job was to liaise with the necessary organs of state to ensure that what happened in some nine constituencies in the Volta Region - the alleged assault, intimidation and multiple voting - would be under control.
An Identifiable Group Committee was set up, to among other things, listen to the concerns of groups such as fishermen, commercial drivers, teachers, etc., and see how government or the campaign message could address them, without needing to go for a run-off to apologise.
An Electoral Affairs Committee was set up to not only recruit and train polling agents, but also to prevent the use of an anticipated Ways & Means strategy from the other side and to ensure that the integrity of electoral officers was not compromised.
In all, two gospel concerts and four Believe in Ghana concerts were staged in the night, after campaigning hours, as part of the strategy of attracting some significant constituencies to the party. The total number of four BIG concerts took place in Cape Coast, Tamale, Accra and Kumasi, which critics now say dominated the campaign.
Fundamental answers
I believe some of the fundamental answers to what went wrong in 2008 may be found by taking a reconstructive look at the party's constitution. The focus must be on how party officers and candidates are nominated.
How to ensure logistics and money deployed to party branches do in fact get there. How the party branches can be revitalised to serve more than mere election machines. How the party can begin mapping out plans for a new grassroots movement that will give them a path back to power.
Signs are that the next two years would be economically difficult. Akufo-Addo sounded the alarm bells when he held a press conference on the effects of the global financial crisis on Ghana, which his opponents thought was too pompous (too known).
The party must begin putting the Mills government on its toes. No sleep for the populists. Now is their chance to care for the populace.
The December 2008 debacle should not be seen as a repudiation of the NPP. We should rather see it as a period of deep reflection for the average Ghanaian. The country now has four years to assess the gap between populism and performance; between propaganda and delivering an agenda; between NPP and NDC and between Akufo-Addo and Mills.
We shall all be pro-active witnesses on how the Mills government focuses on the concerns of average Ghanaians, many of whom we now know as floating voters. The NDC, after making all the cheap but effective noises in opposition must now show they have compelling answers for the problems they identified as uppermost in the lives of the Ghanaian people.
Winning or losing election is not so much about individuals but by building efficient and reliable structures and systems. For example, a monitoring system that would guarantee that money allocated from the centre gets to the intended recipient. The philosophy behind the monitoring team was good but it had implementation problems. The idea was to bring on board people like Regional Ministers, DCEs and former executives who were seen as having something to contribute to the campaign at that level.
For example, the Ashanti Regional campaign monitoring team included, Albert Kan-Dapaah, (Defence Minister), Yaw Amankwa, Regional Chairman, Emmanuel Owusu Ansah, Regional Minister, Patricia Appiagyei, Kumasi MCE and FF Antoh, former former Regional Chairman.
The NPP has not the luxury to engage in infighting. Their first responsibility is not to advance the egos of any inner group or individual, it is to the people whose interest politicians seek to advance - the people.
In the words of an Australian opposition leader, 'and that really means we have an obligation to, in the, you know, gladiatorial nature of politics in this country to do what we can to ensure that we are in government as soon as possible, given that we are in opposition everywhere.
And that in government, we are actually able to produce the best possible role, results, for the people that we are seeking to serve. Calm down -- and start building a bigger tent.'