VEER: Between Teevragati And Veergati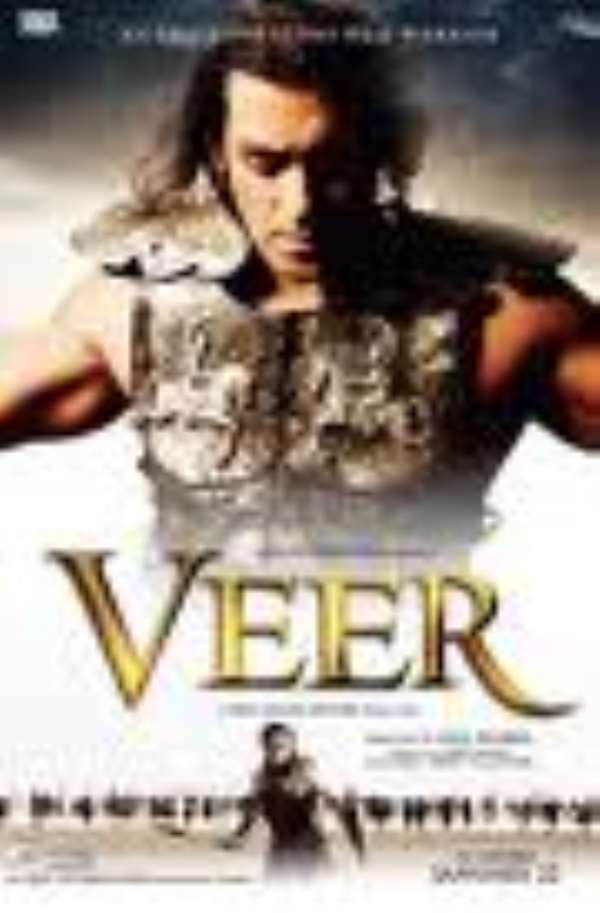 veer
Neither it is Lagaan (2001) nor is it Mangal Pandey: The Rising (2005). Neither is it an Asoka (2001) nor a Jodhaa Akbar (2008). It is Veer, a movie totally belonging to Salman Khan. There is no history or geography here. There is only Salman Khan, who with his biceps and triceps (and multiceps) is out to conquer the world (read British) a la Sunny Deol in Gadar: Ek Prem Katha (2001).
Here we don't need to talk about facts (real) as it is purely fiction (reel). This is not for history lovers as history is being created with this movie (!). The real Indian Pindaris of yore may die (again) of shock if they watch how their reality has been tampered with. Pindaris were brave companions of Maratha chiefs in the 18th century India. They were a mixed clan of many races. They looted and plundered until the British countered them.
Veer has nothing of the real Pindaris but definitely it is about bravery. What else would you expect from Salman Khan except brute force countering brutes? And he does justice to it in no uncertain measure. And to hell with history or even chemistry. Salman was definitely inspired from 1962 movie Taras Bulba (1909, 1935, 1936, 1962, 2009) that was based on Nikolai Gogol's historical romantic novel of same name (1835).
We saw Dharam Veer (1977), Veer-Zaara (2004) and we know about Veerappan. Now it is time to know about Veer. It is a tailor-made role for Salman Khan (where he doesn't need any clothes forget even a shirt). So we find ridiculous costumes but our hero shines even in them. Please don't even compare it with Gladiator (2000) or Troy (2004) or this or that. That will be like showing light to sun. But Veer is a different movie. As different as chalk and cheese. For many times while viewing the movie you will end up with "say cheese" (internationally or otherwise). It is Wanted Part 2 (2009) for the dynamic action and superb fight scenes.
Let's go to the story. British had enslaved an entire nation called India. Everyone caved in but not the brave Pindaris. Pindari leader Prithvi Singh (Mithun Chakraborty) has two sons – Veer (Salman Khan) and Punya (Sohail Khan), whom he send to England for further studies to counter British with their own ways (lohe ko loha kaat ta hai!) Veer meets Princess Yashodhara (Zarine Khan) there and both fall in love. But she is the daughter of evil king of Madhavgarh Jackie Shroff, a sworn enemy of Mithun. It gets increasingly difficult for Veer to choose between love and duty. But duty reigns supreme and love follows.
Veer returns to India and has to fight against both enemies (British and Jackie). He teaches them superb lessons. Snarling rage and heaving chest become second skin to him. Swords clash but none to match Veer's. He kills with a finesse that will put butchers to shame. He knows the weight of the flesh (ouch!) that he tears with his bare hands. To go with the Republic Day spirit (January 26) he delivers perfect freedom speeches too that will definitely inspire today's generation of Sallu's fans (not for patriotism but for frantic Sallu entertainment). The dhuandhaar dialogues are a new beginning (from where Wanted ended.)
He can dance on one foot and put Michael Jackson to shame. (India mein bada talent hai, bhai.) He can sing love ditties (Surili akhiyon wali) repeatedly till love blossoms (not on trees but in the bosom of Yashodhara.) He rides a horse like a pro (after all he is a cloth horse!). He puts other princes to shame (so what if he is a commoner). He can do what no one else does (that is our hindi fillum hero, bhai!) He conquers over the enemy by brute killing. He is Veer. He is Salman Khan. And there ends the story. For Veer is for the die-hard fans of Salman Bhai. It is a one-man show and it rides over his strong shoulders. Don't ask for anything more (for there is nothing else in it.)
Salman does what he is best at – action. You can't fault with him on any score. Mithun is definitely another highlight of the movie. Jaggu Dada (Jackie Shroff) sleep walks through the movie. (Probably he is not sleeping enough during the night!) Zarine is cute in her own way. Don't compare her with Katrina Kaif. Who knows in future references may be other way around? The songs are melodious. Cinematography is breathtaking. The fight scenes are stunning and engaging. Characterisation is appropriate. The drawback of this movie is its length (over two and half hours) that becomes boring and a drag. Costumes are atrocious and playing with historical facts doesn't go down well the viewers' throats. Whether it gains teevragati (high speed) or veergati (flops) at the box office, only time and his fans can tell.