HIV/AIDS Raised in Sindh Pakistan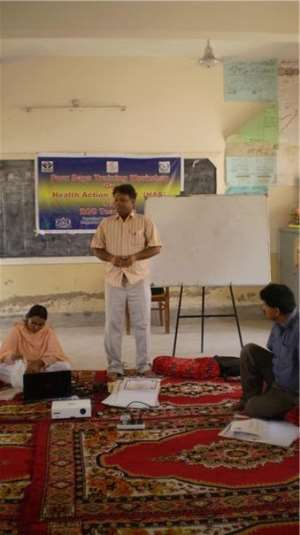 DARHOON MENGHWAR
HYDERABAD SINDH: 1ST time Sindh AIDS Control Authority accepted that HIV/AIDS cases raised in Pakistan, Only in Sindh Province there are more then 40,000 people infected with HIV
Dr.Nasir Julbani Provincial program manager has said at Journalist 2 Journalist AIDS Training that 6,000 cases registered at Authority, but actual ratio is much more than it, these unregistered cases are high risk for spreading HIV. It is very difficult to us for test of every one, but we are trying to access those people who are living with HIV/AIDS. He said
Under the Sindh AIDS Control Authority 4 excellence centers working in Sindh, 3 in Karachi and one in interior Sindh at Larkana , where Govt: providing ARV drug and testing, but due to unawareness and poor facility people avoid to come there and get test.
We are trying to improve our services, but due to lack of funding we are not able to works fully, Dr.Julbani said, Now we have plan to adopt new centre in Mirpurkhas, a third biggest city of Sindh, the main problem is that mostly people feel ashamed to getting test himself, so it is responsibility of State, Media and other stake holders to reduce discrimination and aware the society.
In Pakistan, Injecting drug users ''IDU'' is main resource of spreading HIV , According to Sindh AIDS Control Authority 60 to 70 % HIV spreads through IDU, 20% through MSM, 6% FSM, 0.1 % Mother to Child , 4 % are other causes
According to survey conducted by AIDS Control Authority,10 thousands IDU living in Karachi, 2600 in Hyderabad, 2250 in Sukkur and 1000 in Larkana. 30% of them are HIV positive. 32830 IDUs living in 13 major cities of Pakistan. While 19320 MSM, 14750 Hijras and 49060 FSW are living in Sindh
Pakistan neighbor country Afghanistan is world biggest opium producer and it is easy smuggled to Pakistan, approximation 80 Ton this drug yearly smuggles to Pakistan. Heron and other drugs easily available in markets. According to law it is crime, but implement ion of law is problem. Due to corruption high profile criminal people smuggled and sale drugs with support of some govt: officers.
While, Awareness programme is limited to five star hotels and closed rooms. Mostly populations don't know about HIV/AIDS, what it is and how it spread; Pakistan is Islamic republic, so people don't talke openly on HIV/AIDS.82% people don't use condom, most of them don't know how it is safe
According to UNAIDS 90,000 to 10, 0000 people out of 170 millions populations living with HIV/AIDS. We are working with state, NGO and Media for prevention and awareness, media can play front role to aware the society. Journalist can take support from us for fact and figures. UNAIDS Programme Officer Salman Safdar has said at AIDS Training.
Journalists suggest to UNAIDING and Sindh AIDS Control Authority that make a fund for journalist for covering this silent killer issues and also keep a yearly Award for best reporting.