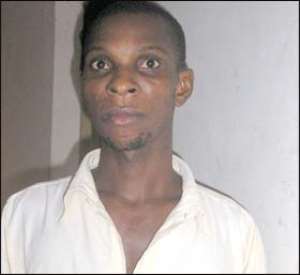 Collins Amegavi One Collins Amegavi who posed as a casual and an informant at the Headquarters of the Customs Excise and Preventive Service (CEPS) has been sentenced to twelve months imprisonment for defrauding a certain Daniel Tei Mensah of the sum of GH¢1,350.
The plaintiff who is a tile layer in Akim Oda, in the early part of last year establish contact with the convict who claimed to be a CEPS officer, to assist him purchase an Opel Astra car.
Amegavi assured Mensah that he was going to get him the car on auction at a relatively cheap price and subsequently collected a sum of GH¢1,350.00 in June 2008 as part payment.
After collecting the amount, Amegavi relocated, cutting every communication with Mensah.
He was however arrested by the police upon a tip-off on January 31, 2009.
Amegavi, during police interrogation, said he gave the money to another officer, Nicholas Amuzu, stationed at Tema in the presence of a colleague at the Headquarters.
But both officers denied knowledge of any such transaction, adding that the witness was only transferred to post in November 2008 and therefore could not have witnessed a deal that took place in June.
After investigation, the accused was arraigned at the La magistrate court which fined him GH¢540.00 or in default spend twelve months in prison and was as well ordered to refund the GH¢1,350.00 to the plaintiff.
By Rocklyn Antonio