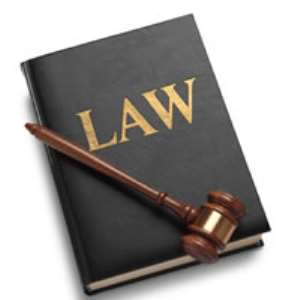 Idrissu Mahamadu, the trial judge in the June 23 Madina Ecobank robbery and the killing of a police guard case, has threatened to issue a bench warrant for the arrest of the investigator handling the case.
The judge's decision was informed by the inability of the investigator to bring the accused persons to court.
According to the judge, he was at a loss as to why the accused persons should be held at the Police Headquarters for questioning after officials of Ecobank had failed to identify them at two separate identification parades conducted by the police at the Madina Ecobank office and also at the Police Headquarters.
"It is very capricious for the investigator to be holding the accused persons at the Police Headquarters for questioning and not bringing them to court," he fumed.
The case has therefore been adjourned to October 8.
The three accused persons, Daniel Pedro (aka Oghenervena), Festus Suleman and Israel Otubu, are facing two counts of conspiracy and robbery. They first appeared before the court on August 26. Their plea has not been taken and they have since been remanded in police custody.
Mr Blagodzi, counsel for the accused persons, has continuously insisted that his clients were innocent students who had been arrested by the police. He held that if indeed his clients had been behind the robbery, they would have left the country before their arrest since the amount involved could have taken them out of the country.
The case of the prosecution was that at about 9.00 am on June 23, an Ecobank bullion van which was scheduled to convey GH¢60,040.00 to the Madina-Zongo Junction branch of the bank under escort by Sgt William Kweku Quansah, was attacked by five armed men who had positioned themselves at different locations within the bank premises.
The armed men wrestled with the police guard on duty, Constable David Agbosu, and took away his AK 47 assault rifle with 10 rounds of ammunition.
During a scuffle between Sgt Quansah and one of the robbers, a member of the gang who was in a waiting car, shot the Sergeant from behind and he died later in hospital.
The robbers made away with the money amidst sporadic gunfire during which two passengers in a commercial vehicle were hit.