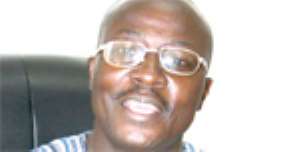 THE GENERAL Secretary of the ruling New Patriotic Party (NPP), Nana Ohene Ntow, has stated that District, Municipal and Metropolitan Chief Executives (DMMCEs) who would be serving as delegates to the December 22 congress of the party would be selected on merit.
According to Nana Ntow, the DMMCEs would not be selected just because they are Chief Executives in their various constituencies, but because they are party officials and ordinary members of the party in their areas.
The General Secretary made this disclosure to the DAILY GUIDE in an exclusive interview at the NPP headquarters.

Explaining the process of electing delegates, Nana Ntow disclosed that instructions had been issued to the constituencies to conduct extraordinary constituency conferences to elect delegates to the congress, saying out of the 10 constituency executives in the various parts of the country, 4 would be elected to represent the executives at the congress.
He further disclosed that the 10 executives could meet to ballot and elect among themselves the 4 to represent them at the congress.
As to whether Members of Parliament (MPs) could also participate in the congress as delegates, the General Secretary said the MPs were party executives at their constituencies but not party officials, and if they are fortunate enough to be elected, they could vote at the congress.
Touching on the positions of the presidential aspirants on the ballot paper, Nana Ntow disclosed that an Election Committee of the party which is yet to be outdoored would soon invite the presidential aspirants approved by the Vetting Committee to do some balloting and the numbers picked by them would be used as their positions on the ballot paper.
According to him, the Vetting Committee also had almost completed its work, because reports of the 17 aspirants received earlier had been completed and they were only waiting to vet the last aspirant, Capt. (Rtd) Nkrabeah Effah-Dartey on Tuesday November 27.
He disclosed that as at the time of the interview with DAILY GUIDE, the 19th aspirant, Lawyer John Kodua had sent an official message that he had pulled out from the race.
The NPP General Secretary as well mentioned that the necessary arrangements had so far been made towards the December congress.
According to him, the venue for the congress had been secured at the forecourt of the Great Hall of the University of Ghana and arrangements for accommodation for delegates also completed.
He revealed that hostels at the university campus would be serving as lodging places for the delegates.
On security measures during the congress, Nana Ntow hinted that instructions had been given the constituencies to submit the names and pictures of delegates to the party headquarters before or on December 8 to enable them print their identification cards.
He added that ID cards would as well be printed for media personnel, election observers and other persons who matter or have something to do with the congress.
By Simmons Yussif Kewura