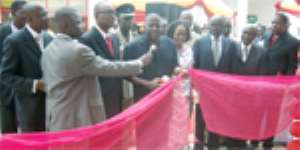 Government has vowed to shut down filling stations which fail to conduct their businesses in compliance with the oil industry's regulations.
Managers of these stations are therefore advised to adhere to best practices and ensure the delivery of clean and unadulterated petroleum products to customers at all times.
The regulatory bodies have also been asked to ensure that the locations of all filling stations in the country strictly complied with safety, health and environmental standards.
The Energy Minister, Joseph Kofi Adda, who made the remark at the inauguration of four service stations of Allied Oil Company Limited in Accra yesterday, further entreated the 43 Oil Marketing Companies (OMCs) in the country not to allow profit making to be their overriding principle, but do business in a competitive and friendly atmosphere.
He cautioned them as well to be security conscious and adopt safety measures to avoid disasters such as the one that occurred in Kumasi recently.
"The Ministry is always ready to assist the industry to transform it into a very viable and attractive one," he noted.
Allied Oil, the premier indigenously-owned Oil Marketing Company in Ghana, has projected to hit one trillion cedis as its 2007 turnover by the end of this year.
The company which commenced business in Ghana in 1998, had increased its turnover from ¢21.27 billion in 1999 to ¢735 billion in 2006.
In terms of sales volume, Allied Oil's total sales volume had also increased from 7,000 litres in 1999 to 95,000 litres in 2006. At the close of the third quarter of 2007, the company had a sales volume of 77,300,000 litres.
Allied Oil which has about 6.2 per cent of the market share in the country's oil industry, says it would continue to develop a network of company-owned and partnership service stations across the country.
In furtherance of this objective, Allied Oil had already acquired parcels of land in Accra and other key cities in the country to expand its networks.
"When completed, it would enable the oil company to increase its volume by 20 per cent in 2008," a source at the company stated.
Currently, Allied Oil has 390 retail outlets across the country.
The four service stations inaugurated are located at Abelemkpe, Circle, Zongo and Bubuashie.
Inaugurating the stations, Vice President Alhaji Aliu Mahama commended the oil company for its impressive performance.
"It has shown that with determination, careful planning and resourcefulness, Ghanaian companies can rise to the very top of any industry," he believed.
He encouraged Allied Oil to marry social responsibility with its corporate profitability by extending outlets into rural areas of the country.
The Vice President used the occasion to call on all the 43 OMCs in the country to set aside some of their profits to support government in its search for sustained energy sources.
By Felix Dela Klutse & Sheilla Sackey