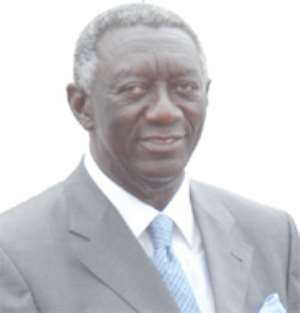 President J. A. Kufuor has said the tradition of the New Patriotic Party (NPP) will not allow any of the presidential aspirants to impose himself as the party's flag bearer for the 2008 general election.
President Kufuor said he would never seek to impose any flag bearer on the party.
Rather, he said, he was confident that the processes outlined by the party would enable it to select a flag bearer who would be able to unite the party and win the next elections.
Addressing the first international NPP delegates conference in London on Friday, President Kufuor said once a flag bearer had been selected, it would become crucial for members to discard their parochial interests and emotional attachment to some of the aspirants and give their maximum support to the presidential candidate for him to win the elections.
The two-day conference is expected to highlight some of the political, social and economic achievements of the NPP government and map out strategies to help the party in Ghana win in the 2008 elections.
The conference was attended by delegates from Ghana, Canada, the US, Germany, France, United Kingdom, Italy and other European countries.
President Kufuor said he was confident that the party would be able to win the 2008 elections if its members remained united and focused.
He said the party was built on the principles of human rights, democracy, rule of law, respect and fairness for humanity, and asked the delegates never to forget the party's tradition and roots.
He said the branches of the party abroad were becoming more important because of the promulgation of the Representation of the People Amendment Law (ROPAL) which conferred on Ghanaians resident abroad the right to exercise their franchise.
President Kufuor debunked any perceptions being fostered by people who did not wish the party well that the government had divested itself from the party.
To ensure constant collaboration between the party and the government, he said, he ensured that the national chairman of the party had regular consultations with the government.
On the economy, President Kufuor said the Ghanaian economy was doing well and the country was receiving attention from across the globe, because of its democratic credentials.
He said international financial institutions were seeking to co-operate with Ghana in its bid to seek international funding through issuance of bonds.
President Kufuor said Parliament was likely to pass a bill for the promulgation of a law, which would give legal effect for the establishment of the international financial centre (offshore banking) in the country.
The centre, he said, would further enhance the country's financial resources and the economy in general.
Story by Nehemia Owusu Achiaw