Quotable Quotes From Chief Asinugo's Tweets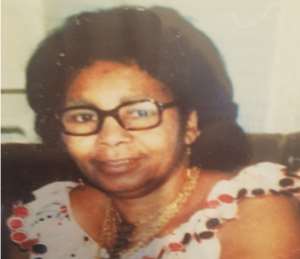 Chief Lady Janet Ukachi Asinugo
Compiled today, 3 May 2020 in memory of my dear mother, Chief Lady Janet Ukachi Asinugo, who left this world 24 years ago, on 3 May 1996.
When you hear people say 'London levels everybody' it doesn't apply economically or intellectually. It only means that everybody is equal before the law, no matter how highly or lowly placed. That is the beauty and strength of democracy.
Christians say death conquers pain and suffering. I find that difficult to reconcile with going to hell and being in pain and agony there. Can someone please explain?
The dreaded vaccine might be deployed where necessary, after testing it on animals first.
We sacrifice money to go to school. But nobody goes to school because he wants to be poor. The right hand and the left must wash each other for both to be clean.
Until the sort of mass revolution that sacked feudal France happens in Africa, brilliant ones among them would continue to escape overseas in search of 'greener pasture'. And Africans would continue to be humiliated because they could not tame their political and religious leaders.
We need to ask ourselves: "Why is it only African countries that have Diaspora populations?"
The only thinking that would matter to African nations right now is how to effectively stop institutionalized corruption. How do we beat the system?
As we cherish the suffering and death of Jesus, may he enable us change our attitude of falling in love with eternal death to falling in love with eternal life.
Our scientists still have to get it right. If religion and science disagree, superstition reigns.
Having a gun is not 'shoot anyone'. Artificial intelligence is not 'make the workforce redundant'. Going to the moon is not 'destroy the earth'.
Every freedom has a corresponding responsibility.
Over 2,000 years after tempting Jesus, Satan cannot change his tact. It's still all about food, over-indulgence in high positions and worshipping him for material gains. Who says Satan is so smart?
The problem with good people is that they think everyone is as good as themselves.
The problem with bad people is that they think everybody is as bad as they are.
We live in a world characterized by good and bad people, not white and black people.
Motif for betrayal in Bible narratives actually fascinates the mind. For Peter, it was fear. For Delilah, kinsmen. For Judas, it was money. How is it coming to go?
Talking of Covid 19. He tested positive. He tested negative. Are we now talking of the test or the test result?
In those days, my Editor-in-Chief would say, "Go put the script in English!"
A Muslim President and his Christian Vice can stop religious conflict in this country. They should lead by example. Nigerians need leaders, not rulers.
Any plan to fight corruption in Nigeria will be meaningless until legislation is passed to force employers of labour to pay workers on time every month, as it is done in developed democracies.
Government should stop fooling itself and fooling Nigerians. Politicians need to develop selfless willpower to be able to work in the interest of the voting masses.
When we say 'respect your elders' it is good law because everybody is older than somebody.
Nigeria will become a better country the moment people can be trusted again.
As long as there is injustice in the world even local magistrates, will continue to sit on the judgment throne.
While they celebrate N30, 000 minimum monthly wage, let Nigerians not forget it is only N1, 000 a day. And most families are more than four.
No civilian revolution can topple an elected government unless it has the backing of the military.
Nigerians should slack their choking hold on Mr. President and begin to hold their ministers to account when things go wrong. Government is a team.
What a complex world! Imagine there is justice in the land. All the judges and lawyers would be out of work. Imagine the chaos.
Are we to laugh or to cry?
Soldiers kill robbery suspects in Aba. Should we talk of soldiers or the Nigeria police?
When I hear them say "defend our democracy", I wink and ask myself "are they now nationalizing democracy"?
The story will be told one day.
What value are we placing on the quality of life we live? That is our critical challenge.
The National Assembly had better legislate on the compulsory study of Hausa, Igbo and Yoruba languages in all the schools across the country now, than on hate speech. It will make for a less painful parting should the Biafra and Oduduwa Republics ever happen.
Something is definitely going on when Mr. President is "chased away" to the airport on the last of his 20-day stay in the UK. This should have happened in April.
Even an overdose of APC could not cure Nigeria's ailment. And unfortunately, no drug is known as PDP.
You don't stay miles apart to engage in a kung fu fight.
How did government interpret "revolution" in Sowore's case – militarily or democratically?
Provoked. You want to retaliate. You want to judge and sentence the culprit. As a Christian, ask yourself: what would Jesus have done?
They told me they didn't know law and law didn't know them. I wondered. Are there still people like this?
I am just wondering. Why, by the name of the ancestors, did Delilah not marry Judas Iscariot instead of Samson?
Look for the black goat while there is light. For, no one learns to be left-handed in old age.
Anyone who goes to bed with an itching anus will obviously wake up with smelling fingers.
The simple test of an evil mind is when someone is unwilling to do to himself or herself what they would want done to others.
Traditionally, wealthy parents train all their children. Poor ones train their first son, to train his siblings. Any trouble about this culture is absolutely uncalled for.
If Mr. President and Mr. Governor can be impeached, what is the essence of the immunity laws protecting them?
Let the light lead you on your journey, my child. In darkness, even your own shadow will abandon you.
Why does our society sympathize more with widows that widowers? Are they both not suffering the same loss of their spouses?
Moses led the Israelites away from slaving in Egypt. But it was Joshua who led them to the Promised Land. Nwanne, biko muru anya!
Desire is desire, not growth. The more we want, the more a vacuum is created in our lives. The more our lives remain unfulfilled.
In His presence is fullness of joy. God does not leave a vacuum. Whenever there is a vacuum, the enemy steps in.
The spirit does not recognize white or black. That is the truth.
It is not always as bad as it appears to be.
The brooms only sweep clean when they are tied together.
I was beginning to think that APC and PDP are champions of this "electroNICK Age."
Asinugo is the author of 'The Presidential Years from Dr. Jonathan to Gen. Buhari and publisher of Imo State Business Link Magazine (Website: imostateblm.com).