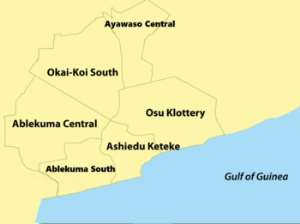 Okaikoi South Sub Metropolitan District Council is one of the Six (6) Sub Metropolitan District Council of the Accra Metropolitan Assembly (A.M.A.). It shares boundaries with Okaikoi North to the North, Osu Klottey to the South, Ablekuma Central to the West and Ayawaso West to the East.
The Sub Metro has Eight (8) Electoral Areas namely; Awudome, Goten, Kaatsean, Mukose, Bubuashie, Bubui, Avenor and Kaneshie. ([email protected])
These electoral areas were created long before other electoral areas in other districts and sub metros.
Considering the population dynamics in the respective jurisdiction, the geographical or physical features of the areas, their economic viability, as well as ethnic and community interests show the need for Okaikoi South to get a new municipality.
Touching on the economic viability, the area can be recorded having among the largest industries and factories at Kaneshie North Industrial Area. Some Communities within the area include; Darkuman, New Fadama, Kaneshie, Bubiashie, Avenor etc.
Sub-Metro houses some commercial activities such as banks, the Kaneshie Market, educational and health services. Kaneshie Polyclinic, Cocoa Clinic, Faith Evangelical Hospital are all within the sub metro. Accra Academy cannot also be forgotten
One major ceremonial and major roads running the Sub-Metro is the Kwame Nkrumah and Obetsebi Lamptey flyover which serves as a major connector as well as a nodal community for adjoining areas/Sub-Metros Metropolis and the region at large.
The 2010PHC estimated the population of the Sub-Metro as 121,718 with 13,378 houses and 34,800 households. Using the Greater Accra Growth Rate of 3.1%, it is estimated that the 2018 population of the area stands at 148,897.
When Okaikoi South Municipal Assembly is created, the assembly will map out strategies to improve its revenue generation in 2020. Accountability and Transparency is assured to the populace within the enclaves.
When Okaikoi south is made a municipal assembly, some of the strategies needed to set up include the printing of the assembly¡¯s own revenue bills, updating of the revenue database, engagement of some revenue collection firms, zoning the municipality into revenue blocks and procurement of sanitation bus.
It will also considered social infrastructure and the centrality and accessibility of the capital.
There is the need for leaders of various faith,stakeholders, chiefs to do more public education and other engagements for the citizens to appreciate the need to collectively support the newly created assembly to be financially strong to bring the much needed development to the assembly.
For Okaikoi South to see more developments, decentralisation becomes key to development.
We all cannot forget about the destructive criticism concerning the creation of new districts and municipalities. On March 2018, the president held a meeting with chiefs and other stakeholders at Upper West Region, President Akufo-Addo affirmed that decentralization was key to development.
¡°We want the decentralization exercise to succeed, to really bring the government closer to the doorstep of people and that is the way we will get better governance in our country. We believe in it strongly and that is the reason for the enhancement of the district assembly and districts across the country,¡± he said
Long Live Okaikoi South
Long Live Ghana