To reduce civil unrest, industrial strikes and enhance productivity, governments and organizations need to adopt and apply best practices in public relations and protocol management in running their affairs.
This was the conclusion reached by participants at a three-day international public relations and protocol management conference held December 2-6, 2019 at the Crystal Palms Hotel, Accra.
Participants came from countries in west and southern Africa, including Malawi, Nigeria and the host-country, Ghana.
Organized by Centre for Public Service Productivity and Development (CPSPD) the conference noted that recent conflicts among presidents and leaders of some world powers are due to non adherence to best practices in international public relations and protocol.
The need for harmonious international protocol code by countries was also stressed.
The CPSPD is a leading organizer and coordinator of international conferences worldwide with training venues in Accra (Ghana), Johannesburg (South Africa), Dubai (UAE), London (United Kingdom), Lagos (Nigeria), Addis Ababa (Ethiopia), and Malaysia.
Speaking at the conference a faculty member of CPSPD Dr Chris Egbu stated that lots of tension at bilateral talks amongst countries can be reduced if leaders of the delegation observe a protocol that states, 'Never say No while responding /reacting to a proposal/idea expressed by the counterpart; but say we, We will give thought to the matter, we may get back on the matter in due course".
Egbu, who is also a peak performance coach, author, public speaker and external auditor, opined that some open confrontation caused by unpresidential remarks at bilateral talks can be avoided if leaders had responded that "we may hold consultation with appropriate government agencies or Ministries and come back with our appropriate response"
Similarly, the team lead at Le Papillion Core of Ghana Rita Rockson called on public relations professionals in the age of social media to cut through the online clutter with arguments that are persuasive, believable and actionable.
Power, value and influence of public relations have never been in greater need than now, she stated, noting that the current unrest and crisis in most countries of the world leading to sustained demonstrations and civil unrest underscore the need of public relations in democratic society where people have freedom to debate and make decisions.
Also speaking, media management expert and president of Journalists for Regional Integration (JORIN) Martin-Luther C. King said the challenge in 2020 for public relations and protocol management professionals would be how to creatively leverage the mix of artificial intelligence, better content and personalization to effectively push their message.
Acknowledging that protocol management often demands walking a tight-rope from its practitioners, nonetheless they must model polite behavior and exude best practices at all times, King enjoined.
The conference called on governments and organizations to continuously train and retrain their public relations professional to ensure peace and harmony in the community, the marketplace, the home, the workplace and the voting booth.
Before departing, participants were treated to a tour of select tourist sites in Accra, including the Kwame Nkrumah Memorial Park and Mausoleum, as well as the Accra Arts Centre and Market.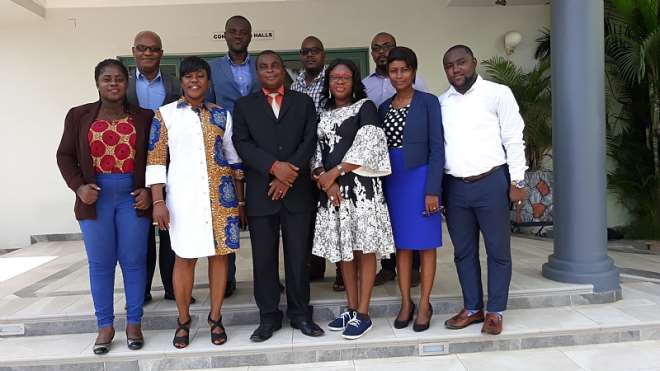 Section Of Participants At The Conference