Christian Service University College, CSUC, Hosts High School Debate Second Time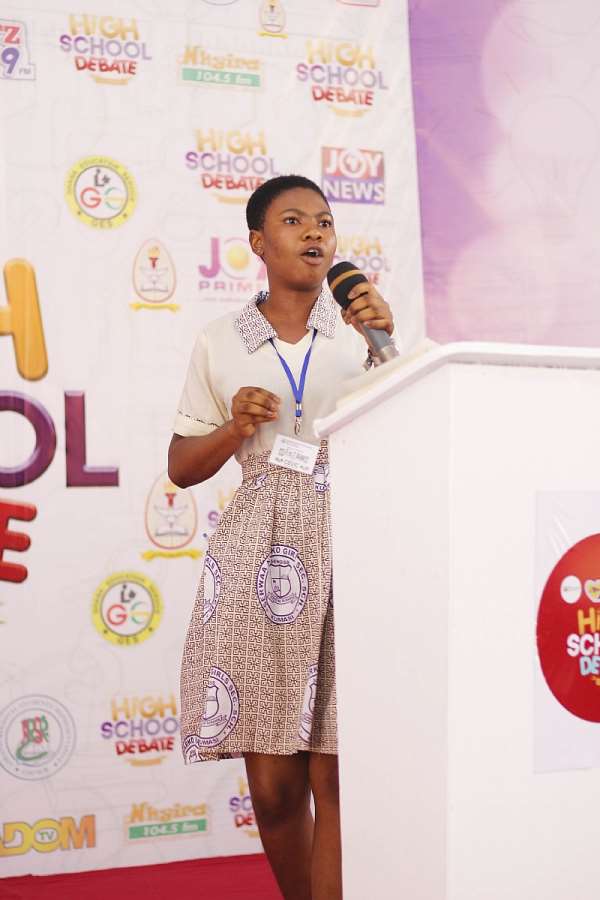 A speaker from Serwaa Nyarko SHS
The Christian Service University College, CSUC is for the second time hosting the High School Debate on its campus.
The programme which is organized by the Luv FM, Multimedia Group, has become an annual event keenly contested by the various Senior High Schools in the Ashanti Region.
The High School debate being an academic activity is competitive in nature and train students in public speaking and critical thinking. Again, debating provides the platform for students to practice the development of sound logical arguments and speaking in front of an audience while thinking on their feet. Students who participate in such competitions often show initiative and leadership.
As part of their preparation for the contest which is evident during their presentations, the students engage in research and this, in turn, enriches their delivery and increases their understanding of multiple sides of issues of national interest. Most importantly the High School Debate is also a platform to research and compete on different subjects which is equally as important to national development other than Science and Mathematics.
The preliminaries for the 2019 even took an entire week where the various High Schools contested to book a place in the main event which would start on Thursday, October 3rd 2019. In all 16 Schools would be contesting. Interestingly, the event also draws old students of the various High Schools to the CSUC Campus to support their Alma mater.
The 2019 High School Debate promises to challenge students to discuss issues of national interest such as sanitation, sex education, politics, economics, religion and educational reforms etc.
CSUC as a center of academic excellence is confident that the high School debate would gradually become a national event which gives students the opportunity to engage in intellectual discourse for national development.