Financing  Agriculture In Ghana: The Plight Of Smallholder Farmers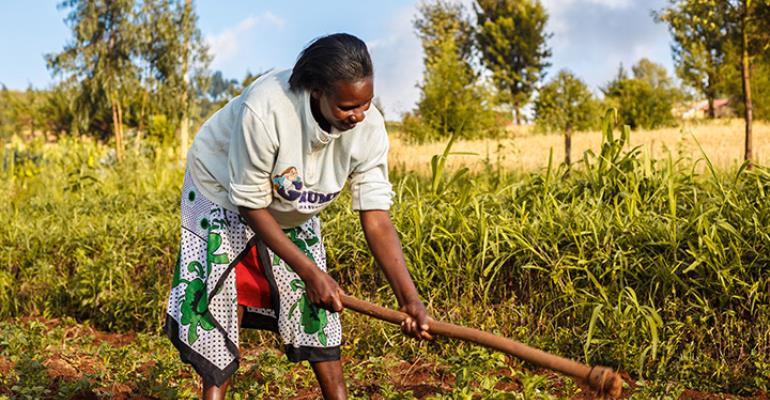 Agriculture is a lifeline in Ghana, besides oil and gas and other contributors to the Gross Domestic Product (GDP) of the Ghanaian economy. It is the backbone of the Ghana's economy with about 80% of agriculture production attributed to smallholder farmers. Annually to GDP contribution of the Agriculture sector to the Ghanaian economy in general is of paramount for development of the nation.
However, over the past decade, the Agriculture sector has been steady slow growth, after witnessing a major slump in growth in 2007, it is estimated that the agriculture sector will grow at an average 3.3% yearly until 2018 while contributing just about 25% to the nation Gross Domestic Product (GDP).
Gross Domestic Product from Agriculture in Ghana increase to GHS7209.81 million in the third quarter of 2018 from GHS6267.93 million in the second quarter of 2018. GDP from Agriculture in Ghana averaged GHS6521.31 million from 2006 until 2018 reaching an all time high of GHS 8353.76 million in the fourth quarter of 2017 and record low of GHS 5322 million in the fourth quarter of 2007.
Financing challenges of Smallholder farmers in Ghana
Financing Agriculture in Ghana over the years and now is a major challenge which has trap farmers especially the smallholder farmers in the rural Ghana. As a result of lack of access to finances from financial houses, banks and other sources, the smallholder farmers have been trap with poverty, non- access to finance for expansion of their farms, purchasing of farming inputs and machinery to increase productivity. Most Smallholder farmers are already stuck in low soil fertility- poverty trap, making it impossible for them to afford inputs needed to increase productivity and end hunger. There is the need for Ghana to accelerate sustainable soil management practices and capitalize on growth in the agriculture sector. Most of Ghana's agriculture activities are subsistence with little (or) no funding support from government or the private sector. Land acquisition, poor irrigation activities, access to fertilizers and farm implements, access to market and storage facilities and post-harvest loses are the problems.
Some selected financial institutions, banks and non-governmental organization contribution to financing agriculture in Ghana.
Agricultural Development Bank (ADB) - Agri Finance
The main focus of Agricultural Development Bank Ghana since its inception in 1965 has been the provision of credit facilities for the development and modernization of agriculture and allied industries. It is estimated that ADB is currently responsible for about 85% of institutional credit to the agriculture sector in Ghana.
Stanbic Bank Ghana/ AGRA loan guarantee programme
Several mechanisms are being introduced to expand access to agriculture finance in Ghana. The Stanbic AGRA loan guarantee programme was signed in 2010. For every US$1 the Stanbic Bank invests in agric AGRA will guarantee 20 percent of the loan in the first year, 15 percent during the second year and 10 percent between the third and fifth years. The programme intends to reach at least 5000 smallholderfarmers with total lending of US$25million.
Rural and Community Banks in Ghana
Our research revealed that over the decade now most of the rural and community banks in Ghana have lend to a lot of smallholder farmers in the rural areas. It estimated that amounts of GHS564million lend to smallholder farmers by rural and community banks nationwide.
Financing Ghanaian Agriculture Project (USAID-FinGAP)
FinGAP has facilitated more than $40million in new, private financing and investment and has helped more than 80 small, medium including large Enterprise, making farmer's access loans-far surpassing project target over the life of the project. FinGAP interventions yielded 80 SMEs and farmer organization linked to 120,000 smallholder farmers in target value chains gaining access to finance. FinGAP help builds strategic market linkage with investors that integrate small holder farmers. These linkages promote equitable participation of male and female farmers into their supply chain, creating platforms for deployment of financial solution along value chain.
Linking Smallholder farmers to banks in Ghana
Financing agriculture is key to Ghana's development and connecting Smallholder farmers with lending institutions in Ghana is the most important strategy to relief smallholder farmers of their financial burden to make it possible for them to afford inputs needed to increase productivity and end hunger. Cine plus Consulting Group currently developing data analytics alternative credit scoring models to benefit smallholder farmers. We developed a mobile phone application(app) which rural farmers can use to track their farms-level data we get from the farmers with big datasets-like weather, climate, economic and satellite data to generate a credit score which financial institutions then use to lend to the farmers. We are helping financial institutions assess risk and create good products so that they can better lend to smallholder farmers.
Richard Attu
C.E.O Cine Plus Consulting Group
(Management Consulting and Research)
Writers email address: [email protected]