Obstinate Chinese And Our Environment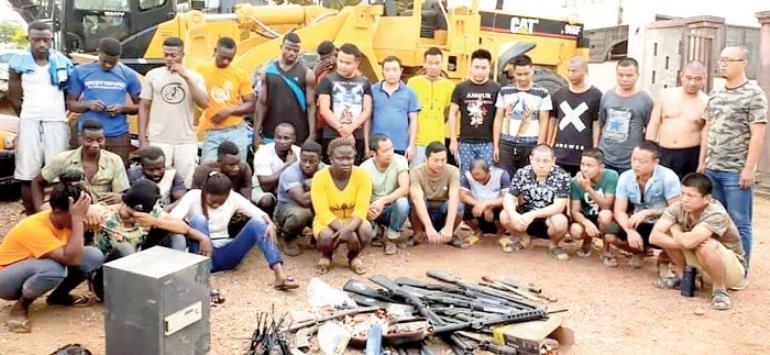 Something surely accounts for the annoying obstinacy of the Chinese still engaged in illegal mining. We are not being xenophobic but the rate at which the Chinese are flouting our laws and with impunity defies comprehension. We think it borders on disrespect.
The past two weeks were characterized by two stories suggesting that the rogue Chinese are here for the long haul. The notorious Chinese woman tagged 'galamsey queen' in media circles has proven that she does not give a damn about our laws. Her return to the galamsey site as though nothing untoward happened earlier coupled with those arrested with firearms of various grades both make for worrying brooding.
That it is even unimaginable that Chinese laws can be so trampled upon in their country by foreigners as nationals from this populous Asian country are doing here adds to our fury.
The number of times these rogue Chinese have flouted our laws by continuously going ahead to engage in illegal mining is as uncountable as it is mind-boggling.
We have described these culprits as rogues deliberately to, as it were, differentiate them from law-abiding Chinese working in the country and obeying the laws of Ghana.
As pointed out earlier and in a previous editorial, there is no way foreigners can flout our mining laws the way these chaps are doing without the backing of some Ghanaians.
Those who prepare entry passage for the rogue Chinese to purposely come and degrade our environment qualify to be described as quislings. After all, they collaborate with the enemies of our environment to breach our laws.
The more they are arrested and prosecuted the more we have fresh ones arriving to continue with the illegal mining. They are more technological endowed to undertake illegal mining than the locals hence the unwholesome collaboration; we are pained that some of us still do not appreciate the extent of damage such activities cause our environment.
We are unable to fathom why the selfishness of a few individuals is causing so much havoc to our physical space and our water bodies as majority of us watch almost helplessly.
The recent arrests made in the Ashanti Region and the video recording of the event made disturbing viewing. The number of weapons and their sophistication vis a vis how they are smuggled in prompts the question about the quality of frontier checks.
The security agencies at our frontiers must rethink their check drills; we are constrained to question whether such checks are as thorough as they should be. Maybe some people are abusing their exemptions from such checks and smuggling in firearms.
It was clear that some of these illegal miners engage retired soldiers to assist them in their occupations. One of such persons was seen telling the soldiers effecting the arrests that he is a Warrant Officer which makes us wonder whether the war against illegal mining is not being sabotaged by such persons and their employers with impunity.
It would be appropriate to apply the maximum penalty for foreigners who engage in illegal mining and especially when they bear arms as in the case under review.
Such breaches are both insult and affront to us Ghanaians. It would not be long when another set of Chinese would be exposed with their weapons.