COCOBOD Attends First China International Import Expo in Shanghai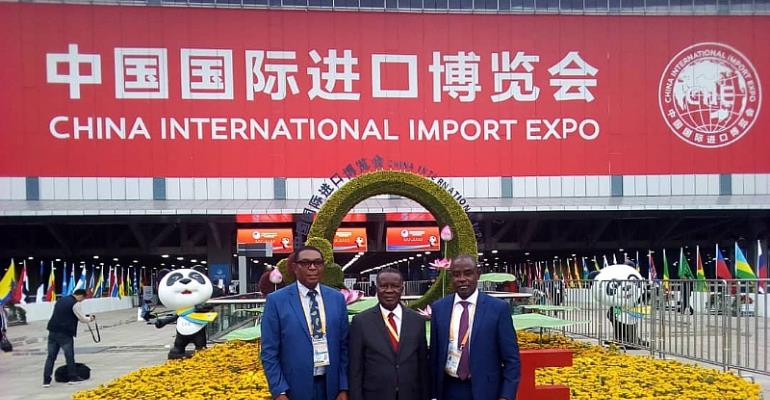 Ghana Cocoa Board and other Ghanaian cocoa processors including chocolate makers are featuring prominently at the Business and enterprise pavilion at the first China International Import Expo held at the National Exhibition (NECC) and Convention Centre in Shanghai, China.
Seven countries from Africa including Ghana have pavilions dedicated to showcasing their products and what their countries have on offer.
The expo which runs from 5th to the 10th of November, 2018 has 172countries and 3,600 companies from across the world participating under the theme, "New Era, Shared Future" which sets the agenda for China to create a window of imports globally.
Speaking at the opening ceremony, the Chinese president, Xi Jinping said China was on the path of widening its trade gates by prospecting for opportunities to buy from the rest of the world.
"We need to expand market access to the rest of the world which demonstrates China's consistent position of supporting the multilateral trading system and promoting free trade," he stated.
This, the President indicated, is a concrete action by China to advance an open world economy and support economic globalization.
Speaking on the side-lines of the opening ceremony, Mr Emmanuel Adem Opoku, the Deputy Chief Executive of Ghana Cocoa Board In-Charge of Operations expressed optimism at Ghana's products especially chocolates and raw cocoa beans making inroads onto the Chinese market.
At Ghana Cocoa Board's booth located at H 8.2 C11-01 at the expo, various chocolate and cocoa products being exhibited are from Cocoa Research Institute of Ghana (CRIG), Cocoa Processing Company Limited, Niche Cocoa Industries limited and PBC Shea Limited are attracting maximum attention by visitors to the expo.
The New Products Development Unit of CRIG is showcasing cocoa wine in addition to the variety of chocolates and products on display.
The import expo provides a huge market opportunity for both buyers and exhibitors.
The expo edifice is situated on a 300,000 square metre land with 400,000 registered Chinese and foreign buyers.