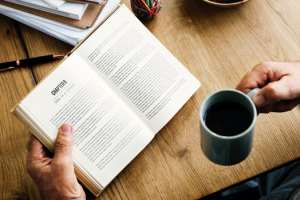 "How vast the sum of that great record of men's thought, imaginations and convictions have grown to be in our day! How splendid in number and quality are the great books of our time! But books are for reading and study and not merely to be put upon shelves. How great would be our neglect and folly, if we were to let them lie there and miss the help and uplift and direction they might bring to us. To get into the habit of reading good books is indeed to walk along a way of life that has rest, refreshment and inspiration. The opportunity is given to all through the depot organization. To neglect books is to refuse to enter into the most splendid human heritage."
(Book steward, The Methodist Book Depot, and cape coast, in the African Morning Post 1938.)
Introduction
It is an undeniable fact that a country cannot be fully developed without a large-scale investment in her educational scheme since the breakthrough of a country is directly proportional to her educational level. This is well understandable because the state of a country to progress politically, socially, culturally and economically is affected by the fraction of its populace who are well educated. Since the acquisition of effective reading skills has a positive effect on all school subjects, then reading is an essential condition; a thing that is absolutely necessary for human capital and global development. Thus efforts have been made by advanced countries such as Cuba, USA, Britain, China etc. to increase the number of its elites through quality education. Several researches have also been made by developing countries such as Nigeria, Zambia, South Africa, Uganda, Malawi and Rwanda and a reinforcement have been provided to solve such an abysmal reading culture of which can Ghana learn.
Effective and constant reading hones the mind, making a person think logically and dispassionately. It prepares an individual for a distinction in life. Reading gives access to full participation in various activities in our modern society. It therefore adds quality to our lives by giving us access to various cultures and cultural heritages. Constant and effective reading also liberates and empowers us as citizens as well as brings people together as a nation (Igwe 2011, p.1). Despite all these prestigious advantages of reading, it has been observed that many Ghanaians today do not find interest in reading whiles others read with no purpose of gaining intellect but to remove boredom.
In a survey I conducted among tertiary students in two noble universities in Ghana namely, University of Ghana (Legon) and Kwame Nkrumah University of Science and Technology (Kumasi) to find out the number of students who devote their time to constant and effective reading. In all 75 students participated, out of this number, only 63 representing 84% were fond of reading. Out of this 63 who were fond of reading, only 11 representing 17.46% read at least once in a day whiles 52 representing 82.54% read at most four times a week. 12 students out of the 75 representing 16% said they only read during exams. Out of the 12 people who were not fond of reading, one gentleman expressed himself freely:
"Why should I read?………what will I gain from reading?....... you see university life is all about chilling………. you for look shark charley! Very soon I will marry so what will long books do me if it isn't romantic stories. I only read during exams to pass my paper and obtain the degree. Is only the degree I want…… nothing else… perhaps I don't have time to read!
I was shocked by the revelation he told me that reading is only necessary during examination and so I asked myself what is happening in our generation? Why are the youth of our epoch forsaking reading? Perhaps they haven't learned from those of old? How Siphiwo Mahala had to assault her eyes with a candle just to read a novel although she was not enrolled in an academic institution during a power blackouts known as 'load shedding' in South Africa. I viewed it that young people are ignorant about the 'core' relevance of reading.
To kill my curiosity, I was tempered to ask the 11 who read every day what really motive them to read and they said:
"Reading helps us to discover new things, to learn and understand how things came about. It broadens knowledge and improves our way of thinking. It keeps us updated on recent happenings, enhances our vocabulary and motivates us as well; It builds our spiritual life."
Throughout the survey, I noticed that students have low appetite for reading because sufficient efforts have not been made by government, parents and stakeholders to improve upon the quality of reading. This paper is rounded off with suggestions as to what government and concerned stakeholders can do to develop and re-invent the reading culture.
The Reading Culture
Culture is understood as consisting of people's ways of being in the world, behaving and acting based on what they have observed in the society. It refers to the attitudes, manners or habit shared by a given group of people in order to achieve their dreams and aspirations. For this matter, reading culture is the response that community members accord to reading and writing in their everyday life. Behrman defines a culture of reading as an integrated pattern of reading behaviours, practices, beliefs, perceptions and knowledge. Therefore, reading culture is the habitual and regular reading of books and information materials. It is seen as the time when people habitually and continuously engage in reading books and other information bearing materials that are not necessarily required for their advancement in their disciplines or careers. Reading is not just for school, it is for life. This is because the quality of age long or lifelong discoveries of new things through the boast of intuitive knowledge and its adaptability on various issues of life is enshrined in the reading culture.
Drawing much from the above reflections, the culture of reading is when reading is highly valued and becomes a shared common attitude, part of people's activities and thus becomes a habit as people show great interest and dedication towards its faculty. It is thus important since the sought for academic excellence cannot be achieved and sustained without the culture of keeping on reading for continuous self-improvement.
The promoting of reading culture in Africa Nations is viewed by many scholars as a way of boosting students' academic excellence and lifelong learning and also a way of enhancing socio-economic development.
"Knowledge is power. Information is liberating. Education is the premise of progress in every society, in every family." (Kofi Annan). This can come into reality through constant and effective reading.
Redefining The Reading Culture
The Merriam Webster dictionary defines 'redefining' as reexamining or reevaluating something especially with the view to change. Therefore, the reading culture must be revisited, explained and clearly outlined its essential qualities since it is the fundamental building block of learning and a way of boosting human capital for economic development.
I remember when we were growing up as kids in the early 90s when we used to read so many books in school, home, church, social gatherings etc. I remember when mama used to buy me poems, folks, tales, drama books and stories of many kinds whenever she goes to market on market days. I can recall in those days how papa would make me recite some part of the writings of James Ngugi (weep not child), Efo Kodjo Mawugbe (in the chest of a woman), Lawrence Dramani (Grief child) and many Kweku Ananse stories during vacations. It clearly compelled me to read more. Books from these eminent writers were really educative, informative and entertaining as well. It really thought me how to live a life free of human discrimination. Thanks to Mama and Papa for bringing me to this far.
To redefine the reading culture is the responsibility of those who are enlightened (teachers, authorities, researches, parents, government etc.) to showcase the value of reading and pass it on to the younger generation in order to give them a chance to be the best they can be in life.
Young ones should be oriented on the importance of reading culture. Parents have a huge role to play by inculcating reading habits into their children through the buying of reading books for their wards as birthday gifts or other gifts and should ensure that they read them especially at their leisure time or during holidays instead of idling, watching T.V or playing all the time. They should also make a conscious effort to teach them how to read especially a mother can inculcate reading habits into her children by reading to them for at least two hours, as from the infant age as being done in advanced countries.
Teachers should be models by reading in class and making time for students to read aloud in class. Organization of reading clubs, reading competitions and reading days must be done in schools. Young people can also be encouraged to read by giving prizes to best readers. This will help associate reading with pleasure
Improved funding for the establishment and equipment of libraries, particularly, public libraries. Government and stakeholders at all levels should make grants available for the purchase of good literature books for children and adults. This should be backed up by a policy so as to make it effective. Authors should also be encouraged financially by the government and stakeholders to write books.
Attitudes and perceptions towards reading should also be changed. Having attitudinal adjustment as a student is a necessary key to success and how far one will go in life. Attitudes and perceptions indicate performance. Bringing the best out of reading depends on how positive your attitude and motives will be. Know yourself and discover when it is the best time for you to read and concentrate better. Stick to that knowledge and you will discover a world of difference in your reading habit.
Read with purpose and stay focus. Focus can be defined as the total commitment to an assignment and purpose is what you desire to achieve in doing something. It will be a total waste of valuable time reading without a specific purpose of what you stand to gain from the reading. Think about what you want to gain, ask yourself questions before reading and be certain about what you want to achieve. Stay focus, adopt a flexible reading speed, recall what you read and read with a target.
Conclusion
There is a greater optimism with respect to the promotion and redefining of the reading culture through the avenues provided and modelling aspects of reading promotion strategies on the various best practices from around the world. Whatever forms the reading campaign might take, it is incumbent on all role players to work together in pursuance of the vision of creating a reading nation.
NGISSAH DESMOND
KWAME NKRUMAH UNIVERSITY OF SCIENCE AND TECHNOLOGY
DEPARTMENT OF LAND ECONOMY
EMAIL: [email protected]