Violence At Manso Nkwanta: Neutral Body Likely To Investigate Fatal Police Shooting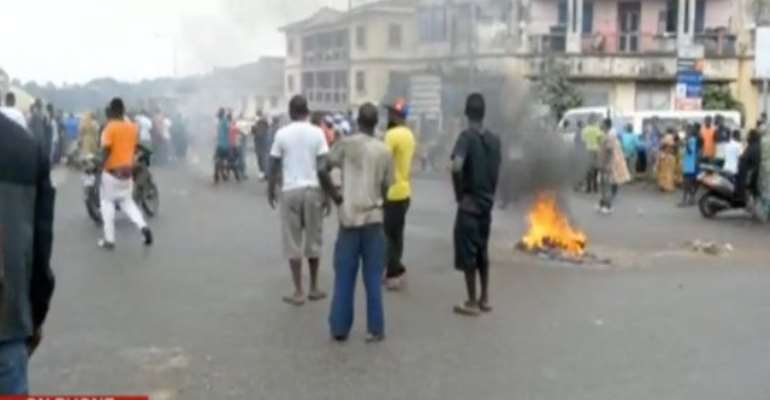 The Ashanti Regional Minister says the Regional Security Council (RESEC) will consider having a neutral body to investigate the shooting to death of seven residents of Asawase Zongo.
Simon Osei Mensah explained that this will serve all parties since the aggrieved Zongo youth have already indicated that they will not accept any investigation by the police service since they have an interest in the matter.
"That might pacify them [Zongo youth] to some extent," he said adding "it is likely tomorrow we will form a neutral committee to do the investigation".
Related: Police, Zongo youth clash over killing of 7 indigenes by police
"I cannot tell the membership of the committee because it might change when we meet to conclude on it. But no member of RESEC who belongs to the police will be on the committee," he told Emefa Apawu on Newsnight Thursday.
Police and military personnel were visible on the streets of Asawase on Thursday following attempts by the Zongo youth to burn down a police post and other installations in the community.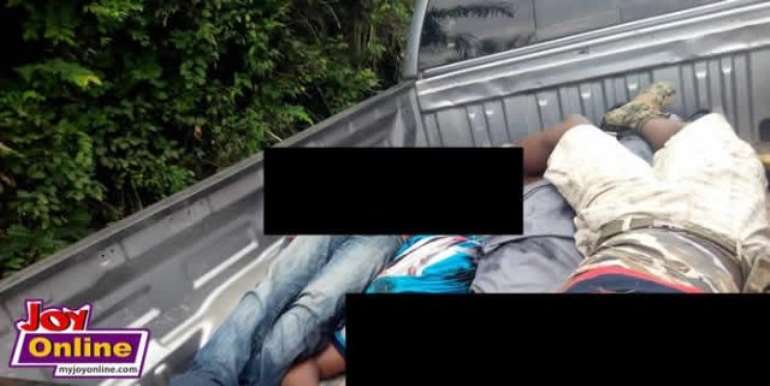 Bodies of the deceased men
Their action follows the killing of seven alleged armed robbers by the police on Tuesday.
The victims, some of whom were governing New Patriotic Party (NPP) operatives, were said to have engaged the police in a shootout at Manso Nkwanta.
Related: 'They are not armed robbers!' - Zongo chief takes on police for shooting 7 indigenes
The family and residents, however, say the seven were not robbers and are accusing the police of acting unprofessionally.
The Manhyia Polyclinic also received its fair share of the wrath of the Zongo youth.
Administrator of the hospital Samuel Dodzi said the youth stormed the hospital throwing stones into the premises.
"They smashed the windscreen of one of our doctors and some equipment in the hospital. We were taken aback because there was no discord between us and the community," he said.
He, however, disclosed that he later found out that the police brought an injured officer to the emergency centre for medical attention so the youth wanted to get to him.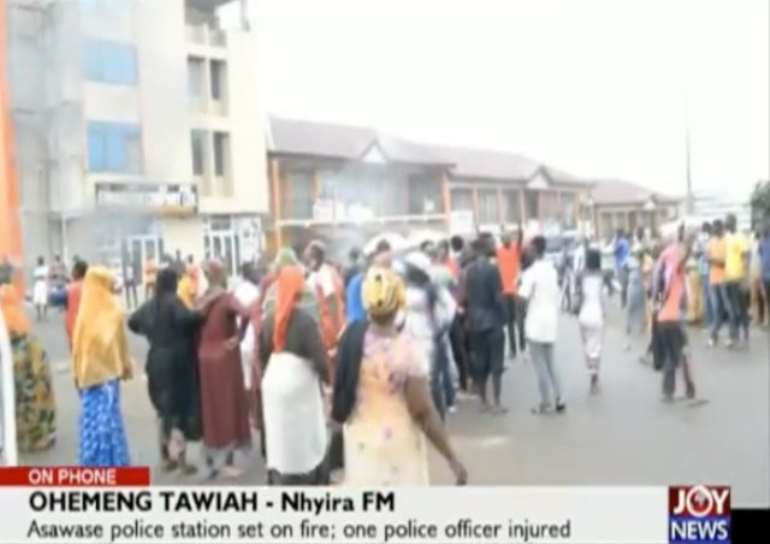 But the Regional Minister assured residents of their safety stating a joint military and police patrol team have been tasked to maintain law and order in the community.
"We have raised security alert to the highest level so the situation is not escalated...the residents have nothing to fear because the security services are in control especially tonight and subsequent nights," he told Joy News.
According to him, no arrest has been made from today's disturbance but he warned that anyone who takes the laws into his own lands should be dealt with.