Messi, Ronaldo, Prempeh College Lessons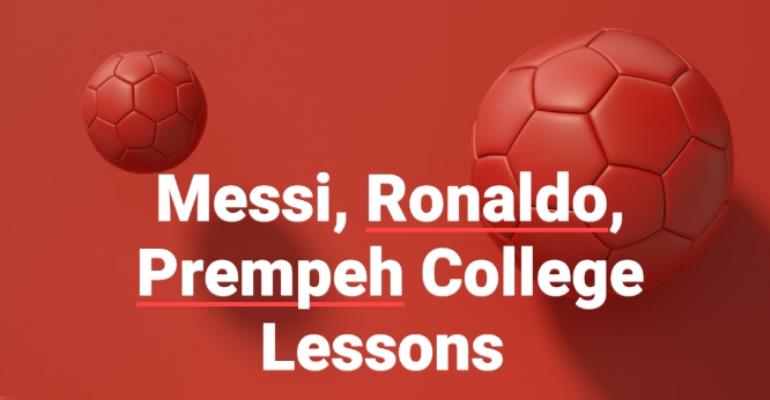 After already contributing much to football, it is honorable to win the World Cup with their respective national teams, people have argued, and will continue to argue. Yes, I agree. I agree because in an era and in moment where football gurus, enthusiasts, coaches, and the laymen want to pick one of them as the Greatest Of All Time (GOAT), such honor must be good enough to help us in separating them. This alone in itself was enough burden for these duos in this year's World Cup competition.
Four years ago, there was no such comparison because clearly, Messi had done more, comparatively. And so, there was no GOAT burden or pressure. Frankly, the GOAT pressure was not the only burden on these two heroes. There were other seemingly invisible yet inevitable pressures which gave them sleeplessness nights. And I think these pressures rather deserve mentioning. Funny enough, though their invisible but inevitable situations were not entirely the same, they came with almost the same pressure or burden in proportion.
In 1998, France won the World Cup. They replicated that performance and won the UEFA European Championship in 2000. In 2004, Portugal lost to Greece at the grand finale of the UEFA European Championship, and in 2006 Portugal was at the semi-final stage in the World Cup. In 2008 and 2012, Spain won the UEFA European Championship back to back. They showed class and won the World Cup in 2010
For Portugal going into this year's World Cup tournament as the 2016 European Champions, technically, the burden on them to excel in the competition is something worth noting, for it was huge in proportion. A necessity was placed on them to represent Europe, literally. Again, the zeal to equal the records set by France and Spain in recent times also brought another unavoidable pressure on Christiano and his teammates. Even their previous records in 2004 and 2006 as mentioned earlier was another added pressure. You can imagine all these pressures put together.
For Messi and his teammates, they were coming into this year's tournament as a team that lost the World Cup to Germany in 2014. Also, the absence of Chile in this tournament literally meant Argentina was representing South America continent because they were 2nd in the 2016 Copa America. Messi knew that any performance below what they showcased four years ago will not be tolerated by their supporters plus the fact that largely, their continent depended on them. They also needed to equal the record set by Brazil in 1998 and 2002. These burdens are huge enough to put any iconic football player under pressure.
If you are a true football fan, you will understand what these big scars (defeats) have done to Messi. These defeats made him narrowly miss these enviable cups. Else the issue of who is the GOAT will not even have been raised in the first place. One other visible factor that has disturbed both players is the issue of age. Both icons may not be able to take part in any global tournament with their national teams again. Even if any (most likely Messi) will take part in any competition again, not at the peak of his performance. He's virtually fading out.
With all these in mind prior to the current tournament, they planned to do their best possible through any available means. It is in the light of all these and looking at the circumstances surrounding their early elimination from this year's tournament, that I have learned another important lesson of life. When the applause has become increasingly too high, and the praise is overwhelming, and peoples expectations have massively gone up mounting so much pressure on you, you should know that that is the time when the unexpected happens.
In life, when you are under so much pressure to deliver because a certain group of people wants you to prove your worth, the unexpected mostly happens. It happened to the German and Spanish teams, and yesterday, it happened to Prempeh College students at the semi-finals of the 2018 National Science and Maths Quiz competition. This only explains our human nature, and how disappointing we can be sometimes after many people have put their trust and hope in us.