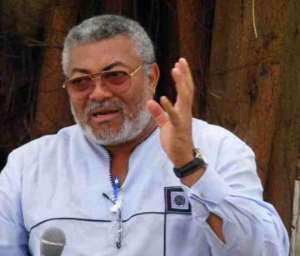 Monday was the first of January 2018. It was calm and serene. Harmattan had taken a good New Year swipe at us. But I loved the weather. In fact, it is an annual tradition for me to welcome the season. Somehow, it buoys my spirit and bubbles my soul. It invigorates me with reserve energy as we run the last lap to the finish line of the year; you know the "finish hard" impetus. As I sat at the table along the bank of the Volta watching a father speed in a boat, towing his son on a water ski behind, I noticed a long convoy with a solitary police motor escort in the lead. I mused with a lot of warmth that the days of convoys and campaigns were over for now, albeit temporarily. But I wondered whose convoy that was or whether vehicles had taken advantage of the opportunity to break the law by following the police, hence the serpentine queue of vehicles that sped along Adome Bridge like the fleeing congress of baboons from a natural phenomenon that only animals can detect. Oh believe me, some animals can feel and sense supernatural activities.
There must have been a synapse in time that propelled my spirit to the convoy to ascertain who it belonged to. Deep down in me, I knew it was some confused group's because there was no consistency in the models of vehicles. Anyway, fast forward, after dancing to Eugene's "Angela" and swimming a few laps in the fresh water of the pool nearby, we got ready for the journey back to Accra. Ghana, your beloved country is beautiful, and worth the sacrifice, folks! Just believe in her and in yourselves. If you took advantage of the opportunities presented by H.E. Nana Akufo-Addo's initiatives and policies, you are certain to live a happy life, and have a good chance of making it big. Better things are happening in this beautiful country of ours.
Anyway, it turned out that John Mahama was on his way back from his hypocritical appearance at the anniversary of the 31st December revolution, hosted by President Jerry John Rawlings in Ho. In spite of the fact that the coup of 1981 was an illegal event orchestrated and effected by a bunch of wee smokers in the military, breaking off to create a stratocracy of confused junta retards, John Mahama should not have even attended the event, knowing perfectly well that he had rubbished the celebrations while he was in office. I have always said that he is an opportunist whose populist stunts never worked for him. He will seize the least opportunity to exhibit his tomfoolery. And to think that we had such a character as President of Ghana; how shamefully embarrassing!
And Pap J (President Rawlings) dressed him down quite decorously, a stark diversion from his harsh antiques against sulky people like John Mahama. In fact, I would have wished that Rawlings slapped JDM for his gross insensitivity. He would have back in the day! Anyway, he told the zombies that were gathered at the event that he came in late because he knew that John would not be in on time due to the latter's supremacist character that wants to overbear on all those he finds himself in their midst. He stated categorically that this man has not learnt his lesson, and is still repeating the mistakes that destroyed the chances of the NDC. I would add that the chances of the NDC have been destroyed for decades to come, if not forever!
So the convoy quickly vanished like a temporary scare from a river monster from the depths of the black water of the Volta Lake. Soon, it was time to go, and we were off heading towards Accra. The hustle and bustle of roadside vendors and competing food sellers, all women and girls, brings to mind how industrious Ghanaian women are. I doff my hat to our mothers in every nook and cranny of our beloved country. Past Senchi and the adjoining villages, we came across a congregation of baboons along the road. That place is known for sighting congresses of baboons, you know, but little did I know that they were lined up to greet their comrades in the NDC. I soon realised that the baboonism exhibited by their friends are not too alien to the crude ideals both the baboons and NDC share in. They are strictly adherent to the principles of violence and theft. Baboons attack farms and steal the harvests. They similarly steal from homes too. The NDC steals from Ghanaians and anyone they happen to single out in a deal. Baboons are violent; in fact very perilously. NDC is a party born out of violence, bloodshed, and pure injustice, incubated by its predecessor juntas, the AFRC, and the PNDC.
As I took pictures, the convoy sped past slowing down only to acknowledge the baboons that lined up to scratch their scrotums in a show of appreciation for the umbrella. Apparently the convoy stopped somewhere briefly, which was why we met the vehicles halfway.
Ghana, your motherland will never see NDC, in shaa ALLAH, ever again!
By Fadi Dabbousi