Singapore's Food Hawker Centres: One Option For Improving Cities' Dynamic Informal Food Sector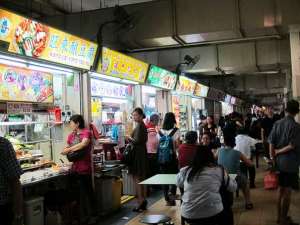 Millions of people in cities throughout the world depend on informal sector food businesses, traders and mobile vendors or hawkers for daily meals and food purchases. The informal food sector represents a key channel of our urban food systems, providing food in small quantities and convenient locations to many consumers.
The informal food sector is a particularly important source of food for people living in dense, low-income neighbourhoods where individuals and families may not have access to kitchens or have time to prepare food.
We are also seeing in most countries that people of all incomes are eating more meals away from home, buying porridge on the street, lunch at small stands or picking up prepared food to take home. Consumer demand for convenient and affordable food helps to explain why an estimated 60% of jobs in East African cities are linked to the food sector. Food vendors, food stands and the numerous small restaurants that constitute the informal food sector provide livelihoods and jobs to many people in the world's growing cities.
Unfortunately, in many places, local governments do not make it easy for informal food workers to ply their trade and make a living. Rather than facilitating the work of the informal food sector to produce quality, safe and affordable food for busy urban consumers, local government often views food vendors, traders and food stands as a blemish to be removed in the march to modernization. In fact, governments in many cities, concerned about food safety, congestion or the informality of these food operations, have passed ordinances or regulations prohibiting the sale or purchase of food on the street.
Given the importance of food sector jobs and livelihoods to many families and urban economies, it would seem wise from a city development perspective if national and municipal agencies from all sectors, together with food sector actors and civil society, could come together to develop workable solutions for the urban food sector. In this regard, Singapore's experiences in developing hawker centres is very informative.
Hawker centres and open (wet) markets are well-known tourist attractions in Singapore and throughout Southeast Asia. There are well over one hundred hawker centres or groups of food retailers and small restaurants scattered in neighbourhoods, apartment complexes and business areas in Singapore. They represent an interesting innovation to address issues in the informal food sector. Singapore's hawker centres preserve local food culture as well as the social function played by open (or wet) market places but in a more hygienic, food court-type of setting. They also represent a creative solution advanced by the Government of Singapore to help formalize previously-informal sector businesses, providing a fixed hygienic location in residential areas that provide basic support services to assist food vendors and restaurants to provide quality, safe food to their customers. These centres provide vendors, traders and restaurants with access to clean water, electricity, sanitation, waste disposal and personal security.
Singapore's experience, more than a model to be replicated, highlights what can be achieved when public, private and civil society sectors come together to develop solutions to issues that affect their cities and communities. As urban populations grow and cities are compelled to upgrade neighbourhoods and develop new residential areas, urban planning must become more food-friendly, promoting policy and investments in innovations like hawker centres that promote informal and formal food sector businesses and assure access to safe, affordable and nutritious food.
This article is written by James Tefft
Senior Economist and World Bank Liaison Officer
Food and Agriculture Organization of the United Nations
Washington, DC USA
GNA