NPP Victory 2016 Project (Texas) defends Veep Bawumia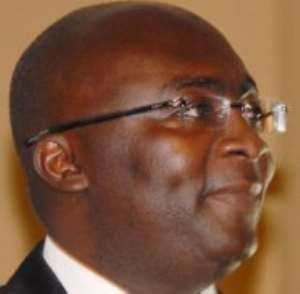 We write to debunk the claim by former President John Mahama that Ghana's competent Vice President Alhaji Dr. Bawumia has brought "embarrassment to President Nana Akufo-Addo vis-à-vis the $2.5million (GHS9.9million) GhanaPost GPS application which local IT firm Vokacom was contracted to develop for the country, since, in his view, the application already existed on all mobile phones", (see Ghanaweb General News of Sunday, 5 November 2017 Source: classfmonline.com ).
For the records, Nana Osei Afrifa, the Chief Executive Officer of Vokacom, said on the Citi Breakfast Show "that many of those who are criticizing the system do not understand it.
We developed Asaase GPS; it is a global addressing platform that gives a digital address to each and every country in the world. Ghana Post GPS is the licensed version of this platform for Ghana. I think it's an issue of public education and letting people understand what it is…it's a platform that Vokacom had developed,"
He added, "as a company, we have a global address platform, and the bid that we put in was to show that we had an addressing system that can be used everywhere in the world. We only did a customization for Ghana."
(see citifmonline.com/Ghana. Monday, October 23, 2017).
The IT firm simply did a customization for Ghana. Henry Ford (an American) was the first automobile manufacturer. The Japanese came with their Toyotas, Nissans, and Isuzus. The Koreans manufactured their Kias and Hyundais. Apostle Safo of Ghana has manufactured his Kantanka vehicles. Ghana Post GPS was customized for Ghana. And the cost is nowhere near NDC's AMERI deal
H.E. Dr. Bawumia was right when he once said that NDC leaders do not read. Even in opposition, former President John Dramani Mahama is still exhibiting incompetence instead of taking time off to read and learn. Or is he still hiding in the "yentiee obiara" bubble?
NPP Victory 2016 Project (Texas) would like to state for the records that we still have full confidence in the competence of our Vice President His Excellency Alhaji Dr. Bawumia. And that's the reason we supported him with our resources.
The days of GYEEDA, AMERI, SADA, and other high levels of corruption in Ghana are over. Change has come and Ghana is moving forward.
Kwadwo Tufuor
International Coordinator, NPP Victory 2016 Project (Texas).
001 817 681 6573