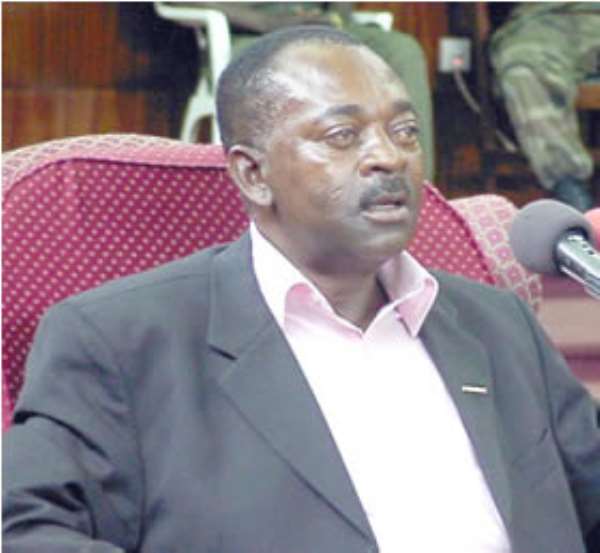 One of the leading members of the Armed Forces Revolutionary Council (AFRC) Captain (Rtd.) Kwabena Baah-Achamfour has issued a statement to dissociate his name from a writ filed in the courts against the NDC Street Wing called CJA.
He said, "In the last week, widespread publicity has been given in various newspaper publications, on FM radio stations and indeed on the World Wide Web, citing me as the plaintiff in a court action instituted against members of the Committee for Joint Action (CJA) - the organizers of the "Wahala" demonstrations.
For whatever it is worth, I very much regret the failure of the media practitioners to authenticate the veracity or otherwise of the news item before its dissemination.
Be it as if may, I hereby wish to set the records straight by stating categorically and unequivocally that I have caused no writ to be issued at no court against no individual, group of individuals or organization."
Captain Baah-Achamfour, an old Navascan, together with Major Boakye-Gyan and others masterminded the junior officers and other ranks mutiny that eventually overthrew the military government of the Supreme Military Council of Lt. Gen. F.W.K. Akuffo on June 4 1979.
A by-product of that mutiny was the release from lawful detention of ex-Flt. Lt. Rawlings who was facing a court marshal after his own botched mutiny in May of the same year.
In his statement, Captain Baah-Achamfuor takes serious issue with some leading members of the NDC Street Wing for playing into the hands of Rawlings, who clearly has more sinister motives.
This is what the ex-Captain's statement said on that: "I hasten to add that whilst I have no problem with the "wahala" marchers, if only because it is their inalienable and democratic right to march, I take liberty of the opportunity offered me to sound a word of caution to the non-NDC members of the CJA.
To my good and long-term friend Kwesi Pratt, Prof. Nii Noi Dowuona, Dr. Pessey and Ahlaji Ramadan I say: that notwithstanding your good intentions and your genuine concerns about the hardships occasioned by the recent petroleum price increases, you are inadvertently playing into the hands of Jerry Rawlings - the devil incarnate - and his cohorts of the NDC; who clearly are pushing a diabolic, partisan political agenda inimical to the peace and tranquility of our country.
For far too long, Ghana has suffered at the hands of the man otherwise known as NOLI NYAGA (the Bitter Ghost), and I urge you my good friends, to beware of the Ides of March!"