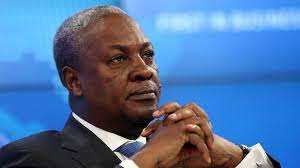 Not long ago, a member of President John Mahama's communications team, Omane Boamah, was all over the place with calls of a coyote wanting President Kufuor to respond to the Panama Papers with regards to his son's alleged $75,000 USD offshore account. It turned out that the particular account in question was set up at the time that Kufuor junior worked at Price Water House. It was, subsequently, shut down in the year 2004. Besides, it is not illegal for a private entrepreneur to have and operate such an account, but that changes when the owner of the account is a government official, civil servant, or the president of a country like our President, H.E. John Dramani Mahama.
My heart is heavy! That embryonic characters should be at liberty to hop around like rabid canines barking at imaginary shadows that do not exist, is a clear indication of John Mahama's surreptitious diabolism. Wouldn't one wonder, then, wherefrom comes John Mahama excessive debauchery? Hello, folks, are you listening?
Well, the Panama Papers have the answers to all the questions that have startled the nation in disbelief. According to the Panama Papers, John Mahama has over ten billion US Dollars in investments, offshore accounts, and properties across the Middle and Far East. As a matter of urgency, immediate answers need to be made public. It so turns out that President Mahama's "accounting to the people" tour is nothing but a sham. To add insult to injury, he is moving about like a jumping bee waving a Green Book in the faces of undiscerning people. The scandalous farce is that the President knows that this book contains lies, hypothetical themes, artistic impressions of imaginary projects, and touted achievements in infrastructure that are nothing short of vexatious. President John Mahama has actually perfected the fraudulence of kicking sand into the eyes of the citizens.
Having said that, the nasturtium gardens that he seems to show people are allegoric of instances of bliss that do not exist. Wake up folks, we are being duped by the president, both fiscally and physically; both subtly and flagrantly; both knowingly and unknowingly. John Mahama wants to eponymously rebrand Ghana dictatorially, but he has run out of time. His shameful defeat is barely six months away on the day of reckoning November 7, 2016.
I beseech the President to answer to the Panama Papers. What is his name doing there? Where did he get ten billion Dollars to invest in offshore accounts and make investments all over the world? How come, according to the Panama Papers, President John Mahama is richer than Ghana? The nation must know that all those filthy rich ministers of state and paid loudmouths are only rich because they do the dirty work of the billionaire President John Mahama.
We demand immediate answers to the Panama Papers. President Mahama should subject himself to investigations by CODEO, and the CID. He must, immediately, resign and sack his government, paving way for early elections. His demeanour has been questionable, and now the Panama Papers have come to confirm what Ghanaians are saying about him, "Akromfo". Other leaders implicated in the Panama Papers have resigned, so he needs to follow suit soonest.
Watch out for the release of the Panama Papers soon. Ghanaman, John Mahama b) y3n kr)no kese paa, ay3 huhuuhu!!!