Ex-Gitmo Detainees: Ghanaians Move Forward, Forgive President John Mahama, Prez JOY Prays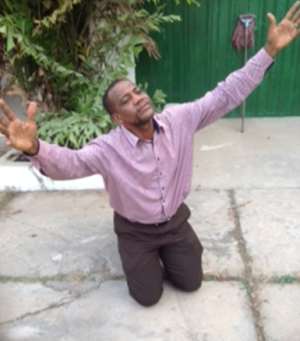 My late mother Afia Anokyewaa opined to me " My son make better out of worse situations that life beacons your way in order to move forward positively towards your destiny". It is in light of this time tested principle, that I plead with Ghanaians, to ask for divine wisdom, especially our Religious Leaders both Christians and Muslims together with our politicians, to make better out of seemingly worse situation of the deal of our Executive arm of government, President Mahama. Every patriotic Ghanaian should not degrade terrorist-phobia into Muslim or Christian issues. But we must be guided by principles and honorable values as Ghanaians.
It may be in bad taste that the executive arm of our government unilaterally, negotiated for Ghana's two August visitors of Ex-Gitmo detainees with Obama's administration without consulting the other two arms of government, especially, the Legislature. President Mahama, the Son of Jakpa, in his act of bravado became insensitive to the probable atmosphere of terrorist-phobia that has gripped most Ghanaians with possible ramifications that can jeopardize our sense of peace in the country.
The President's attempted explanation at 12 January, 2016 Press interaction at FlagStaff House on the Ex-Gitmo guys along the lines of his personal " Christian principles and compassionate" character is indeed a national security threat; one of such ramifications is the response by the Spokesperson for the National Chief Imam, Sheik Aremeyaw Shaibu on 13 January, 2016 peacefmonline.com.
True courage of a leader is NOT only being afraid of guns and cutlasses but being able to say "I AM SORRY". In as much as the INTENTION and SECURITY background check may be granted our President, for which I personally do as Independent Presidential Candidate 2012 it's still not convincing enough
For, in the face of procedural notification requirement to Parliament as well as the sudden shock of terrorist-phobia exacerbated by our religious leaders on the innocent good people of Ghana, a BETTER RECONCILIATORY STATEMENT from our President can heal any potential security threat posed by religious misunderstanding. For, all things may be LAWFUL for President Mahama but all may not be HELPFUL to our President and Country.
Putting the snippets of information together with a possible irrevocable deal by our President, what can we make better out of the presence of our two Ex-Gitmo detainees, however apprehensive we may cynically disillusion in order to co-exist as Ghanaians and give the world the gift of solution of transforming lives?
LET'S FACE OUR FEARS REALISTICALLY
The Ramifications of possible security threat cannot be ruled out with the presence of Ex-Gitmo detainees in Ghana. Our apprehension should neither lead into self-destruct of ourselves where the issue is degraded into Muslim- Christian faction stances. Nor do we need to fight back our President to possibly repatriate Ex-Gitmo detainees back to Guantanamo as the repercussion can pose great security threat to us all. Nor should we reduce the issue to religious compassionate gestures and prayers for someone to take responsibility of our destiny.
Rather the inertia of our religious sectarianism coupled with partisan politics degenerating all of our cherished principles and value systems must give way to momentum towards obligatory Patriotism for self-organization to empathize with one another's challenges in order to translate our fears into impacting Ex-Detainees lives.
I believe as a Christian born at the Zongo, our Muslims brothers are more challenged with the tactful handling of the ex-Gitmo detainees. This is due to sectarian conflicts among Muslims in the Middle East. They need our support and understanding in the face of the fact that Muslims were not also consulted as well.
The apprehension of our Christian brothers however is no different from the handling of the first century terrorist, Apostle Paul by the then Christian communityas narrated in the holy Bible.(Acts 9)
I will urge our Christian brethren to muster the courage of Ananias and share ideas with our Muslims brothers and the government how best to nurture change agent principles in our Ex-Gitmo detainees in Ghana.
WHAT GHANA CAN SHOWCASE TO MOVE FORWARD POSITIVELY TOWARDS OUR DESTINY
Ghana is blessed with religious tolerance that has eluded most countries in the world. Leaving our two visitors without engaging them productively to help them to lead productive lives and also be beneficial to humanity will be a great failure on us as a country. Our values of conscientious hospitality must be extended to give hope and meaning to life.
Our faith community and the government must interact and draw extensive programme based on their respective interests for the two years ahead of them in Ghana.
Though we see suspected terrorists out of the two ex-Gitmo Detainees today, we must see special envoy of peace to countries for the world.
Office Of Jacob Osei Yeboah, 2012 Independent Presidential Candidate