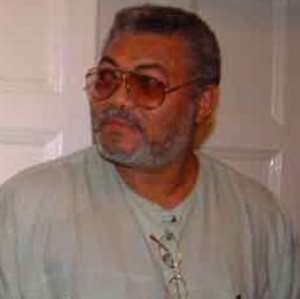 It couldn't have been more savoury hearing it from the horse's own mouth, for a change. The NDC party has survived on lies since its miserable inception, yet the founding father of this political curse for once admitted the incontrovertible fact that his party was made up of thieves. He stated emphatically that "60% of the NDC officials in John Mahama's government are thieves."
I must state with conviction that he spoke the holy truth this time.
Well, how else could it be explained when the infrastructures are neglected? More and more toll booths are springing up along the dilapidated highways and death traps that the roads have turned into. Where is the money that is generated from these rip-off booths amounting to hundreds of millions of Ghana Cedis, annually? The money, ostensibly, is for the maintenance of the few surviving roads, and the resurfacing of the washed away highways, streets and access routes.
How else could it be described when moneys at the Ghana National Petroleum Corporation vanish under the pretext of orders for logistical support and super deluxe 4x4 heavy duty vehicles; for excessive indulgence - unnecessary and unbeneficial travels here and there, and per diem allowances in the thousands of US Dollars; and millions of US Dollars in unaccounted debt write-offs?
John Mahama's Presidential motorcade features hundreds of vehicles that need financing to the tune of millions of Cedis, yet Doctors are told to forego their salaries for the benefit of the nation. Government officials are swimming in wealth that is never and will never be theirs. The Women and Gender Ministry does not have the money to support its supposed agenda, but there is enough for the Minister to move her humongous self in style at International conferences taking selfies and photos in an empty UN auditorium.
A Deputy Minister of education began his career as a poor boy, but can now distribute money to people in his constituency as if his father is Aliko Dangote. Poor scamps came to power with ripped underwear but can now import bullet proof vehicles in the millions of dollars.
ALL THAT WITH SHAMEFUL IMPUNITY…but National Security, EOCO and others harass innocent investors to make a buck or two. Are they not supposed to investigate this massive rot that is choking the breath out of our lungs? Are they not supposed to investigate corrupt cohorts as well as officers in government for the fustian indulgence that has characterised their lives? The Police should investigate these corrupt officials for the mere fact that they spend more than they earn. How could such stories of greed, collusion and corruption go under the blind side of the law when officials are enriching themselves, establishing fuel stations and other businesses in pseudonyms? Their salaries are woefully inadequate for such bloviating lifestyles under the noses of hungry Ghanaians.
Incomes from the toll booths and DVLA can be enough to pay employees of the State. Revenues from Ceps, Gapoha, Immigration, and other channels are more than enough to keep the progress of this country going, yet the NDC government has raised the foreign national debt from 8 billion US Dollars in 2008 to approximately 40 billion in 2015! How? And some people fall for the sleek lies of the National Demo'n'cratic Congress, the NDC!
#NEVERVOTEFORTHESETHIEVESAGAIN #KICKTHENDCOUT