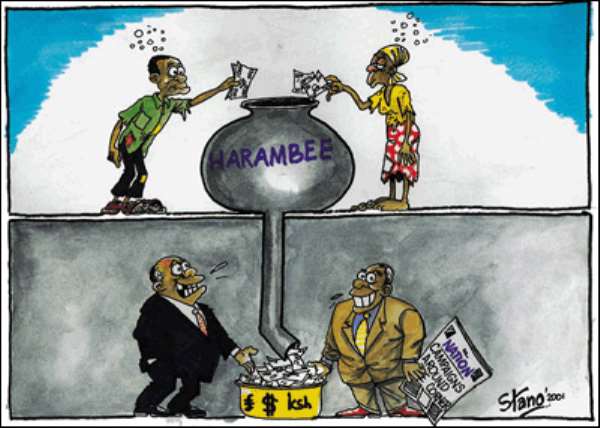 In Chinua Achebe's classic novel, No Longer at Ease, Obi Okonkwo, an educated young man, tries to contain the temptations of corruption in postcolonial Nigeria. He really engages in a spirited fight, but reluctantly gives in to it. He is eventually arrested and prosecuted.
During his sentencing, "Everybody wondered why. The learned judge…could not comprehend how an educated young man and so on and so forth. The British council man, even the men of Umuofia did not know. And we must presume that in spite of his certitude, Mr Green did not know either," Achebe wrote in 1960.
Interestingly, even "Civil Servants who paid as much as ten shillings and sixpence to obtain a doctor's certificate of illness for the day" did not know too.
Obi Okonkwo's downfall is caused mainly by pressure from his society. He is expected to maintain a certain lifestyle typical of his status as an educated young man, inheritor of the colonisers: he owns a flashy car, lives in a plush area reserved for the affluent, has a houseboy, etc.
Yet when he is found guilty of corruption, the same society, in a fantastic show of hypocrisy, do not know why. They feel shocked.
Chinua Achebe's depiction of the immediate postcolonial era of Nigeria is Africa's reality today. It is Ghana's reality. Corruption is widespread in Ghana. Politicians take turns to accuse one another of corruption. All coup makers accused the overthrown governments of corruption. They seized the reins of power to eradicate corruption. They failed!
There is so much corruption in Ghana. And psychologists tell us that environment determines to a large extent how we behave. Suffice it to say,many Ghanaians are corrupt. Those unwilling to engage in corruption usually find themselves disadvantaged. And that is the challenge. The booty of corruption is so enticing. Most upright Ghanaians are forced to succumb to the "if-you-can't beat them-then-join-them" syndrome. A few stand firm. And they are the ones who remind us that in the midst of the whirlwind of corruption sweeping many into its vortex, we can survive.
There are several well-known anti-corruption activists who have stepped on the toes of many "untouchables" that if they were not clean themselves, they would have been exposed.
Corruption has flourished in Ghana while those in authority continue to make token gestures to fighting it, making the electorate enervated. Yet the fight against corruption can only yield good returns if at the personal level, one makes a commit not to indulge in it.
Only then can the electorate properly hold those in authority accountable. Public office holders will then "know where power lies."
Taking the decision not to be corrupt is a revolutionary act. The decision to resist corruption is indeed a revolution! And that is the only way we can develop. In the words of Claude Ake, "development requires changes on a revolutionary scale. It is in every sense a heroic enterprise, calling for consummate confidence." Ghana's revolutionary change must be the fight against corruption. Every Ghanaian who has the development of Ghana at heart must make a personal commitment against corruption. the audaciously "blunt refusal to be compromised."
My name is Emmanuel Asakinaba. And I am a revolutionary.