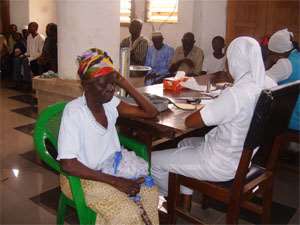 The Ghana Medical Association(GMA) has called off it's strike. A statement issued by the association said the National Executive Council considered the appeals from members of general public, the clergy, and the National Council of Chiefs. Public sector doctors have been on strike for about three weeks now over codified conditions of service.
The strike also led to the suspension of Out-Patients Department and emergency care. But the statement said emergency and Outpatient Department care resumes immediately. In as much as National Executive Council (NEC) is aware that the general membership would like to pursue this matter to its logical conclusion, the NEC of the GMA decides as follows;
That the ongoing withdrawal of out-patient and emergency services by the member of the GMA is suspended.
That the suspension takes effect from Monday 24th of August 2015.
That all members of the GMA should fully restore their services effective 8:00am on the said date.
That the negotiations committee of the GMA should continue to negotiate on behalf of the members of the GMA with government such that the conclusion of negotiations would be fed into the 2016 budget for implementation of same.
That all members should wait for the further information from leadership as and when it becomes necessary.
The statement was signed by President and General Secretary of the GMA, Dr. Kwabena Opoku-Adusei and Dr. Frank Serebour respectively.