All Is Set For NPP-USA International Youth Conference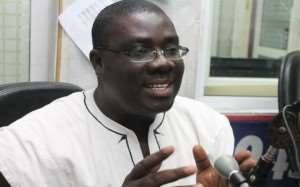 After months of consultation, planning, and action, the much awaited NPP-USA International Youth Conference is finally coming off this month (August 28 – August 30, 2015) at the Hilton New York JFK Airport Hotel, Jamaica Queens, New York, USA.
Going by the theme "Repositioning and Energizing the Youth Wing for Victory 2016", the conference promises to be exciting, thought provoking and moment of brainstorming. In a telephone conversation with Ghananewsmedia, Mujib Mogtari Sahanu, NPP-USA Youth Organizer, stated that the organizing committee has been impressed by the enormous interest shown by party members and the general public about the conference. He indicated that such expressions have been a major motivator which has dully been taken into consideration such that all efforts have been put in place to warmly welcome all and sundry to the event.
On his part, the NPP National Youth Organizer, Sammi Awuku, told Ghananewsmedia that he welcomes such event as organized by the youth wing of NPP-USA. He stressed that "the NPP Youth wing will lead the charge to harness the strength in our numbers and the power of our conviction to produce the next president for our party and country in 2016." We cannot fail the masses, he added.
Nana Kwaku Agye-Yeboah, Chairman of NPP-USA, added that his branch sees this event as an opportunity to mobile as many youth as possible to help complement the electoral efforts of their fellow patriots in Ghana before, during and after election 2016. He stated that the rank and file of NPP-USA will be in the New York City for the conference.
Sighted by Ghananewsmedia, the list of guests who are to grace the event, as confirmed by the event's planning committee are as follow:
Dr Mahamudu Bawumia
NPP Vice Presidential Candidate
Nana Kwaku Agyei-Yeboah
Chairman, NPP-USA
John Boadu
NPP National Organizer
Sammi Awuku
NPP National Youth Organizer & his Deputies
Kamal Deen Abdulai
NPP Nasara Coordinator
Hon Kennedy Ohene Agyapong
MP - Assin North
Hon. Dr. Matthew Opoku Prempeh
MP - Manyia South
Hon. Titus Glover
MP - Tema East
Hon. Henry Quartey
MP - Ayawaso Central
Hon. Kwadwo Baah Agyemang
MP - Asante Akim North
Hon. Kyeremateng Agyarko
MP - Ayawaso West Wougon
Hon. Kennedy Osei Nyarko
MP - Akyem Swedru
Mrs. Cynthia Morrison
Former NPP Regional Women's Organizer & Parliamentary Candidate for Agona West, C/R
Habib Iddrisu
NPP Parliamentary Candidate, Sagnarigu Constituency
Joseph G. Owusu
NPP Parliamentary Candidate, Sekyere Afram Plains
NPP Regional Youth Organizers
Kai Jorgensen
Secretary General of the International Young Democrats Union (IYDU )
Jason Emert
Chairman of the International Young Democrats Union (IYDU )
Cory Custer
Chairman, Young Republican National Federation
New York
And many more!
These honorable guests are distinguished individuals who are very knowledgeable in the realm of politics, and are ready to brainstorm with and encourage the youth to work hard for their party and country for victory in election 2016. A victory that will realize the presidency of Nana Addo Danquah Akufo-Addo; an alternative and obvious choice to the current socio-economic woes and hardship borne out of create-loot-and-share, corruption and mismanagement of the nation resources under the watch of John Mahama and the NDC.
The Youth Wing of NPP-USA therefore calls on all citizens of Ghana to come and witness this historic event geared toward the movement for a change that will create the needed platform and opportunities for citizens to develop their God-given talents which will enable them create wealth for themselves and families; a change we all can believe in!
Thus far confirmed by the organizing committee, participants are expected from Ghana, China, UK, Canada, Germany, Holland, Italy and the host nation, USA.
RECAP:
Event: NPP-USA International Youth Conference
Theme: Repositioning and Energizing the Youth Wing for Victory 2016
Date: August 28 (arrival) – August 30 (departure), 2015
Venue: Hilton New York JFK Airport Hotel, Jamaica Queens, New York, USA
For more info, contact:
Kwame Agyeman-Budu – 1 646 436 7008
Justice Sarkodie – 1 347 282 3176
Obaa Yaa Frimpong – 1 720 329 5963
God bless the NPP
God bless our homeland, Ghana.
Amponsah Stonash
( www.ghananewsmedia.com )