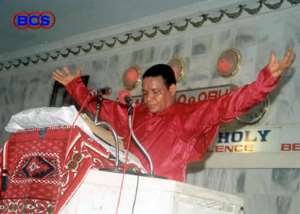 2015 ELECTIONS: EXPECT SURPRISES- OLUMBA …REVEALS BCS 2015 MEGA EVENT- POWERFUL REMNANTS
As Nigerians prepare to go to the polls from next week, Head of Brotherhood of the Cross and Star, His Holiness Olumba Olumba Obu, says the 2015 general elections shall spring up surprises that will shock many.
According to a Press Statement issued by the Spokesman of the Fold, Bishop Princely Ibeabuchi, the Universal Ruler warns those in public offices to rule with the fear of God or face the wrath of God.
He frowned at the desperation of politicians seeking public offices in the country, reminding them that power comes from God.
The spiritual Leader however made a case for a level playing ground for all in the political arena, while urging mankind to show love for one another.
"Like before, love is the foundation and basis for the salvation of mankind. In all activities, man has not shown love, neither have they repented of their sins, which is why there are problems in the world today. For instance, on the ongoing political campaigns for the 2015 general elections in Nigeria, He charged politicians in 2013 to seek the face of God and purge themselves of manipulations and divisiveness in order to ensure post election peace in the nation. With what is going on now, is there anything to suggest that they heed His Words? No! Are they not using their positions to suppress other aspirants, only to install their cronies? Why not allow the good and the perceived bad to contest, as Almighty God allowed His sun and rain to shine and fall on the righteous and the evil ones until the time of judgment. They use government resources to bribe all those in authority to suppress others; that is why you see unprecedented defections from one party to another, incurring the wrath of God. His Holiness Olumba Olumba Obu has declared that; "only the unexpected will win the 2015 elections in Nigeria".
"Instead of them to attempt to woo voters with love, rather, they are busy throwing government money about in order to win private votes. If politicians had love for the electorate by impacting their lives, there would be no need of campaigning, as the electorate would have reciprocated by supporting and voting them to office."
On the 2015 Mega Event of the Fold, Ibeabuchi explains: "The 2015 Mega Event titled: Powerful Remnant 2015, is being organised between 30th March and 5th April by the Brotherhood of the Cross and Star at its 34 Ambo Street, World Headquarters, Calabar. The theme for this spiritual event is "……Truthfully upholding the testimony of Christ". The event targets all creations of God in the quest for salvation. It is also a universal invitation to salvation to humanity and all things created by God. This is the time the whole world has been waiting for without a clue. It may sound very strange and incredible but it has happened before in the days of Noah and Lot and that has been properly documented for the remembrance of humanity, irrespective of tribe, race, religion or distance."
"The Powerful Remnant 2015 is packaged to last for six days with activities such as; Spiritual Procession by the 144,000 Virgins, Explosive Praise Exhibition 2015 (Cherubs meets Seraphs), Offering of Temple Sacrifice and a Feast of Passover at the Grand finale; it promises global attendance, as people are coming from the Americas, Europe, Asia and all over Africa. This is to prepare believers for the danger ahead, because according to Him: "It does not matter how many souls will truthfully uphold the testimony of righteousness. At the sound of the seventh and last trumpet, it does not also matter how many people God will find on earth still having faith in His operations."
"Powerful Remnant is not for everybody, but those who have chosen to identify with the living God so that they will be saved. Let the spirit talk to you. It is guaranteed that in this time of peril, no evil or destruction will befall the true children of God who keep His commandments. He has decided to cover them with his powerful spiritual umbrella in this perilous time, as the revelation of John the Divine is fulfilled."