Expect No Worker In Ghana To Sacrifice As Long As Article 71 Remains As It Is Now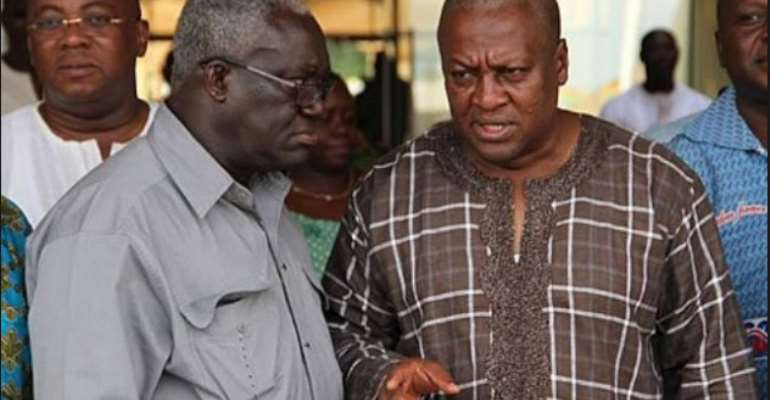 "The Wise And Virtuous Man Is At All Times Willing That His Own Private Interest Should Be Sacrificed To The Public Interest Of His Own Particular Order Or Society" ~ Adam Smith
The Trade Union Congress of Ghana has issued an ultimatum to the government to increase the minimum wage before May 1 or face their wrath. Presidential staffers, Drs. Apaak and Whyte Kpessah have taken TUC on for being too demanding. Expectedly, some members of the opposition have taken to the government that the ultimatum is reflective of their incompetence and mismanagement.
In this piece, I take a different route. Whilst taking the position that the situation of Ghana today is necessarily of no recent cause, I reflect on contemporary happenings and analyse what I see as the root cause of the demand for pound of flesh in Ghana. Without appearing as providing an all-encompassing explanation for agitations in Ghana, I refer to the extremely unconscionable provision in the 1992 Constitution of Ghana namely, Article 71 as a serious impediment to sacrificing for the nation.
In the 2010 Prof. Ewurama Addy Presidential Committee on Emoluments Report largely endorsed by Parliament on November 5th 2012 (See myjoyonline), the President was to receive GHȻ 12,000, Vice President – 9,000; Cabinet Minister – MP – 8, 400; Minister of State – MP – 7,800; Deputy Minister – Non MP – 6,000 monthly. In appreciation of their nice gesture (a good turn deserves another), the Executive also happily approved for MPs to take home a colossal GHȻ 7, 500 every 30 days. How much do the 678 Presidential Staffers receive a month? Your guess is as fat as mine!
The last time I checked the minimum wage was GHȻ5.24 and so the monthly salary of ordinary Ghanaians (like myself – that is if I am able to finally land on a job) will be GHȻ 157.20. Therefore, per the figures, the President lives on 76.34 times the amount the ordinary Ghanaian survives on in a month. Parliamentarians live on 48 times, whilst Cabinet Ministers and Deputy Ministers – Non MPs take home 53.44 and 38.17 times what the ordinary Ghanaian earns and survives on in a month. Be reminded that this is not all – attached to some of these colossal sums are other goodies such as fully equipped official accomodation, free utilities, 24-hour security services, official vehicles – fully maintained, comprehensively insured, fueled and chauffer – driven, medical and dental services inclduing insurance for spouse and 4 children under 18 years etc etc etc.
After taking home all these goodies every month, when their 4 year service tenure (?) ends, they once again go with gargatuan ex – gratias. This is how exceedingly heavenly one lives when he becomes a politician in Ghana. However, when workers want their salaries to be increased as a result of increased tarrifs and high cost of living caused by these same politicians, what do we hear – "let us all sacrifice for the nation"; "the meat is chewed to the bone"; "lets tighten our belts"; "the wage bill is becoming too heavy and unstainable" Really?
The worry is that these politicians are raking these garguantuan sums not because they do or are doing any hardwork– otherwise, after more than 50 years of independence, why this level of poverty? Why are we suffering from Dums) Dums)? Why do we not have water? Why have our roads become death traps? Why has justice not been found for Suwaiba and the other mothers who are yet to see their (dead) babies delivered at Komfo Anokye? The source of politicians' larvish lifestyle is that unconscionable provision in the 1992 Constitution which gives away everything to them in the name of "salaries, allowances, facilities and privileges and retiring benefits or awards".
The fundamental argument is that the cause of rising poverty rates, inequalities, hardships, unemployment, power crisis, astronomical increment in taxes and the underdevelopment situation of Ghana today and and since nineteen Kwadwo hoohoo has never been and will never be a resource gap. Never! The cause has always been as it is now – a political condition. It is never the case that the resources of Ghana are NOT enough to be distribubted to benefit everybody – the real case is that political leadership has skewed the distribution of resources in favor of their self – serving selfs to the detriment of everybody.
The call on Ghanaians to sacrifice for the Nation in the face of Article 71 of the Constitution is bull. While politicians are eating rich in satisfaction, why must I starve in search and sacrifice? It makes no sense – everybody will demand his pound of flesh – it is only natural.
Nana Akomea, former Communications Director of the opposition NPP argues that the "TUC's ultimatum to government is a vote of no confidence in the Mahama-led administration because they don't believe government is serious". Though I will not playdown his views, as I understand, agitations of this kind are not of recent. For me, the TUC's ultimatum which I fully support is only one of the many precursors to politicians of Ghana that we are getting ready for them gradually. You may recall how the public including people he appointed into his government went to town on President Kufuor when his ex – gratia matter came up.
The way forward is clearly straightword: As politicians are now praising themselves that they have put all (but ingrate) Ghanaian workers in paradise, why don't they join them there? I refer to the Single Spine Salary Structure. Article 71 must be amended for all members of the executive and legislature to be bundled onto the single spine, and let us all live as equal Ghanaians determined to sacrifice for our country.
Why, however, should politicians do any of these things, especially if they appear to be against their short-term interests? I found the answer to this on the Facebook Wall of H.E. John Dramani Mahama: The President wisely learns:"If the Arab Spring has taught us anything, it is that, it is no longer acceptable to be ambivalent about the needs of the poor and marginalized in our societies" (8th April, 2014). It should now become obvious to any politician in Ghana (whether in opposition or government) that the rising inequality and concentrated wealth are increasingly becoming politically unsustainable. The masses are increasingly becoming concerned about the wanton exploitations of politicians. The outpooring of grief, and anger against social inequalities, hunger, injustices and corruption should be a wake up call to us before it becomes too late.
Note: I take serious notice of the fact that Article 71 addresses the salaries, allowances etc of not only the executives and legislature but also Judges, Members of the Electoral Commission, Auditor-General etc. However, I hardly hear of complaints about for instance Judges' salaries.