Shocker: Kotoko beat Stoke City with Gordon Banks featuring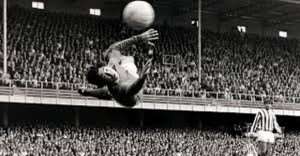 Gordon Banks makes a save
By Thomas Freeman Yeboah
A Ghanaian first division soccer club is equal to any first division club anywhere in the world. You can say this again for the way Asante Kotoko, champion club of Ghana outplayed and outscored the touring English first division club Stoke City at the Kumasi Sports Stadium on Sunday 3rd March, 1968 exactly 46 years ago.
This proved to all critics that Ghana brand of football was never inferior to that of England, who was then the reigning World Champions.
Kotoko won the game by three goals to one, despite stoke City entering into the game with all the seriousness it required by fielding a full strength side including international goalkeeper Gordon Banks best goalkeeper of all-time in England soccer history and considered second best to Lev Yashin in the history of World soccer.
Right from the start of the game all attention was on Banks. Fans were anxious to see some of his fantastic saves that carried him through the 1966 World Cup with a record of not conceding more than two goals in a game, but the Kumasi boys proved to him that this is Ghana, by scoring three goals against him.
The Porcupine Warriors started the game on a very poor note and as a result conceded a 10th minute goal through the foot of Alan Bloor to put Stoke City in the driving seat, but the tide changed in their favour and this resulted in the equalizer in the 24th minute after a brilliant combination between Osei Kofi and Abukari, enabled the latter to put the ball beyond the reach of Banks.
In the 68th minute Abukari beat Banks for the second time and hardly had the cheers that greeted the goal had died than Osei Kofi slot in the third and final goal for Kotoko.
http://allsports.com.gh/wp-content/uploads/2014/03/Mfum.jpg
Mfum on your extreme left
http://allsports.com.gh/wp-content/uploads/2014/03/osei-kofi-5.jpg
Osei Kofi
Line-up:
Kotoko: Vanden Boosch, Assuming, Boateng, Berko, Iddi, Ibrahim Suday, Osei Koi, Mfum, Malik Jabir, Abukari Gariba and Osumanu Orlando
Stoke City: Gordon Banks, Alex Elder, Bill Bentley, John Marsh, Alan Bloor, Willy Stephenson, Terry Conroy, George Eastham, Peter Dobing, John Mohoney and Hurry Burrows.