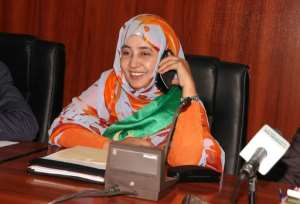 Former Mauritanian minister Maty Mint Hamady following her election on February 4, 2014, in Nouakchott. By Ahmed Ould (AFP)
Nouakchott (AFP) - A former minister became Nouakchott's first female mayor on Tuesday after being voted in by councillors to head up the sprawling Mauritanian capital's local authority.
Maty Mint Hamady, 46, a married mother-of-three, is an economics graduate from the University of Nouakchott and the Ecole Nationale d'Administration in Paris, one of Europe's most prestigious graduate schools.
A prominent member of the Union for the Republic (UPR), the ruling party of Mauritanian President Mohamed Ould Abdel Aziz, she resigned her portfolio as public services minister along with the rest of the cabinet on Sunday, a routine step after national elections.
Around one million people -- almost a third of the population -- live in Nouakchott, making the job one of the vast, west African desert nation's most high profile political roles.
While many women have been elected to lead smaller councils across Mauritania, only men have occupied the top local government post in the capital.