Mfantsipim delegation calls on Kofi Annan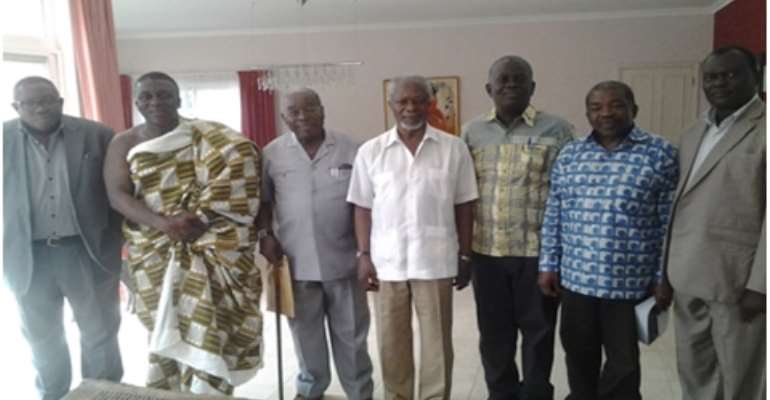 A 6-man delegation of old students of Mfantsipim School has called on Mr Kofi Annan at his residence in Accra to draw on his experiences for the development of the school, among other things.
The delegation briefed Mr Annan on developments at his alma mater, Mfantsipim School, including the preparation of a 60-Year Development Plan for the School, which will define the growth and continued relevance of the school.
Other projects  at the school include the inauguration of a Task Force for the setting up of a Mfantsipim University College, and the incorporation of Mfantsipim Foundation to fundraise and spearhead the development agenda.
The delegation, which was led by Prof. K. K. Adarkwa, Vice Chairman of the School's Board of Governors and member of Mfantsipim Old Boys Association (MOBA) 1969, included Dr. Francis Poku, MOBA 1955 and National President of MOBA; Nana Kobina Nketsia V, Omanhen of Essikado Traditional Area, Sekondi and MOBA 1969; Nana Sam Brew-Butler, MOBA 1969; Mr. J. K. A. Simpson, Headmaster of Mfantsipim School and MOBA 1977; and Mr. Magnus RexDanquah, MOBA 1972, member of the Mfantsipim Board and Chairman of its Development Committee.
The delegation intimated that with current student strength of over 2,000 and overall population of about 3,500, including both teaching and non-teaching staff, Mfantsipim is designated as a community and therefore ought to be planned and managed appropriately, especially in the provision of quality education.
 MOBA has been contributing towards the attainment of what is termed Mfantsipim Agenda 2076 to celebrate the School's bicentenary.
"Just last month, a 17-member Planning Committee was inaugurated to see to the School's celebration of a decade from the 140th to 150th anniversary i.e. 2016 – 2026, under the theme: MFANTSIPIM AND THE MAKING OF GHANA; and evolve strategies for the celebration of Old Boys' contributions to the various fields of national development", Prof. Adarkwa reiterated.
Mr Kofi Annan thanked the delegation for the visit and stating that it has rekindled memories of his days at the School.
He urged that nothing should be done to affect academic excellence which has always been one of the hallmarks of the Mfantsipim in the past.
He stressed that future plans of the school should include consultative discussions with all stakeholders to ensure success.
The delegation presented an autographed copy of Nana Kobina Nketsia V's book, "AFRICAN CULTURE IN GOVERNANCE AND DEVELOPMENT: The Ghana Paradigm" to Mr Annan.