Catholic Bishops Join GMO War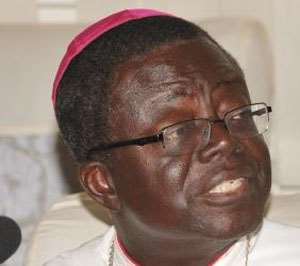 Most Rev Joseph Osei Bonsu
The Ghana Catholic Bishops' Conference (GCBC) has jumped into the war of words over plans to push for legislation that will permit the introduction of Genetically-Modified Organisms (GMOs) in Ghana, saying those pushing for GMOs should 'hasten slowly on GMOs.'
'The Ghana Catholic Bishops Conference has followed the debate and discussions on the possible introduction of GMOs in Ghana with keen interest, attention and concern…We have come to the conviction that there is the need to hasten slowly and not rush with the introduction of GMOs to the Ghanaian market,' the statement released on Thursday and signed by Most Rev. Joseph Osei-Bonsu, President of the GCBC, stated.
The Ghanaian Parliament is currently considering the Plant Breeders Right Bill, which is intended to protect the rights of scientists and corporations to the seeds or crops they develop.
For the Catholic Bishops, Ghana can do without necessarily introducing GMO foods and crops.
'We believe that Ghana can achieve food sufficiency and even produce surplus food for export using the conventional means of farming. This can happen if our governments put in place the appropriate measures and create the enabling environment for agriculture to thrive.
DAILY GUIDE has gathered that Mosanto, an American multinational chemical and agricultural biotechnology corporation, is strongly lobbying for the bill.
The programme falls under 'Green Revolution' being championed by President Barack Obama, the Bill Gates Foundation and some other world leaders.
But critics such as the Convention Peoples Party (CPP), other civil society groups and individuals such as US-based columnist Kwame Piankhi have warned that if the legislation is passed, it would spell doom for agriculture in Ghana.
'The Green Revolution has led to financial ruin, suicide and cancer for many farmers and farm communities in India, Asia and Latin America….The Green Revolution has brought about many crop failures in Africa. This includes millions of dollars of lost income suffered by South African farmers when 82,000 hectares of genetically-manipulated corn (maize) failed to produce hardly any seeds,' stated Mr. Piankhi in a recently published piece.
But supporters of the bill have argued that GM crops would rather improve food sustainability in the country.
The Bishops think the banter between opponents and proponents of the bill further confuses the issues for average Ghanaians and farmers.
'It must be stated that not many of our farmers know the content of the Bill or what it is intended to achieve.  It is therefore only proper and appropriate that the content of such a Bill is made available to this critical constituency so as to enable them to contribute to it by way of their inputs,' the statement said.
'Additionally, since the majority of ordinary Ghanaians are unaware of the content of the Bill, we recommend that such information on the Bill be shared with all citizens because it borders on food security and especially as we know that access to food is one of the basic rights of all peoples. This, we believe, is the way to go.
'…We wish to advise both sides of the GMO debate to cease fire and allow proper dialogue and consultation to take place among all relevant stakeholders.
This will make Ghana the true winner in whatever decision we will eventually arrive at with regard to the possible introduction of GMOs in Ghana.'
By Raphael Ofori-Adeniran