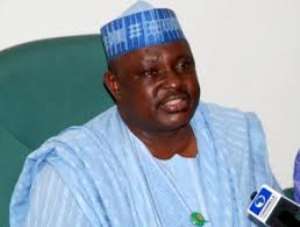 The Problem with EFCC-Jagaba
…Says, Nigeria not Serious with Anti-Corruption War
Honourable Jagaba Adams Jagaba is the Chairman, House of Representatives Committee on Drugs, Narcotics and Financial Crimes. He represents the Kachiya/Kagarko Federal Constituency of Kaduna State and a member of the ruling Peoples' Democratic Party. In this exclusive interview with our Correspondent, he speaks on the Drugs and Anti-Corruption war in Nigeria, performance of Anti-Corruption Agencies, among others.
Excerpts:
Experience in Law Making Business
Well, law making is a very serious business to those that want to do it and it has several challenges. The primary challenge is the enormity of the work. It involves a lot of research. If you do not do your research before bringing up an issue, a Bill or a Motion, you will not be able to convince the people.
Major Bills Sponsored
As a member, I have sponsored a lot of Bills; not less than five of them. They include: the removal of force from the Police because, the Police should be friendly. Prior to that, the world over, Nigeria was the only country that attached the word force to their Police. It was also affecting their psyche. I sponsored the Seizure Act, Assets Recovery and the Anti-terrorism Bills. Presently, I am sponsoring the Nigerian Financial Intelligence Unit Autonomy Bill. I have also moved several Motions and co-sponsored other Bills with colleagues. In all of these, if you do not conduct proper research to collate your data, get your facts right and present them convincingly, you are bound to fail on the floor of the House.
FATF Delisting Of Nigeria from High Risk List
The delisting of Nigeria from the Financial Action Task Force high risk list is as a result of hard work. You know, we worked very hard on that. We went to Lebanon; we met with the relevant United Nations Committee; travelled to France and two other countries; worked tirelessly before arriving at this result. Basically, the Committee played a very key role in achieving this result today. We were however not alone in the efforts.
Despite that, we now have a bigger challenge; which is sustaining the delisting of Nigeria. We have to put every hand on deck to ensure that Nigeria is a corrupt- free society. It is not the delisting that matters. What matters most now is- where do we go from here? To maintain this position, we have to work extra hard to ensure that we sustain it.
Part of the Federal Government's commitment to FATF is the enactment of relevant laws. The NFIU Autonomy Bill, which forms part of the basis for the delisting and strengthening of the legal framework on Money Laundering and Terrorism is coming up for Second Reading. I want to guarantee you that it will come up very soon for second reading, which at that stage, according to our rules, will now be taken to the relevant Committee to work on it and bring to the House for final approval and sending of the clean copies to the President to assent.
Implications of the Assets Recovery Bill
You know that a lot of Assets have been recovered in Nigeria and the Committee is presently investigating issues relating to that. A lot of Assets recovered and money seized from accused and convicted persons are not properly managed. There is no proper legal framework specifying how they should be treated; no legal framework gives sufficient power to seize these Properties. In summary, what we are doing is to provide a legal framework where by these properties will be properly seized and define how the seized Assets could be handled. We are trying to give a legal framework and a proper definition on how the seized Assets and money should be handled. As you are aware, my Committee has been investigating some Assets seized by the Economic and Financial Crimes Commission, right from inception. A motion raised on the floor of the House was referred to my Committee for investigation. You will discover that a lot of things still need to be done. No proper records are being kept; even when there are records, no proper legal framework has been put in place to handle these things. So, right now, we are coming up with this Bill to address most of the issues relating to the management of Assets recovered from corrupt persons.
Period of Custody of recovered loot by Anti-Corruption Agencies
The truth of the matter is that it can be worse than you think. Recovered funds are sometimes kept in private custody for over a year before being paid into government designated accounts. We are working on the legal framework, where nobody can have any excuse for doing what they are doing. The legal framework, when strengthened addresses the issues.
Oversight Findings on Recovered Loot
My Committee is presently conducting an investigation and we have gone more than half way in the investigation; so, I wouldn't like to say something that will pre-empt the outcome of the investigation.
Anti-Corruption War in Nigeria
Well, as far as I am concerned, we are not ready to fight corruption in Nigeria. All what we have is just noise. Noise about the war against corruption. Fighting the cankerworm called corruption is not the work of anti-corruption agencies alone. It is a war for every Nigerian. The government must be involved, individual citizens, civil society, the masses must be involved. Now, if we leave this war for EFCC alone for instance; right now, EFCC is being chaired and about eighty percent of all the staff of the Commission are policemen; now tell me, do Nigerians have confidence in the Police? The answer is no, so, if you leave the work for them, they will not achieve anything. We shall move forward when Nigerians report corruption cases and the Anti-corruption agencies act appropriately; then our traditional rulers stop giving traditional titles to looters; when the society stops celebrating thieves; then we are there; and the laws, as far as I am concerned are not encouraging. Imagine, somebody that stole billions of Naira; you didn't seize the money from him; you send him to six months imprisonment and later release him to enjoy his loot. It has turned out in Nigeria today that if you want to loot, you loot properly so that you use part of the proceeds to buy your freedom. But, you see people stealing goat; they give them three years imprisonment. The other time somebody who stole a handset was sent to prison for six months, but you discover that somebody who stole over ten billion is sent to six months imprisonment without seizing the asset. These are some of the issues.
The Anti-corruption war is a collective responsibility of every Nigerian and we need to sharpen our laws; some people will say that it will be tantamount to abuse of human rights. See; if we say we should specify the years attached to stolen figures things will change. In china, if you steal on million Dollars for instance, the penalty is there.
In Nigeria, every one million Naira stolen should attract at least, one year imprisonment. By the time you have that people will run away from corruption; because the essence of the law is to deter people from committing offences. When you have a law that encourages corruption, what do you expect? Corruption should in fact attract death penalty. Where somebody steals, and is sentenced to death, when you are hanging him or her, bring primary and secondary school children to see that the person is being hanged because of corruption, then people will run away from it; but go today, right from primary, and even nursery schools, the affection of the children is that you have to make it in life, because they see that the people that steal are better people in the society. So, we have to sharpen our laws. Unfortunately if you bring that issue up, the civil society will talk about human right and laws that do not exist, as long as I am concerned. Somebody that steals money has stolen the future of this present generation. He has stolen the future of our children and children yet unborn and that is tantamount to a serious crime. It is the most serious crime as far as I am concerned. It is worse than one that kills with a gun because; this one is killing lots of generations. People steal every day in this country and nobody is saying anything.
Corruption should attract death penalty. In fact, if there is something beyond death, I will subscribe to that. The instant death is not enough, as it will not pain much; cut one finger every day, one ear, just installmental death, because they have cut generations like that; subjecting several generations to pains and difficulties. That is the only thing that can stop corruption in Nigeria.
Performance of Anti-Corruption Agencies in Nigeria
Oh no! No! No! It is far below average. The executive arm appoints them; they report to them, and to worsen the situation, the Constitution has made it in such a way that they have no powers to persecute. They have to seek clearance from the Attorney General of the Federation who is an appointee of Mr. President. He/she will go to Mr. President and he will look at the list and select those that should be prosecuted and they are usually those that have no godfathers. The entire system is in shambles; that is why in the present Constitution amendment, we removed the office of the Attorney General of the Federation from that of Minister for Justice so that Attorney General will be independent. The moment you appoint him, it will take two-third majority of the Parliament to remove him from office. We are doing all of these so that we can have checks and balances. There should also be direct funding and he/she doesn't go to anybody to beg. The very day the President gets his money, he gets his own money.
Proposed Joint Retreat for NASS Anti-Corruption Committees
Whatever it takes to educate the legislature, equip and encourage them is a welcome idea. If that comes up, definitely, on invitation, I will be there.
EFCC Workforce and Police Domination
There is a Bill sent to my Committee now and it seeks to remove Police from the EFCC completely. EFCC should look like NDLEA; to give them power to have their own arms, train them, give them power to arrest and prosecute. In EFCC, as it is today, you see Inspectors bossing Master's Degree holders because they are Police officers. Lower cadre Police officers are made bosses of persons that are well read and well trained. It is uncalled for. This must change. Police should leave that place and go back to their Barracks. Most of these policemen receive their salaries from the Police and also receive from the EFCC. That is why they are all lobbying to be transferred to EFCC to work there. They should give way. The new Bill provides that any policeman that wants to work in EFCC should resign and apply and if they are qualified, they will be recruited. A situation whereby an Inspector is made a Director over well read and experienced people is unacceptable. We shall pass that Bill definitely, to ensure that Police give way.
In Nigerian Drug Law Enforcement Agency, NDLEA, for instance, Nigerians are there. Every day, there are records of successes in the fight against drugs. They are all over-at the Airports, Seaports, on the roads etc. so, the same way, EFCC must be free from Police and well trained and experienced Nigerians must take over.
NDLEA and Drug War in Nigeria
We have sufficient laws in Nigeria. The laws we have give room for the NDLEA to operate. They are doing well. Unfortunately, they are not being funded. You see, a place like ICPC and EFCC, they have over-bloated budgets with few staff. They are not performing; when you check their annual reports, you will see things for yourself. You will also see a recurrent over bloat in the budgets. The moment the recurrent is sent, it is already spent, but no results, the same thing with ICPC. NDLEA is the least-funded Agency in Nigeria and they have the best results among all the agencies. We have tried to draw the attention of relevant authorities for proper and improved funding of the Agency, but to no avail. These officers are being killed and maimed on daily basis because of their efforts to get rid of drugs in Nigeria. They have outdated equipments, even sniffer dogs, Federal Government cannot buy; they are being donated. The budget provided by the executive arm does not even have provisions for the feeding of the free dogs. No operational vehicles in all the places. In some cases, when they arrest suspects, they carry them on cyclists (okada) to stations. There are some state governors that have bought and donated vehicles to state sectors/chapters of NDLEA. If you visit their offices, including the headquarters, their roofs have leakages. It may interest you to know that the money approved for capital Projects for 2013 is one hundred million Naira (N100m). What will they do with One Hundred Million Naira? For their recurrent; they can only stop at paying salaries. So, NDLEA has been reduced to salary paying Agency. At the same time, these people are working so hard to achieve the results they are achieving. NDLEA structure should also be strengthened. They should have NDLEA in not just local government headquarters. They should be all over the place. This year alone, they were supposed to recruit five thousand people; but they cannot, because there are no funds. It may interest you to know that the officers they recruited since 2010; we have been struggling for the executive arm to release money for these officers to be trained. That is why when you go to the international Airports today, you only see the old hands that have been trained; no new hands to go and exchange them at the duty post. Some of them work 24 hours. We struggle for them to release money to buy ordinary uniforms for the Officers. They don't even have uniforms. The executive arm is paying leap service to the war against corruption and drugs in Nigeria. Do not forget that the delisting of Nigeria from the list of countries that aid and abate drug trade and money laundering is the work of NDLEA; yet they are not funded. NDLEA has made the world today to know that Nigerians are decent people and not drug peddlers.
The international donors e.g. America, Germany etc donated the machines and sniffer dogs at the airports. They limit themselves at the international airport so that drugs do not go into their own country. As to what happens in Nigeria, they do not give a damn about it. It is our collective responsibility and that is why we should fund this agency to recruit the minimum of fifteen thousand people, train them and send them to all the corners of this country to ensure that Nigeria is a drug-free society. Boko Haram, armed robbery, kidnapping etc are drug associated crimes. If you get rid of drugs in Nigeria, the country will be a crime-free society.
National Dialogue
It is okay; but, in my personal opinion, there is no need for National Dialogue. The legislature represents the people. They are working hard and should be supported.