Corrupt Officials: President John Mahama And NDC's Number One Enemies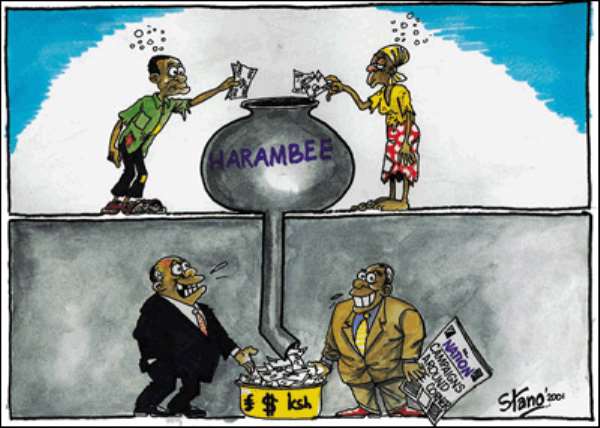 Transparency International defines corruption as 'the abuse of entrusted power for private gains'. The heritage foundation, founded in 1973, in its 2013 economic freedom index report, cited corruption as one of the problems that is still persisting in the Ghanaian economy. The paper said Ghana's freedom from corruption index is a woeful 39%. The widely circulated paper, pointed to the weakness of the rule of law as responsible for this rot. The paper further suggested that, corruption needs to be combated if rapid development is to be maintained. It is a basic truth that corruption perception index is one of the factors that influences the choices that the electorates make behind that fate determining but secret ballot voting box.
In Ola Rotimi's 1971 culturally interwoven, intriguing and thriller per second drama book, the Gods Are not To Be Blamed, Odewale, King of Kutuje, said that 'a man's enemies are those that are close to him' and that 'all lizards lie prostrate, how can one tell which one of them is suffering from belly ache? But in timejust in timethe pain will make one lie on its back and then shall that which has not been known be made known!'
It is often said that character is like a young tree that stiffens with time as it matures. And so, if the tree is not straightened while it is young, it becomes very stiff and rigid when it matures. If a bent tree is undesirable thereof, what can best be done at such circumstances is to probably cut it and replace it with a much younger tree and start the botany all over again. This problem of persisting government appointee infidelity is serious and must be dealt with ruthlessly.
For the recent past few weeks, it has widely been clamored on the streets of public opinion, social media political platforms, pressure group discussions and voices of dissension of the corruption allegations contained in the Ministerial Impact Assessment report of the Ministry of Youth and Sports, herein referred to as the GYEEDA report, 2013.
Many dissenting voices, especially those of youthful political enthusiasts on radio political discussions and serial calls, and on facebook, twitter and other social networks, more especially those of the main opposition NPP, feared that the decision of the presidency to set up yet another committee, chaired by P V Obeng to review the findings and recommendations was in attempts to whitewash such intriguing and daunting GYEEDA report.
However, cool minds of political discourse on same political platforms reminded such assertions of the fact that the document in question has to do with the hard earned and jealously protected reputation of individuals and corporate bodies it indicted, and must be deeply considered in whatever decision the presidency takes. It was therefore argued by defending political analysts that since the presidency is not the primary originator of the GYEEDA report, it is only a character of good leadership that the presidency is double sure of every letter, word, phrase and sentence, and of statistical and accounting figures, contained in that very important document before the axe is gored. The defendants concluded that this single most important well counseled decision of the presidency to have the report reviewed, if for nothing at all would save the government from paying any unnecessary gargantuan judgment debt to individuals and corporate bodies for defamation of character and good will.
Lo and behold, the report is out! And directives are given to the Police CID, EOCO and the AG's department to investigate and bring to book, all cited individuals and corporate bodies. 'If crocodiles eat their own eggs, what will they not do to the flesh of a frog?'---Non-NDC appointees, be cautioned! We say kudos to His Excellency the president for this nationalism he has exercised. We hope that nothing will be swept under the carpets.
Perhaps one of the good moral virtues that thoughtful people of Ghana would constantly remember about the former President, Professor John Evans Atta Mills, and the NDC, was his ardent and unflinching nationalistic commitment to fighting corruption evidenced in his swift response to the corruption expose` by Anas Aremeyaw Anas, at the Tema harbour. Within hours, out of the tears of a mother on her kneels from wicked rot caused by activities of shameless conniving slippery maggots, a blessed son of blessed memory rose to her rescue by setting such heads, infested with such wicked maggots, rolling.
Dear concerned reader, the NDC as a political party was formed on the principles of transparency, probity and accountability. This explains why former President Jerry John Rawlings becomes bitter when he senses that the leaders of the party are grossly going contrary to the above mentioned principles. The worst thing to ever happen to a political party is for it to lose its identity symbolized by its core values and principles.
As promising as its mandate and as committed as its leadership, the NDC manifesto in the 2012 presidential elections is one of a well crafted policy document which provides tailor made solutions to the numerous problems in the Ghanaian economy. However, due to the infidelity and imperfection of some self centered individuals, the party is far from redeeming its salient promises, if a cursory care is not taken at its appointees. Any such individual or group of individuals who put up such inimical character of egocentrism, selfishness and dereliction are the number one enemies to the electoral fortunes of President John Mahama and the NDC at large, in future elections. Gaining the trust and confidence of the electorate is the number one most important natural asset every political party must strive to attain. In 1950, Dr. Kwame Nkrumah won election with a land slide 98.52% of total valid votes cast while in prison simply because the electorates trusted him. Therefore, the decisiveness and boldness of President John Mahama in effectively and efficiently implementing the recommendations of the GYEEDA report is very imperative and fate determining.
No matter how intensive the rays of the sun are, but the roots of a plant cast no shadows. We are Ghanaians and must endure in doing everything possible to uplift and defend the good name of Ghana.
Dear lucky but ungrateful government appointee, why would you strive to award a God chosen leader like President John Mahama, who genuinely chose you out of the numerous contenders, to help him further the better Ghana agenda, with a Pull him Down (PhD) attitude? That is highly ingratitude, to say the least!!!
Long live President John Mahama!
Long live Fidel appointees!!
Long live Mother Ghana!!!
Dabaga James
KNUST, Kumasi

0265817927