Appiah Ofori Goes Wild!!
As He Curses Mahama Boys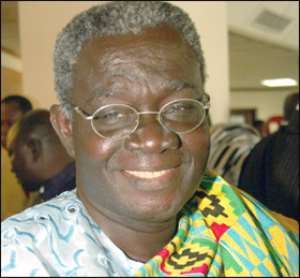 Paul Collins Appiah-Ofori
IF IT is not true that President Mahama invited me to his office and tried to offer me a ministerial appointment, then God should let something terrible happen to me and die a painful death.
But if it is indeed true that the President called me to his office to discuss about the appointment and his aides are saying it never happened, then God should let a terrible thing happen……."
That was how Ghana's anti-corruption crusader, Paul Collins Appiah Ofori, responded to the insults and denials by the aides of President John Dramani Mahama that the President had at no time met him to offer him an appointment.
The former MP was apparently not happy about the insulting comments made by the presidential boys, who had been running him down since he went public about attempts by President Mahama to offer him a position in his government.
The Spokesperson for the President, John Jinapor, on Monday wrote on his Facebook wall, "His Excellency President John Mahama has at no point/time offered Mr. P.C. Appiah Ofori any ministerial appointment, let alone to champion anti-corruption administration in his government.
As politicians we must learn to speak the truth at all times, no matter the consequences and endeavour to desist from such blatant cum naked lies."
Stan Xoese Dogbe, a presidential aide, also wrote, "Elderly people are to be respected and revered but it does not also mean they should go about lying.
President John Mahama has at no point or time offered former MP, P. C. Appiah a Ministerial appointment, let alone for him to champion anti-corruption in his administration.
That claim is a lie and only PC can explain why he put out such falsehood. He did request to meet the President, which opportunity was granted him."
However, speaking on Sunyani-based Ark FM, the same network he dropped the earlier revelation, the former Asikuma-Odoben-Brakwa MP, yesterday went to town cursing the two spokespersons of the president, and describing them as "lunatics" for calling him names.
"The boy that wrote that thing about me [on his Facebook wall] has shortened his life," apparently referring to Stan Dogbe, who claimed that Mr. Appiah Ofori rather requested to meet the President.
"God should let me suffer and die a terrible death if indeed the president did not invite me and attempted to offer me an appointment, and if indeed I was invited by the president then they should suffer and die shameful deaths," he declared in an angry tone.
He added: "They should have asked the President whether he had not invited me to his house before they came public."
According to Mr. Appiah-Ofori, he had no business booking an appointment to meet the President, saying, "God should forbid that I will book an appointment to meet the president."
Invitation & Embrace
Explaining the genesis of the whole episode, the anti-corruption crusader said it was Hon. Akua Sena Dansua, former MP for North Dayi and outgoing Minister for Tourism who told him (PC) that the president wanted to have a meeting with him.
Mr. Appiah-Ofori mentioned that when he went to the Castle on the invitation, he was told that the president had left for home, so he was directed to the house.
He explained that the moment President Mahama saw him, he embraced him and took him to his private conference room.
The former NPP MP mentioned that President Mahama then thanked him for the good counsel he, Appiah Ofori, once gave him when the leadership of the NDC wanted to nominate him as the running mate to then candidate Mills in the 2004 elections.
The president, according to Mr Appiah-Ofori, was so happy that he had counseled him not to accept that offer because candidate Mills and for that matter the NDC, was not going to win that elections in 2004 and President Mahama would subsequently have lost his parliamentary seat as well.
He said President Mahama further told him that Alhaji Mohammed Mumuni, who was chosen in his stead and subsequently lost that election with the NDC, had since been suffering, and that had it not been for his good counsel, he (John Mahama) would have been in that same difficult situation.
Payback
Therefore the President had wanted to pay him back for that advice by offering him an ambassadorial position.
He said he rejected it because he was aging and more so his party, the NPP, would accuse him of being an opportunist and abandoning it.
Mr. Appiah Ofori further disclosed that the President put forward a second proposal to appoint him a minister, but he again declined the offer.
Mr. Appiah-Ofori stated that the President then pleaded with him to help him fight corruption in his administration which he accepted, since that has always been his primary role in the country.
Mr. Appiah Ofori said he promised the President that he would help the government by exposing corrupt practices among ministers and other government officials for the President to take punitive actions against the culprits.
He however asked the President not to let his call on the fight against corruption be a mere rhetoric, as happened during the time of his predecessor, the late Prof John Evans Atta Mills.