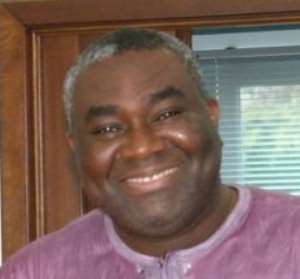 Director-General of NCA, Paarock VanPercy
The National Communication Authority (NCA) said it has generated over $143 million from its telecom fraud management project implemented two years ago with the help of Global Voice Group (GVG) from Haiti.
This was contained in a response to a questionnaire from Adom News Editor, Nii Narku Dowuona to the Director-General of the NCA, Paarock VanPercy about the terms of NCA's contract with GVG, which had remained off the public spotlight over the past two years.
"This singular project has been able to accrue revenues in excess of $120 Million in two years to the State of Ghana," the NCA boss said in his response.
But an official of GVG also confirmed to the Adom News Editor through an email that GVG's activities in Ghana had generated exactly $143 million for Ghana between June 2010 and June 2012, and the NCA boss said that figure was more accurate.
Mr. VanPercy said the NCA targeted $5 million a month from the fraud management project, but had exceeded the target of $120 million expected for the two year.
Part of the project enforcement was the enactment Electronic Communication Amendment Act, Act 876, which fixed incoming international call tariff at 19 cents per minutes, out which the state got 6 cents per minute in taxes.
From that fixed rate, Ghana generated close to $6 million every month; and that was money that used to be left in the hands of giant traffic careers abroad, which paid some peanuts to Ghanaian telcos and deprived Ghana of any revenue sharing.
Adom News investigations indicated that there were about 100 million minutes of international calls coming into Ghana every month, and most of it was from Ghanaians living abroad.
The overseas careers charge 85cents per minute on those calls and made $85million every month, but used to pay only a total of about $7millions to telcos in Ghana.
But since the implementation of Act 876, the telcos in Ghana now receive a total of about $19 million every month, and pay close to $6million out of that to the state through the NCA.
Mr. VanPercy said none of that would have been possible without the huge investment and support of GVG, under a BOT (build operate and transfer) Agreement with the NCA to implement traffic verification and an accounting platform for Ghana's international traffic.
He said the scope of the Agreement called for the financing, delivery, testing of equipment, software and continuous fraud detection services from overseas, adding that the contract also includes the implementation of systems that will account for the volumes of traffic terminating in Ghana and also to detect illegally terminated calls, of which SIM box fraud is usually a part of.
"In conformity with the terms of the contract, GVG solely financed the acquisition of telecom traffic verification devices to be installed at each International Gateway Operator (telco switches) to collect real time data on traffic volumes. The service allows the Government to make sure that call detail records and the corresponding amounts to be collected by NCA on behalf of the State are accurate. But, as is publicly known, that exercise of installing the system at Operators' sites is a matter of court proceedings and therefore not fully implemented," he said.
He said the NCA was awaiting the outcome of the court process to complete outstanding installations and fully operationalize the traffic verification and accounting systems.
The NCA Boss however noted that even though the international gateway monitoring has been stalled, the fraud detection systems were fully operational, saying that, GVG had provided a Traffic Supervision Center to the NCA with fraud detection and tracking technologies that allowed a continuous surveillance of bypass fraud.
He said GVG continued to train NCA staff on fraud detection, revenue assurance, traffic billing and international tariff surveillance; GVG had also trained law enforcement officers and the special unit of the Police on the technologies and schemes of illegal termination to help in the arrest and prosecution of illegal operators.
Mr. VanPercy said the fraud detection system, located at NCA, had remote fraud trackers located in 57 countries, operated by GVG for the purpose of detecting fraudsters that are operating offshore and sending calls to the Ghana public switched networks with local and/or international SIM boxes.
"Since March 2010, the system provided by GVG has detected in excess of 155,000 fraudulent SIM cards used for SIM boxing," he said.
Mr. VanPercy said the BOT Agreement between the NCA and GVG was based on traffic volume performance incentive, which meant GVG was entitled to receive a service fee of 1.25cents from every six cents government gets, representing 20.8% of what government receives and 6.58% of the total amounts collected.
This means out of the $143 million collected so far, GVG had been paid over US$9.4 million over the two-year period. This comes to about $400,000 every month.
"This share represents their remuneration for the Traffic Supervision Center located at the NCA, for all equipment, hardware and software delivered and installed (three installations are complete) to control all Telco operators' traffic and revenues and for the continuous fraud and tariff violation detection services overseas," Mr. Van Percy said.
There have, however, been some negative media reports in Senegal, France and Haiti about the operations of GVG in Senegal, for which the company had to leave that country; but Mr. VanPercy said "as to the allegations about Senegal, Haiti or wherever, that is not the business of the NCA. The NCA does not base its decisions on rumours."
He said the NCA preferred to learn from experience, and not rely on what other countries had done to make decisions for Ghana.
"We follow Ghana procurement rules. We procure services and equipment from wherever possible so far as we deem them useful for our regulatory work. We have purchased Spectrum Monitoring equipment made by US firms, Quality of Service Equipment from Switzerland, South African or Haitian made software and on and on and on. The result is that we have hired a firm with expertise in Fraud Management System," he said.
Story by Ghana/Samuel Nii Narku Dowuona/Adom News