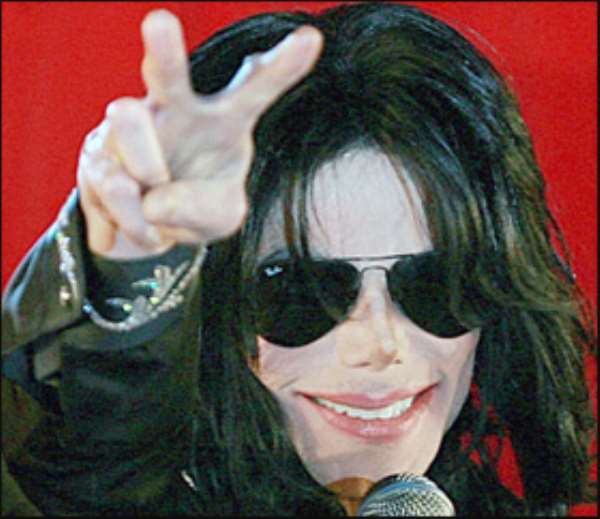 Michael Jackson
Reports from Los Angeles, California, say the Police Department (LAPD) is leaving no stone unturned in an effort to establish the cause of pop star Michael Jackson's shocking death.
Earlier, the police were hunting for the live-in medical doctor of the late Michael Jackson after the star's family suggested he died of a drug overdose. At the time of going to press however, reports gathered by DAILY GUIDE indicate that the doctor has reported to the police.
The death of Jackson on Thursday shocked his fans around the world.
The legendary King of Pop suffered a cardiac arrest at his home in Holmby Hills and was taken to the UCLA medical centre where he was pronounced dead.
Tmz.com, an entertainment website, claimed Jackson received a daily injection of Demerol, a synthetic narcotic similar to morphine, but was given "too much" on Thursday.
Los Angeles police want to talk to the doctor - who lived at the star's home and administered his injections.
Jackson's brother, Jermaine Jackson, confirmed the "legendary" star had passed away at the age of 50 after doctors worked for more than an hour to try to revive him.
The doctor who was with Michael Jackson at the time of his death has been identified as a cardiologist from Houston, Texas.
A Houston-based radio station named Jackson's live-in doctor as Dr. Conrad Robert Murray, adding that he had been living with the pop star in his rented mansion. "We're told Murray attempted to revive Michael until paramedics showed up at the scene."
The station reports that the car that was towed from Michael's house last night was registered to Murray's sister.
When EMTs arrived at Michael Jackson's home, the medics wanted to pronounce him dead on the scene -- but Michael's personal doctor refused to let them "call it".
When EMTs arrived, there was evidence someone had been performing CPR on Michael for "quite some time". There was evidence of Lidocaine -- an old-school drug thatcan be used to treat disturbances in the heart's rhythm. Medics took over performing CPR but determined Jackson was lifeless -- and wanted to call the coroner to pick up the body.
"We're told Jackson was lying comatose in a flat position when EMTs arrived," the radio station says.
Sources say M.J.'s doctor demanded EMTs continue performing CPR anyway, and demanded that they take Michael to the hospital.
Once they arrived at UCLA, it was reported Jackson's doctor continued to personally administer CPR -- even though it was clear Jackson was already dead.
The star's body was flown by helicopter from the hospital to the LA coroner's office and a post-mortem examination was expected to take place yesterday.
Law enforcement sources say a BMW belonging to the doctor was towed from Jackson's home while a heap of prescription drugs were also raided and carted away by the Police.
A law enforcement source says the doctor gave Jackson an injection before he died.
A close member of Michael Jackson's family alleged Jackson received a daily injection of a synthetic narcotic similar to morphine -- Demerol -- and on Thursday, he received a shot at 11:30 AM.
Family members are saying the dosage was "too much" and that's what might have caused his death.
Jackson may have overdosed on Demerol, as family members were concerned that he was taking too much morphine.
Dr. Lakshmanan Sathyavagiswaran, the Los Angeles County Coroner, has started the autopsy on Michael Jackson.
There are reports that the music star may have died after getting the Demerol injection.
The Sun reported that shortly after the injection, Jackson's breathing got "slower and slower until it stopped".
The story could not be confirmed but it is known that after Jackson was badly burned during the filming of a Pepsi commercial, he became addicted to painkillers and ended up at the Betty Ford Clinic.
In addition, during the child molestation trial, cops seized syringes and drugs, including Demerol from his home, it is alleged.
Brian Oxman, a spokesman for the Jackson family, said the singer's relatives had been concerned about his health and had tried to take care of him for months.
"Michael appeared at rehearsals a couple of times, he was very seriously trying to be able to do those rehearsals," he said.
"His use of medications had gotten in the way, his injuries which he had sustained performing, where he had broken a vertebrae and his leg from a fall on the stage, were getting in the way."
He was pronounced dead just before 9.30pm, Ghana time, on Thursday 25th June, after being taken to hospital in a coma.
However, his elder brother, Jermaine, told reporters he believed Michael suffered a cardiac arrest at his home, although the cause of death is unknown until the results of the autopsy are out.
"His personal physician, who was with him at the time, attempted to resuscitate my brother, as did the paramedics who transported him to the UCLA Medical Centre in Los Angeles.
"On arrival at 1.14pm a team of doctors including emergency physicians and cardiologists attempted to resuscitate him for one hour but they were unsuccessful."
Jermaine asked the media to respect his family's privacy during this "tough time".
A statement from Quincy Jones, also a legendary entertainer, said soon after the shocking death was announced: "I am absolutely devastated at this tragic and unexpected news. For Michael to be taken away from us so suddenly at such a young age, I just don't have the words. Divinity brought our souls together on The Wiz and allowed us to do what we were able to throughout the 80's.
"To this day, the music we created together on "Off The Wall," "Thriller" and "Bad", is played in every corner of the world and the reason for that is because he had it all…talent, grace, professionalism and dedication. He was the consummate entertainer and his contributions and legacy will be felt upon the world forever," he added.
The singer suffered a cardiac arrest Thursday afternoon and was rushed to the emergency room.
When paramedics arrived at Jackson's home, he had no pulse and they never got a pulse back.
Once at the hospital, the staff tried to resuscitate Jackson but they had no luck.
Michael Jackson's death is such a sad loss, especially for his three young children, Blanket, Paris and Prince Michael.
Meanwhile, the rumour mill is agog with stories about the last days of his life, as had been the case throughout his 45 years on stage as a fantastic entertainer.
According to hotel heiress Paris Hilton's gossip website, Michael Jackson claimed ignorance when a lawsuit was filed by his former publicist, Raymone Bain.
According to the story, Bain was suing for $44 million in unpaid publicity and management services, receiving a default judgment after she was unable to serve Jackson. In one attempt to deliver the papers, a security guard told the process server to "get the fuck out".
However, Jackson insisted to have never been served nor had any knowledge of the lawsuit.
The site stressed that the promoters who were trying to put a stop to Jackson's upcoming concert in London were not giving up on trying to torpedo the concert which Michael commented on thus: "This is it; The Final Curtain Call".  
They alleged that way back in November 2008, Jackson signed a deal promising to appear in a Jackson family one-off concert and abstain from making any other concert deals for 18 months.
First, the promoters attempted to order a cease and desist of Jackson's upcoming concerts, but now, AllGood Entertainment is suing the Gloved One for a minimum of $20 million in damages for breaking his contract!!!
AllGood claims Jackson and his management "secretly teamed up with the promoters AEG" and all parties were "well aware" the original contract was being broken.
A Daily Guide Report