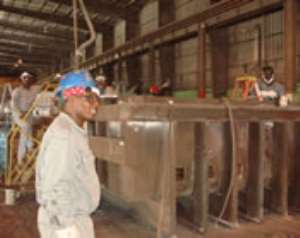 Twenty-nine (29) members of Ghana's 230-man legislature on Friday, November 7, 2008, ratified an agreement ceding 70 percent of the state-owned Volta Aluminium Company (VALCO) to a ghost company.
This means that approximately 13 percent of the house's membership ratified this stinking deal. Whether that percentage of members represented the needed quorum to prosecute business of the house is not the subject of today's discourse, but rather the haste with which this VALCO deal was also rushed through parliament as though the Armageddon was approaching and so the entire nation was going to perish unless the deal was ratified.
Well, it appears to me that after getting its face splattered with rotten eggs in the illusive US$1.0 billion IFC loan in its first year in office and getting the nation so embarrassed, the NPP government has yet to realise that in the field of business you need to be very smart.
I remember very well how the then Senior Minister, J.H. Mensah ridiculed himself with the refrain that 'the opposition was dazed by the quantum of money the government was sourcing from the capital market for development purposes'. Kwaku Baako Jnr, an avid supporter and unofficial spokesman of the NPP government went after everybody who questioned the apparent lack of due diligence in that loan scam, claiming that he would give up 'all his credibility to defend that fraud'.
I am happy Kwaku has indeed lost his last strand of credibility because the loan was incinerated in the barber's refuse damp on the Hammersmith Road in London!
It appeared the government was becoming possessed by the 'sprit of get money any how' so it decided to go for another US$300 million loan from some fairies from under the sea, in what has become known as the CNT Construction Investment Limited (CNCTI) saga.
In both instances cited above, members of parliament (MPs) had earlier ratified the deals. Indeed, in one instance, members of the majority were said to have gone into wild frenzy after ratifying the 'ghost' loan agreement which has been haunting them since.
It's increasingly becoming clear that serious bills or papers are always brought before the jokers who call themselves parliamentarians at the very last hour. After all, the executive arm of government is very much aware that the MPs would not scrutinise the bills anyway – so send it to them at the last hour and they would pass it. The Ghana Telecom sale is one such business that was carried out in such haste, that one began to believe that if the deal did not go through the entire nation was going to sink like the Titanic. Anyway, I hope since the fire sale of Ghana Telecom, Vodafone has offered the Midas touch?
When I heard that parliament on Friday ratified the sale of 70 percent shares of VALCO to some two companies, I just asked myself, I hope this time somebody was not going to be reckless? Then bam! Within less than 12 hours, a friend prompted me to tune in to Citi FM online because there was an interesting debate on Ghana.
Citi FM, an Accra-based radio station called up the supposed representative of the Norwegian firm Norsk Hydro which was said to be partnering a Brazilian counterpart, Companhia Vale do Rio Doce in a consortium which has bought VALCO. The answer given by the company representative was so revealing. He said they had prospected for VALCO in the past but as far he was concerned, his company did not presently have any interest in buying VALCO. Indeed, a search at the company's website on 'new acquisitions' also confirms the position of its official. They have not bought VALCO, period! Vale has also expressly stated that they have not acquired any interest in the Ghanaian firm!
During the interview on Citi FM, the news anchor decided to call up an opposition MP, Inusah Fuseini, who is also a member of parliament's committee on Trade and Industry. The response given by the NDC MP for Tamale Central was most intriguing or worse still so bizarre that I begun to ask myself what business such a character had in entering parliament in the first place?
According to him, his committee had no cause to doubt the report from cabinet because a cabinet memorandum to the house's committee on Trade and Industry had stated that Norsk Hydro was the fourth largest integrated aluminium company in the world and that Vale was also present on six continents. What a joke? What is the use of the internet Mr. MP? And what right do you have to be buying SUVs with the taxes of the people if you cannot scrutinise basic contract documents?
Anyway, before I digress too much, it's clear that this government never learns and that the opposition has also never woken up from the shock that sent it packing from the Osu Castle. It has also become clear that the government has perfected the act of eating with the ghost with a long spoon so much so that it does not fear being killed by the ghost anymore!
But when I sat back pondering the attitude of our 21st century Ghanaian leaders, especially the MPs, I just ask myself whether we have been taken in by Lee Kwan Yew's assertion that we have lost it as a nation?
However, something struck me that this is how far our MPs can go. After all, many of them are handicapped. First of all, those who are a bit lettered and can decipher good from wrong refuse to exercise good judgement because in Ghana, truth is a taboo and since one plus one equals to three, you risk not being appointed to any board of a parastatal or a minister of state where you are entitled to all manner of freebies, including sometimes 'night nurses'.
The late Agyare Koi Larbi and P.C. Appiah-Ofori are clear testimonies of how intolerant this government can be when it comes to constructive criticism from even its own members!
The other MPs are also so functionally illiterate that all they want is voting time so that the can say 'Yea Yea' and nothing more. Maybe, because they have forcefully conferred the title 'honourable' on themselves and a cowardly society has also been consumed by their domineering posturing the MPs think they can get away with anything!
At one time, these MPs wanted to lower the marriage age in the country to 16. Another time, they prevented Papa Kwesi Nduom, now Convention People's Party (CPP) flag bearer from entering the house because he was improperly dressed! According to our Europeanised Ghanaian MPs, Papa Kwesi Nduom was in African attire so they refused him entry!
Social psychology and criminal law define a thief as somebody who takes another's property without that person's freely-given consent. That's how come the act has been defined as stealing, larceny, or filching.
In fact, government has always sneaked questionable agreements through parliament at the last hour and rubber stamped them with their zombie majority – this is applicable to past and present governments who used their numbers in parliament to legitimize illegitimacy in very many instances.
In all the fire sales of government owned properties, the masses resisted, but the government had its way. Should it be said that since the government is always hurriedly putting up state enterprises for sale there is some amount of theft in here?
In the meantime, I think this VALCO scandal has not generated the needed brouhaha because after all, the government has contradicted itself on the subject in many ways. They first bought the company from Kaiser and Alcoa – because they backtracked on their meaningless mantra that government had no business doing business.
They then realized that indeed government needed some cash, given that these are election times and 'we better dole out some more cash – lest we lose'. So they decided to re-sell the asset, which has of course been a white elephant since the government acquisition and members of government risk giving themselves the latest hangman's noose in town called 'the law of willfully causing financial loss to the state' if they didn't act correctly!
Well, I hope this time the moral society which seems to have been co-opted into the arena of the crimes against the people of Ghana would rise up and question the government on this VALCO sale?
After all, who is a thief? Is a thief the MP who uses his position to trade in the poisonous herb of the Andes or the one who uses his position to engage in visa racketeering? Is the thief the armed robber who refuses to allow many Ghanaians to have a sound sleep or the thief also includes the public official and that politician who gets an under table commission on every state assert that is given away for a song to some fronts from the metropolitan countries?
Or worse still, the thief also includes that politician who judges that the nation must not have an official airline and so liquidates such a company and forms a moribund charter flight operator for the cousins and uses others as a front? Posterity shall be our judge!
By Kwabena Mprah Jnr.Email: [email protected]