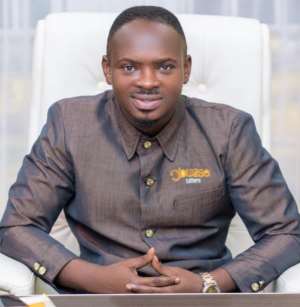 A burgeoning entrepreneur based in Obuasi Dr Collins Amo, who is the Chief Executive Officer of Aduro Ye Herbal center, the producers of Obuasi bitters has donated an amount of GH¢15,000 towards the celebration of 39th National Farmer's Day in the Obuasi East District.
Known for his philanthropic works, the businessman last year made similar donation to support the farmer's day in the same district, as part of his company's Corporate Social Responsibilities.
Presenting the donation to the farmers' day planning committee, Collins Amo said the gesture was to aid the organization of the event and to also recognize the overwhelming contributions of farmers in the district.
He commended farmers for their role in food security and also braving the storm to put food on the tables of men.
"We know the challenges that farmers face regarding irregular weather patterns all but despite all, these they still work hard to feed us. They need to be celebrated," he stated.
He was however optimistic that the donation would spur the farmers on to continue to work hard to support the economic development of the country.
Dr. Amo reiterated the need for an all-hand-on-deck approach in dealing with the perennial problems or challenges facing the agricultural sector.
He said Government cannot shoulder the burden alone but there was a need for individuals, groups and corporate bodies to come on board to support farmers.
Receiving the amount on behalf of the planning committee, the Chief Executive for the Obuasi East District Hon Faustina Amissah thanked the CEO of Aduro Ye for once again supporting the farmers' day celebrations.
She said the support will go a long to ensure a successful event. She noted that the district was poised to honor farmers for their unwavering support and contributions to the development of the country.
The Obuasi East District's edition of the 39th National Farmers' Day will be held at Mampamhwe under the theme "Delivering Smart Solutions for Sustainable Food Security and Resilience."