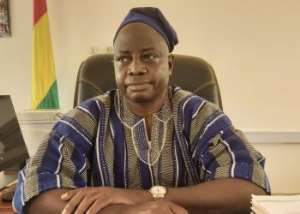 Upper East Regional Minister, Stephen Yakub
Upper East Regional Minister Stephen Yakubu has met with all the Fulanis in the region to officially interact with them following the ongoing threats from terrorist groups operating in most countries in the sub-region, particularly neighboring countries.
Speaking to this reporter, the Regional Minister said "I met all the Fulani's in this region because we have realized that the Jihadist most of them are Fulanis and they are talking to our Fulani people here. Because they speak the same language and they are the same people. We think, there is a need to start engaging our Fulanis. So that, they will be able to give us information. I also used the opportunity to tell them that if they joke and the Jihadists enter the region, all of us are going to suffer".
Meanwhile, aside from engaging the Funali community in the region, Minister Yakubu noted that he also engaged the chiefs. According to him, the Chiefs are the people who allowed the Fulanis to enter their communities with their cattle to graze.
He indicated that it was therefore prudent to educate the chiefs on the need to properly track and monitor any Fulani herdsman who enter their communities with cattle to graze.
According to the regional minister, over 150,000 cattle have already entered Ghana from neighbouring countries in 2022 to graze. "So I told all my DCEs that, this is even a source of revenue to them because if they are charging one cow Ghc5.00 multiply it by 150,000 cattle. And they come this time to graze and go back and that is what they do every year."
He added, "Our problem is that we wanted to tell the chiefs to be very careful, anybody that is coming in, they should screen the person because the Jihadists can come with them. Because usually when they come, is the chiefs that they see first because sometimes they give the chiefs some of the cattle. So, that is why we are engaging the chiefs".