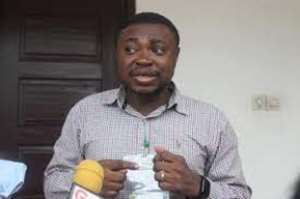 Samuel Afari-Asiedu , medical sociologist and research fellow at the Kintampo Health Research Centre
Research by the Kintampo Health Research Centre (KHRC) shows a very alarming abuse of antibiotics in rural communities.
The research by Samuel Afari-Asiedu and colleagues at the centre on the "Inappropriate Antibiotic Use in Rural Central Ghana," established that 86.6% of all antibiotics were used inappropriately.
Antimicrobial misuse is common in low-income and middle-income countries (LMICs), and this practice is a driver of antibiotic resistance.
The rapid emergence of resistant bacteria is occurring worldwide, endangering the efficacy of antibiotics, which have transformed medicine and saved millions of lives. Antibiotics have not only saved patients' lives; they have played a pivotal role in achieving major advances in medicine and surgery.
The medical sociologist and research fellow at the Kintampo Health Research Centre (KHRC), Samuel Afari-Asiedu, says the findings comes as a concern over the high inappropriate use of antibiotics in rural communities, which is leading to antimicrobial resistance in the country.
Mr Afari-Asiedu was speaking during an interaction with a team of health journalists who are members of the African Media and Malaria Research Network (AMMREN) at the KHRC in the Bono East Region.
The journalists visited the centre to familiarise themselves with its operations.
He said a study conducted by the KHRC in the Kintampo North and South districts in 2016 found that about 86 per cent of the population was engaged in inappropriate use of antibiotics.
According to Mr Afari-Asiedu, antimicrobial resistance was one of the top 10 threats to global public health, adding that the menace was increasingly becoming a big challenge in low and middle-income countries due to easy accessibility to antibiotics at the community level.
The World Health Organisation (WHO) indicates that "Antimicrobial Resistance (AMR) occurs when bacteria, viruses, fungi and parasites change over time and no longer respond to medicines making infections harder to treat and increasing the risk of disease spread, severe illness and death." This ultimately has an impact on the cost of healthcare procurement and delivery.
Mr Afari-Asiedu said findings from the centre's studies were always communicated to the relevant state institutions to help inform policies, as well as guide effective public health education in the country.
He said the research team from the KHRC had engaged the leadership of the association of over-the-counter services, the Pharmacy Council, as well as district and regional health directorates, to help address the situation.