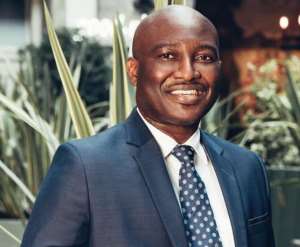 After a successful establishment of Ghana's Embassy in Vienna, Austria, His Excellency Philbert Abaka Johnson, Ghana's Ambassador and Permanent Representative to Austria, is leading a drive for exchange of investment between the two countries.
He said, "Our focus has become very visible to have relevant contacts within the country in order to drive our agenda to be able to expand the level of relationship between Austria and Ghana and to ensure more people-to-people contacts."
In an interview with the Accra Times, in Vienna, Austria, the Ambassador praised Austria for its skills in development programs and said that the Embassy is on the drive to tap into Austria's skills programs to develop the private sector through Small and Medium Enterprises (SMEs) initiatives.
Ambassador Abaka Johnson granted the interview on the side lines of the Fifth World Conference of Speakers of Parliament, held on 7th and 8th September 2021 in Vienna, Austria, and was attended by the First Deputy Speaker of Parliament and Member of Parliament for Bekwai Constituency, Hon. Joseph Osei-Owusu.
Ambassador Abaka Johnson, a Career Diplomat, observed that Austria's industrial development has been built on SMEs, and it has been able to develop excellent skills in different sectors of the economy, which he implored the European nation to put at Ghana's expense for accelerated skill and industrial development.
About 3,500 Ghanaians are living in Austria, some as permanent residents, temporary and others as students pursuing fields of studies at various levels.
The Ambassador praised the Government of Ghana for bracing the challenges of Covid 19 and successfully establishing Ghana's Embassy in Austria in October 2020.
The Embassy is now in consultations with Austrian investors, business partners and the Ghanaian Community in Austria to build stronger bilateral, economic and investment ties for mutual benefits for both Accra and Vienna.
Ambassador Abaka Johnson further said Ghana is the largest recipient of Austria development assistance to Africa, which put the embassy at a strategic position to forge for more mutually beneficial partnership.
Ambassador Abaka Johnson commended the patron of the Ghanaian Association in Austria Mr. Joe Tailor, for his untiring efforts in promoting Ghanaian interest, adding that, he had met with him and would soon mobilize Ghanaians working with United Nations (UN) system in Austria to help the embassy in advancing the Ghanaian interest.
"What we have set out to do is to move to all the regions within Austria, our reason for doing so, is that we feel Ghanaians are found in every part of Austria, they are therefore the eyes and ears of our country, Ghana, and so, by working with them they can give us leads into where we could forge mutually beneficiary relationships," Ambassador Abaka Johnson said.
According to the Ambassador, the Austrian Government has since 2010 helped Ghana to expand and upgrade fifteen technical institutions through concessionary loans.
He also said that there are some museums in Austria that have Ghanaian artefacts which call for them to be documented for further exploratory work.
The ambassador also spoke about Austrian interest and participation in Ghana's water management systems, energy, railway development and hospital construction, and urged for those business interests to be scaled up.
Furthermore, Ghana can take advantage of Austrian expertise in the hospitality and tourism industries through sustainable programmes and policies.
Ambassador Abaka Johnson urged Ghanaian students studying in Austria to come back home and put the knowledge acquired to good use by engaging in the private sector.
Source: The Accra Times