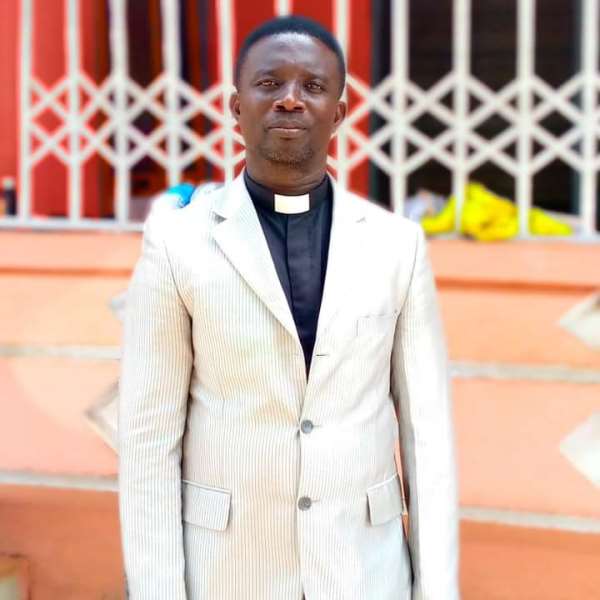 Founder and Leader of Anointing True Word Ministry Worldwide, Senior Reverend Oswal Akwasi Baah has rebuked fetish priest and money doubler Nana Agradaa known in private life as Patricia Asieduawaa.
He describes her sudden denouncement of idol worshipping as unconvincing.
According to the revered man of God, it is not a big deal for a sinner to realize their wrong paths and turn to the Almighty God for a new life but Agradaa's claims smack of insincerity and well-rehearsed strategy to attract public sympathy in her current predicaments.
The Reverend Father noted that true repentance from Agradaa would have been she giving up on all her dubious sins and crimes against God and humanity and sought forgiveness from God even before troubles befall her but not when she finds herself in the grips of the law that sudden repentance is announced, adding "God Almighty does not condone hypocrisy."
He continues, "It is not surprising for a sinner to realize his or her sins and turn to God, but this woman, I am not convinced by her claims, it is just in the eyes of people that she is making those claims to earn public sympathy against whatever punishment set to be meted out to her.
"...You don't lie to God, so if indeed she really means what she is saying, then she needs run to a pious man of God with great anointing, confess all her grievous sins, go through a lot of fasting and prayers for forgiveness and receive proper training or nurturing to come out as first an ordinary Christian before later advance to evangelism", the reverend stated, adding this is because, "she has dubbed a lot of people, committed grave sins against God."
Reverend Oswhall Baah made these statements in an interview on Cruz Kokrokoo morning show annex in Akumadan on the current developments regarding the arrest, shutting down of TV stations, and the sudden and Nana Agradaa new faith.
Reacting to reports of her husband being a pastor in all those instances, Reverend Baah believed both the husband and the wife need deliverance as the powers being used by the woman for her "sika gari" was the same being used by the man in his purported church service. "She and her husband all needs have to repent, two of them all needs deliverance, how can a pastor go out and preach against sins and ills in society when your own wife is engaged in it, cheating people and make a living together with you. They must really look for Christ in proper repentance and show regret for their evil deeds", the anointed man told SK De Broadcaster on CruzFM.
The arrest of Nana Agradaa was occasioned after the Ministry of Communications shut down two of her TV stations which were among among 47 for unlawful operations.
The arrest was a result of several complaints logged by some Ghanaians who were duped by Nana Agradaa's "sika gari" money ritual advertisement which led to her arrest and detention and later granted bail with the substantive case pending.
In a later video spotted on social media, Nana Kwaku Bonsam affectionately 'the authentic man' indicated that the woman was actually in pure scamming with empty images bought from Accra art center without any spirit in them.