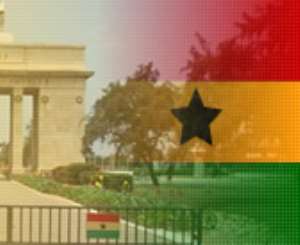 For all its worth, its reputation, its pride, its dreams of economic and political advancement, Ghana has over the past half century misunderstood the nature of power, governance and citizenship in our time. Ranking high on the default list are the most glaring if not ominous category of culprits- politicians. Our tale is not one of Sub Saharan success, followed by a crisis but of a deep and abiding kind of nature, nor is it a tale of a successful nation new in crisis, but of a failed independent state new in disarray.
Some individuals such as Jonathan Schells have gone at length to describe why today the United Sates has become the fool of history and so will never reach its expected imperial empire. Today Ghana is perhaps a power bloc in African politics which has sadly experienced an ever upward ratcheting of state development tainted by power drunk leaders, overly ambitions military demagogues and self serving politicians. Given its history, political journey and current developments, perhaps it is not far from truth to say that Ghana, if not watched carefully may become Africa's fool of history.'
That is not all, the situation has not been helped either by a sleazy, lazy and hazy if not dormant electorate who are willing to accept mediocrity as excessiveness. In a nation where the ruled and the ruler all engage in acts of decisive outwitting game play, what do we get? An even more speedy and ever upward prevalence of a kind of people power deeply connected not to the idea of national sovereignty but to the mendacious talk of so called first world countries/Bretton Woods institutions. There is an escalating dose of what seems to be a portentous self centeredness. This in turn forms the quid pro quo for all the greed and degenerating state, civil and moral malevolence even though we claim pride in nationhood. It is in this context that Ghana may be too late for success.
On almost all parameters, Ghana seems to be doing just fine. The symbols of statehood are evident. There is a currency, people trade with each other, schools and courts function, investors do come to Ghana(seemingly), there is a fledging if not fervent democracy, and of course, an obnoxious if not loquacious media. For instance telecommunication journals report that Ghana is one of only a few African countries with a vastly liberalized telecom market. It led the way in telecommunication liberalization and deregulation in Africa when it privatized Ghana Telecom in 1996. However again, on almost all parameters developmental and otherwise, and for all its modernization (westernization?) and developmental pretensions, Ghana falls into that shameful category, Mali, Benin, Uganda, Bangladesh, East Timor, Zambia, Togo, and Tanzania. Economically vulnerable, poor quality of life, low per capita income, low GDP, low life expectancy at birth, inadequate diversification, poor per calorie intake record., and now even more shamefully an allegedly, high risk cocaine consuming or transiting nation.
Ghana is not a failed state per say. Not in the way that Somalia, Sudan or Haiti is- where there is no moral or constitutional justification to power and where state authority is derived by the barrel of the gun. State authority and power are often confused as being the same. Authority derives from constitutional legitimacy and respect for the institutions such as the judiciary, parliament, and a permanent bureaucracy. Whereas power is really the ability to coerce and enforce the will of the state. Authority is abstract while power is physical. In that sense we're looking good. At least there is a central government and a power base even if they appear to be messing up. Remember the President and his lieutenants have said several times that it is better to have a bad government than no functioning government at all? Kwabena Agyepong the former brute and hard talking presidential spokesperson (don't we miss him?) has spared no breath in pointing out that a worst NPP government is better than the best NDC government. (and by the way what is this we hear about him running for president? Well, to quote Gabby Otchere-Darko on CITI fm's Eye Witness News, "everyone is entitled to dream") Sometime ago a former Deputy Minister mentioned that the NPP is the lesser of two evils when it comes to the two leading political parties in Ghana. True that? So in a sense we seem to be keeping our heads above water and putting up a face saving show. Alarmingly enough, we have a government that is overly content with that.
In medieval times the state mainly existed to enrich the king and the durbar and increase their power and area of domination. Not so in the modern state, implicit in which is that the state is tasked with not only providing order but also improving living standards and transforming society. Thus while the ability to provide order is important, to judge whether a state has failed or only partially passed one has to judge it by the other broad parameters. Ghana is certainly not in the Somali league. It is not even in the East Timor or say the Zimbabwean league where the internal situation is so appalling that many western observers have taken to calling it a failed state.
Yet our own performance is not something we can be proud of. Dagbon, Bawku, Tamale, parts of Volta are just a few examples of places that either just came out of conflict or are still engulfed in one form of ethnic/chieftaincy conflict or the other. Even in a country where we consider there to be some order, what is the record of the police? Crime is up, phone snatching is now big time business and people are still crossing the red lights. Only a third of the major crimes in this country get solved and less than 10 per cent of these are convictions. And now even more seriously, they have allegedly begun wading into white powder money. How serious could it get? Even when the government reduces petrol prices, transport owners maintain high fares and everyone looks on thoughtlessly leaving poor tro tro patrons to suffer in the quiet. Meanwhile journalists are busy doing big peck political (or social) commentary. Who will speak for the tro tro passenger? Again I ask is this what a property owning democracy is about?
This year almost all the professional groups (and still counting) have gone on strike except NPP politicians and maybe to an extent the press. Even the UGM is on leave though its erstwhile flag bearer chairs a 20 million cedis anniversary planning committee. Someone tell me what are we going to celebrate? Filth, cocaine or corruption? NAGRAT, junior doctors, senior doctors, nurses, TEWU, Civil Servants and even prostitutes have all laid their tools before. Only recently Mr. Kwame Alorvi the President of Nagrat called on the government to do away with the adhoc salary method to 'let of the steam that has been boiling up in the kettle of social justice." On a more mundane level, workers are highly underpaid; statistical figures are coated to embellish simmering people poverty. Can u remember how many times fire outbreaks destroyed property due to the sluggish fire service that we have in this country? Ashanti region alone is reported to have had 279 cases of reported fire outbreaks. At half year point simply too many people have died from automobile related accidents or trigger happy corps.
The institutions from which our state should derive authority are in a poor way. The quality of justice is suspect at lower courts especially and all levels in general. The Chief Justice, some ministers and NPP top shots are facing a corruption inquiry for acquiring state lands in an unpalatable way. Those allegations have not been denied yet by any of the accused persons. Indeed Papa Owusu Ankomah, former Minister of Interior and now Minister for Education, Science and Sports has admitted these accusations and strangely enough has the guts to ask, "what the heck"? Judges are being transferred for strange reasons and strange verdicts are being given in trials. Cases are routinely rigged because judges are poorly paid. We all know the cycle.
Corruption is so well entrenched and accepted that one is not required to dwell on it. All agencies and levels are guilty. Top, bottom and middle level corruption are all rife in Ghana. Indira Ghandi, a top political figure in India, one time self servingly pointed out that corruption is a worldwide phenomena (does that sound familiar? Remember the NPP congress in Cape Coast and Kufuor's "corruption started from Adam/waa waa speech'?) People here are always trying to outdo each other. We all remember how Professor Akosa complained some time ago about people using industrial dye to clour food, using kokonte and chalk to manufacture pesticides and the production of infested fruits and vegetables? In a country where sycophancy, hypocrisy and an existing flexible notion of morality exists what else do we expect? Middle Income Status by…what's the year again? 2010, 2015, 2020? Someone remind me please.
The United Nations says Ghana is not on track to meet the Millennium Development Goals in a number of areas including education, health, rural water and sanitation. Job creation has also not benefited from economic growth especially in the rural areas and there is growing evidence of deepening poverty among some groups such as food crop farmers. Primary enrolments have increased only marginally. To attain universal primary education, the enrolment of an additional 1.125 million primary school kids is expected to meet the targeted 100% by 2015. There is also the problem of population growth and over crowding in our major cities. According to Development experts with a growth rate of 2.75%, the population is projected to reach 25 million by 2015. When it comes to sanitation, even Accra the capital city is drained in filth smells sorely and can easily pass for one of the dirtiest, congested and unplanned capitals in Africa. Meanwhile we have a parliament that chooses to discuss issues like 'apuskeleke' and engaging in verbal insults of people's physical features. (Was that Mpian's head?) whiles asking for increases in salaries when they could at the very least talk about air pollution.
Ghana must begin to look beyond macroeconomic stability. All that kind of talk and nice statistics are good for decorating the books and for impressing examiners s from the World Bank and 'our development partners'. Our leaders must begin to pay more attention to the 'no money in the pocket syndrome" that is vibrating across the length and breadth of the country. The attainment of national food security is crucial for reducing poverty, child malnutrition and improving health standards .Again the UN's recent country report on Ghana indicate that the key challenge to reducing hunger is to strategise towards food security for all . This needs to focus on various regional production levels and the departure from an over reliance on rain fed production methods. Lack of storage facilities, poor infrastructure and distributing mechanisms are major issues that have to be looked at and improved now. In short, special focus needs to be placed on the estimated 65% of food crops farmers.
Only recently Ghanaians have been greeted with the news of a certain $.547million from Uncle Sam. Some say it is manna from heaven that will turn the tide and create 2 million jobs. The story is reported in many news journals worldwide of Rwandan President Paul Kagame's interview with journalist Andrew Mwenda. He told The Ugandan journalist that " here projects may be worth $5million and when I look at their expenses , I found that $1million was going into buying cars, each one of them at $70,000, another $1million for furniture, $1 million for meetings and entertainment , a further $1million for salaries of experts and only $1million on the actual project". Does that sound like Ghana too? Well, time and action are the teachers.