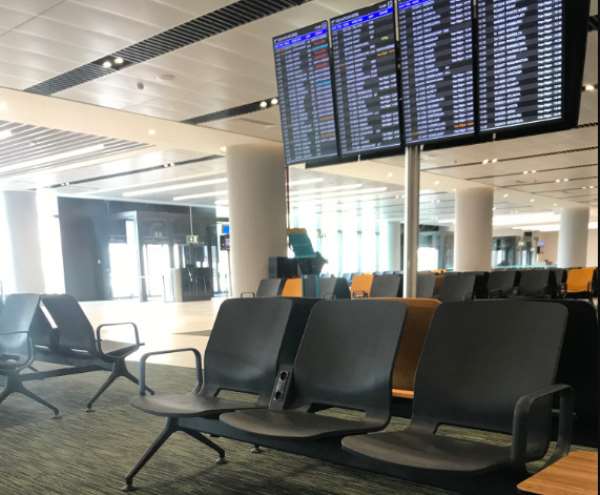 "Mama, Mama, I am leaving," Kuukua said on top of her voice as she rushed out of the house. She headed out to the American embassy; this was her third time going there, she was nervous, Kuukua had been refused a visa on two consecutive times; she hoped things would work out this time.
"God be with you, don't forget to say a prayer," Mrs. Stevens responded. Mrs. Stevens had lost her husband five years ago to diabetes, and she is a hypertensive patient herself. She has three daughters and a son. Efua, her eldest daughter, is a nurse in the U.S, then Kuukua, Napayin, and Kojo, the only boy in the family.
After about three hours, Mrs. Stevens paced the room as she waited anxiously for her phone to ring. "I hope it went well," she murmured.
Meanwhile, at the embassy, the interview was over, Kuukua finally got what she desperately needed. She called her mum on her way home. They were both excited and talked at length on the phone in preparation for her travel. In the first week of February, Kuukua finally left Ghana.
On arrival at the George Bush Intercontinental Airport, she was picked up by her elder sister. "I feel so cold," Kuukua said. Efua smiled and hugged her, then helped her pack her luggage.
Back in Ghana, Napayin had left for school in Cape Coast and was preparing to take her final high school exams. Kuukua, on the other hand, was having a wonderful time with her sister; she took her out to malls, parks, and museums. Though she had already bought her ticket to leave in eight weeks, she wished she could stay longer.
In a short while, there was news about this new outbreak that was rapidly taking over the world. "This is getting serious," Kuukua mumbled as she stared at the television. She got anxious each day as she heard the news about the lock-down instituted in some states to slow down the infection. Within days, there was fear and panic everywhere; a lot of people started buying and storing essential items leading to a shortage of some food items, toiletries, and sundry. Kuukua and her sister got more anxious when the World Health organization eventually declared the outbreak a global pandemic.
They worried daily about their family back home, calling to check up on them regularly. Within days Ghana also instituted a lock-down, and schools were temporarily closed. Napayin came back home and felt depressed as she worried about her future.
Efua and Kuukua, however, decided to heed to the directive to stay home. Every evening they sat on the couch to chat and listen to the news. On one of those days, they overheard one news anchor with a shrill voice talking about the pandemic. They quickly exchanged glances, as Efua changed the channel. They burst into laughter, " ah…, what is this," Kuukua said. Efua kept on laughing. They were getting tired of always watching depressing stories about the pandemic day after day. Efua had been on leave and was planning to resume in a few days.
"Are you not scared? Considering all that is going on," Kuukua asked. Efua sighed. "What can I do- it is what it is," Efua said. Kuukua kept on pressing the remote control nervously and continued; "it's scary, I don't think I could go back to work if I were a nurse, you are brave". Efua smiled. "Why do we have to stay home all the time though the corona-virus cases in our state are lower than that in other places?" Kuukua asked. Efua told her that staying at home helped to reduce their risk of contracting the corona-virus infection.
Efua continued by telling Kuukua that the corona-virus could spread from person to person through contact in a similar way as flu. Hence it was necessary to reduce the risk of contracting the viral infection by practising regular hand-washing.
"What if I find myself in a place and do not readily get clean water and soap," Kuukua asked. Efua responded by saying that in such circumstances, Kuukua could use alcohol-based hand sanitizer to wipe and clean the hands. "Also," Efua continued. "Wearing face masks, practising social distancing, and avoiding large crowds are also precautions that can further reduce the risk of contracting or spreading corona-virus."
"How would I go back to Ghana?" Kuukua lamented. Kuukua was devastated she was scheduled to return to Ghana in May, now all her plans had been thwarted, her travel arrangement cancelled.
To be continued…
Question for the day;
What are some of the precautions one can take to prevent the spread of the corona-virus?
Disclaimer: The purpose of Storia di vita is to educate the public on health issues. All characters, events, and incidents used in this story are fictitious and the product of the author's imagination. Any resemblance to actual person living or dead or actual events is purely coincidental.
For more, visit healthoxhub.com.