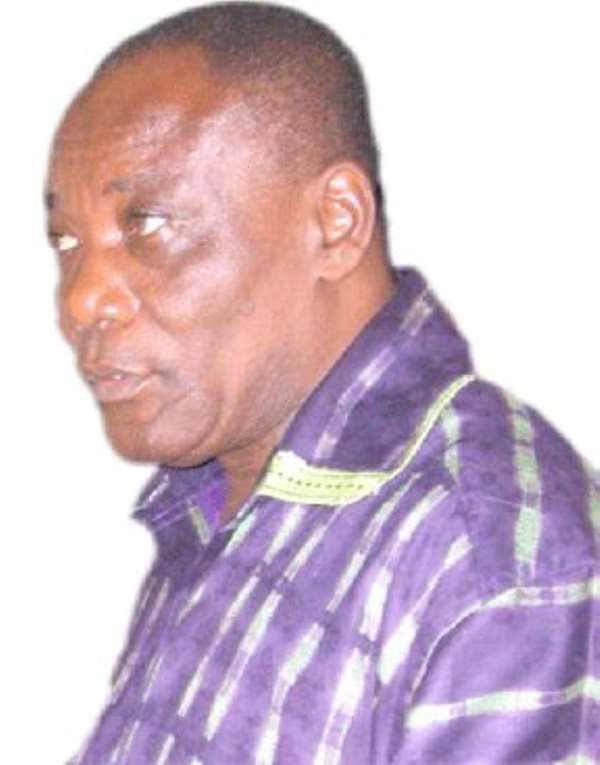 He is one person who is well versed in the various traditional and cultural practices in Ghana and beyond. And when it comes to languages, he speaks, reads and writes most of the Ghanaian languages. Among them are Ewe, Twi, Fante, Ga and a little bit of Hausa.
Efo Kojo Mawugbe is not a stranger on our television screens and radio. He is one of the prominent judges on TV3's Ghana's Most Beautiful Pageant.
Your first encounter with him would make you believe that he is rather a strict person and I tell you, you would not be wrong at all. However, he is full of humour and that is an attribute which makes him good at what he loves doing most — playwriting.
Efo is someone you would learn a lot from, no matter how short a time you spend with him. In a chat with him at his National Theatre office, Efo used the opportunity to explain who a playwright is and I will share that with you.
He said, "Playwrights are also known as dramatists; they are persons who write dramatic literature or drama. These works may be written specifically to be performed by actors".
Efo writes basically on social, educational and political issues for radio drama and has several works to his credit, some of which have been aired by Ghana Broadcasting Corporation (GBC) and the British Broadcasting Corporation (BBC).
Currently, the Deputy Executive Director (Artistic) of the National Theatre of Ghana, has 19 publications (drama) to his name. These include A Calabash of Blood, Aluta Continua, The Unbending Branch, In the Chest of a Woman, Constable No Rank, Take me to the Altar and Tata Amu, a play on the biography of Dr Ephraim Amu, Ghana's foremost choral composer.
Apart from radio and TV drama, he also wrote satiric stories as a columnist for The Mirror under the title "Letter to Dora".
His interest in drama started at Mawuli School, Ho, in the Volta Region, where Efo happened to be the only Form One student who had the chance to perform with the school drama group in Efua Sutherland's Edufa then enancted by the school's Drama Society. He played the role of Senchi.
With this sterling performance on stage, he succeeded, years later in writing a play for his house (Trost House).
Touching on what inspired him to become a professional playwright, Efo recounted with sadness how as a child a Vice-Chancellor's wife at the Kwame Nkrumah University of Science and Technology (KNUST) ripped his card because he had gone there to use the children's library meant for endowed children.
Due to this encounter, he promised himself he would listen to all the educative programmes on radio, read the newspapers and also read any material that came his way.
His ability to read made him one of the best students of Literature.
Efo Kojo was born on April 21, 1954 at the KNUST campus in Kumasi to Madam Comfort Tulasi, a cook at Africa Hall, and Mr Michael Ayivi Mawugbe who worked as a washman with the Laundry Department of the same university.
He started his early education at the Weweso L/A Primary and Middle School. He abtained his Ordinary Level and Advanced Level Certificates at Mawuli School. He then proceeded to the University of Ghana to pursue a programme in Theatre Arts.
He also pursued further studies at the Banff Centre for Management at Calgary in Canada, E.T.A Chicago and at the Ghana Institute of Management and Public Administration (GIMPA).
According to Efo, though his parents were not rich he never allowed their financial position to impede his performance at school, nor was there any bad blood between him and his peers.
"My biggest challenge was that at a point I used to sell abolo for my mum. Due to this, my mates tormented and called me Kojo Abolo, but I was cool with it because I loved my mother and was happy to support her," he said.
He, however, disclosed that he used to be a very good goalkeeper. "Because I kept the goalpost very well, whenever there was a football match all my team-mates would boycott their meals at home and collect money from their parents and secretly use it to buy all the abolo I had to sell so I could return my mother's basin in good time and stand in the goalpost for our team."
Efo Kojo is married and blessed with six children. He taught as a part-time English Language and Literature tutor at the Ghana Empire Secondary School in Accra, the Methodist Secondary School, Sekondi, and Technology Secondary School in Kumasi.
President Agyekum Kufuor recently presented him with a national award for his immense contribution to Arts and Theatre Management in the country.
For Efo, children should not be downhearted when their friends tease them. Instead, they should take advantage of the situation and prove to those who mock them that no matter one's background, disability or challenges, he or she can make it to the top.
Story by Hadiza Billa Quansah