Disarticulations In Translation At Sulger-Buel Gallery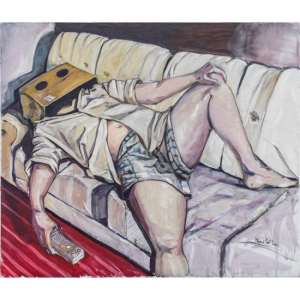 Passionate about art? Is art your ilk? If so, then the exhibition of 'Disarticulations' featuring two African artists Jean David Nkot of Cameroon and Mohammed Said Chair of Morocco will be on view from January 15th until 5th of March 2019.
This exhibition will come alive given the expansive credentials of both talents who are ready to give art buyers, viewers and enthusiasts something to think about, as far as nature, politics, the environment and society is concerned.
Holding on to his knowledge and beliefs in the art world, Jean David will set alight the exhibition with his Acrylic on canvas as a known sculptor, installer and painter. And of course, show the world, the reasons why he is one of the laureates of several artistic distinctions.
In his drawings, he considers the impact of violence, indifference and the passivity of the international community and governments on the situation of victims in the world as an artist.
Nkot also uses the body and the territory as key subjects around which he structures his plastic approach.
Bringing his designs to light, the use of maps interrogate and draw awareness to the issue of boundaries by providing a backdrop that shows the seeming insignificance of the individual in such an abstract and depersonalized representation of reality at the same time.
His intention is to free these "victims of anonymity", marked by the indifference that characterizes the complicit silence of the world.
The use of cartography in his work questions the way the body intertwines with space and above all, the place of the human in society as a whole.
On the other side of the drawing spectrum will be Mohammed Said Chair, who has got an interesting portfolio to share, being a former banker and an entrepreneur of a business sort.
The question is how does business play into the art discourse? And the answer seems to be, only Mohammed Said knows how to mix business with pleasure on 'Oil Paint and Vinyl Glue'.
Dedicating most of his free time to developing new techniques at the studio, Mohammed could not resist the call to make art his full-time glory.
And after taking this leap of faith, he has since been working on developing a consistent art portfolio that is undeniably influenced by his banking and entrepreneurial journey.
His artworks reflect some contemporary expression and style, a thorough breakdown of the entrepreneurial and consumption-obsessed world.
Disarticulation in itself is a medical term which is noted for the separation of two bones at its joints either traumatically by injury or intentionally by surgery during arthroplasty or amputation.
So interestingly, there is so much room for thoughts to kick-start some engaging conversations between fellow art enthusiasts.
This is so, because looking at both artists and their work ethics, presumably there are some creative and hidden fluids flowing through their individual talent streams.
So the arty-visual expressions of both artists are bound to deconstruct our meanings and understandings of nature through life and its politics in the face of the presentations of reality at 51 Surrey Row, Unit 2 La Gare, London SE1 0BZ