On a mission: Nathaniel Asamoah talks about his career resurgence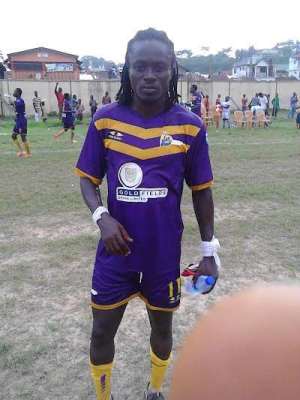 Nathaniel Asamoah has had an outstanding goal scoring first round in the First Capital Plus Premier League with eleven goals in fifteen matches and he started his goal account after three matches of deadlock. 
The goal poacher is likely to surpass his personal highest goal haul of 14 in the local league in the 2010/11 season when he played for Wa All Stars and Asante Kotoko in separate halves of the league,scoring 6 goals for the Wa club and 8 goals for the Porcupine Warriors. 
Asamoah in an exclusive interview with  Allsports.com.gh  spoke his heart out on his current performance,how he managed to relaunch his career after his Serbian escapade and his call up to the national team. 
"I think so far so good even though I didn't start well in the league. I played three matches and I had no goal,it was my fourth match before I was able to score a brace against Ashgold so I think am improving game after game and am really impressed with my performance in the league".
The Premier League Panel voted the Medeama striker as the Player of the Month for March in an initiative where the league sponsor,First Capital Plus Bank rewards the winner with a cash prize of Five Hundred Ghana Cedis (500 GHS). 
"One thing I believe in life is hard work pays off and it was my hard work that got me such an award. I think it came through cohesion with my teammates and the technical team played great part for me to win such an award and am really grateful to each and everyone. Yet he said it came to him as a surprise.
"Seriously I was not expecting it because here is the case after games no one calls you or maybe the match commissioner to inform you either you won the man-of-the-match or anything of that sort. I was surprised when I heard of my nomination and the next day I was rewarded. I think the month of March I played my heart out and hard work pays" 
Asamoah would certainly be in contention to defend the POTM award for April having scored four goals in the three matches played within the month. Despite his consistency,he however intimates that he does not have a target rather he takes the challenges as it comes. 
"Am a type of guy who take match after match or I move one step at a time and the Player of the Month really motivated me a lot."
"I've not made any target for myself this season. I am taking match after match. What is needed most is to improve my techniques,improve my performance,am just doing the basics,I don't add anything to my game."
"What I know doing best is what I always do on the field of play. I always play as a team player,so if it comes for to score definitely I will score,if it comes for me to assist I will do. I will do my very best to lift the flag of Medeama high. I will not go in for personal glory,I will go in for team glory that's what am doing so I've not set any target for myself yet," he said. 
However,the leading top scorer is relishing the honour of winning the top scorer award for the season.
"It will be a great honor to be the goal king and it will also enhance my CV so if I get the opportunity of winning it I will embrace it with both hands and as I said am taking it match after match and the sky will definitely be my limit". 
The intriguing aspect of Asamoah's career is his career revival with the Ghana Premier League after his exodus trail with Red Star Belgrade in Serbia nearly curtailed his future in football.
His acknowledgement of his reinvention he revealed is due to the help of former Black Stars and Kotoko psychologist,Patrick Ofori and the president of Medeama, Moses Armah. 
"I think Medeama fans and Ghanaian community should give me the benefit of the doubt. Is not easy going out to Europe and coming back to relaunch your career."
"Psychologically I wasn't so prepared and it took me some time to recover and get back to my form and when I came back there were series of injuries. I wasn't myself. I spoke to my psychologist,he was able to psyche me up and I think am beginning to find my scoring form and my form as a player as a whole." 
"Encouragement from family,friends,teammates,the management of Medeama especially the president of the club Moses Armah has helped me a lot so when am the field I don't play for myself but I play for the people around me". 
On top of his hard work comes the call up to the home-based Black Stars who are preparing for an invitation to the COSAFA Cup in South Africa next month and the CHAN qualifier against Ivory Coast in October.  Asamoah is clearly awed by the opportunity and says it is a recognition for his impressive efforts in the league. 
"It's a platform they've given to me to showcase what am capable of doing and am grateful to the management of the local black stars for seeing my good work in the league and inviting me to be part of the team. I am not going there to add to the numbers but am going to continue what am doing for my club."